This post may contain affiliate links. Please read my disclosure policy.
Mouthwateringly good Paleo Sweet Potato pie can make your holiday dinner complete with oohs and ahhs of satisfied eaters. It's that perfect gluten-free dessert that's just heavenly!
It's also a Stage 2 AIP reintroduction food due to the almond flour and eggs – if you're looking for an AIP elimination stage-friendly pie, try my AIP Pumpkin Pie recipe
Updated October 2019
You ever have visions of a grandmother lovingly baking her family a pie made with lard she got from a neighboring farmer?
Like how they did it back in the "old" days?
This idyllic scene was something I've certainly never experienced. My mother's mom wasn't much the homemaking type and my dad's mom was of Polish/German descent so it was more about kielbasa and pickles with her than a delicious flaky dessert.
Yet once I tried a pie crust made with lard I got jealous of those who HAD grandmothers who made them these pies!
I am a participant in the Amazon Services LLC Associates Program, an affiliate advertising program designed to provide a means for us to earn fees by linking to Amazon.com and affiliated sites.
What Makes a Delicious Gluten-free Sweet Potato Pie?
Leaf Lard Makes Flaky Crusts
So… when I decided I wanted to make a Paleo sweet potato pie recipe one day, I went straight for the lard!
Texture is one of those things that is necessary to nail, especially when you're dealing with gluten-free and grain-free flours. Luckily with this recipe, it's not really a factor as the lard does all the heavy lifting.
I love the Fatworks free-range, pasture-raised Leaf Lard because it makes flaky, delicious pie crusts and isn't full of weird toxins that the pigs picked up throughout their lives.
Why does leaf lard make flaky crusts? According to this article from Serious Eats:
"Lard produces flakier crusts than butter. Butter begins to melt into the dough at a lower temperature; even the small amount of water present in butter may cause the dough particles to stick to one another rather than separate into the discrete layers that constitute a flaky pastry"
Plus, it's just plain easier to work with. Butter isn't difficult per say, but to make the crusts really flaky you have to keep it super cold, which usually means cutting, then freezing, then mixing, then cooling the dough again. It's just fussy. Lard, on the other hand, is so much less maintenance – and for an even flakier result in the end.
Plus lard is dairy-free, for those of us that have to watch or avoid any casein for intolerance or health sake. AND lard contains Vitamin D, so how's that for a justification to eat dessert?
Paleo Sweet Potato Pie vs Pumpkin Pie
When I was a kid, pumpkin pie was my most favorite pie. But in recent years I've had pumpkin pie and felt it lacked something. Not sure exactly what it as, but it was sort of bland. I love pumpkin pie-spiced everything, but pumpkin pie just wasn't my fave anymore.
When I had a sweet potato pie though, that rocked my world. It had a depth of flavor that is just amazing. Think I have officially switched the favorite pie status to sweet potato.
The Perfect Paleo Holiday Dessert Recipe
This Paleo sweet potato pie is the perfect dessert for Thanksgiving, Christmas, or any other holiday really.
Tips for Making this Paleo Sweet Potato Pie Ahead
You can make it up to 3 days ahead of time, which is great for getting it done and over with before worrying about the actual meal.
Store in the fridge and reheat (if desired) if you make it that far ahead, or you can keep it out at room temp if you make it just the day before or the day of.
You can also make this up to 3 months ahead of time and freeze it
It does take a bit of time to make it all (not a ton of hands-on time, just a lot of baking time), so definitely make it earlier in the day if making it on the holiday itself.
Top With Whipped Coconut Cream
An easy whipped topping is to whisk chilled coconut cream with a tad bit of maple syrup (and vanilla extract if desired).
You can either do this with a whisk or with a hand blender, but it takes just seconds and makes the perfect finishing touch to the pie.
(Coconut cream comes either by itself in cans/boxes or you can also get it from the top of a can of chilled coconut milk. Note though that Coconut cream and cream of coconut are two totally different things)
How to Cut Out the Aluminum Foil to Prevent Burning
Sometimes with pies, especially pies like sweet potato and pumpkin pies, the filling takes a lot longer to set than the crust takes to bake.
This can result in burnt pie crusts. No one likes those.
So to help prevent this, it's a good idea to have a crust protector – they make ones you can buy if you plan on making a lot of pies, or you can quickly DIY your own with some aluminum foil.
Just turn your pie pan over upside down on a piece of aluminum foil, trace around it with a pen, then cut out with scissors. Then you can fold it in half, and then cut out a smaller circle, making the final "ring" about an inch or two wide, as seen in the bottom right of this picture below.
Frequently Asked Questions About Paleo Sweet Potato Pie
What does sweet potato pie taste like?
In my opinion, it's kind of like pumpkin pie with just a bit more "oomph". I know, that's not concrete, but sometimes I feel like pumpkin pie needs a little more flavor. It doesn't taste super sweet potatoey though
How long does sweet potato pie last?
It lasts for at least 3-4 days in the fridge, and about 1-2 days out at room temp without refrigeration.
Can you freeze sweet potato pie?
Yes, you can tightly wrap this sweet potato pie up and freeze for up to 3 months. Thaw in the fridge and reheat before serving.
Do you eat sweet potato pie cold?
You definitely can! We've done both and it's delicious whether warm or cold.
How do I know when my sweet potato pie is done?
Typically most of the filling will seem firm, but the very center may jiggle a bit. You can stick a knife into the center of the pie and it should come out moist but clean, without any filling on it. If it's not set, continue to bake until set.
You May Need:
You can get the Fatworks Leaf Lard for this on Fatworks' site, Amazon, or at stores found on Fatworks' handy store finder.
Pie weights can be helpful to make sure your pies don't puff up in the center when you're pre-baking the crust without filling.
Other Paleo Thanksgiving and Christmas Dessert Recipes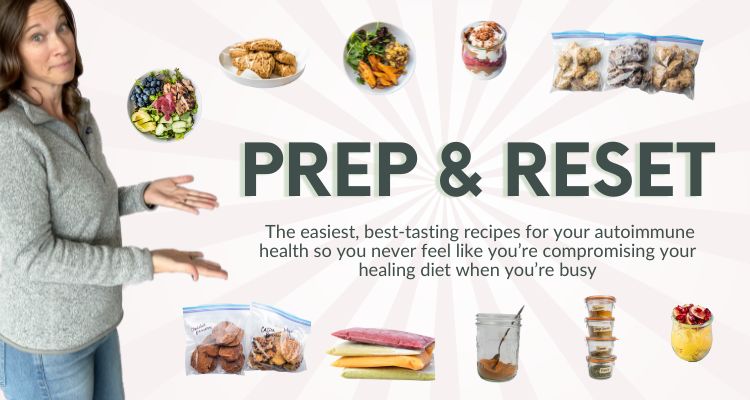 More Helpful AIP & Paleo Resources in the Freebie Library
If you find this recipe helpful, you may really enjoy the resources in my Paleo & AIP Freebie Library! There's a "dump" freezer meal plan, a list of AIP-compliant breakfast toppings, and so much more. Plus, you'll get even more ideas sent to your inbox! Get the password here.
Paleo Sweet Potato Pie Recipe
If you make this pie, I'd love to hear how it turned out! Either comment below or share a pic on Instagram and tag me @thrivingautoimmune!
Paleo Sweet Potato Pie
Mouthwateringly good Paleo Sweet Potato pie can make your holiday dinner complete with oohs and ahhs of satisfied eaters. It's that perfect gluten-free dessert that's just heavenly!
It's also a Stage 2 AIP reintroduction food due to the almond flour and eggs – if you're looking for an AIP elimination stage-friendly pie, try my AIP Pumpkin Pie recipe
Ingredients
For Filling:
1

large Sweet Potato

(at least 1 lb)

2

Eggs

(beaten)

1/2

cup

Maple Syrup

1/2

tsp

Salt

1/2

tsp

Cinnamon

1/2

tsp

ground Ginger

1

tsp

Vanilla Extract

1

cup

Coconut Milk

(or other dairy-free milk of choice)
Instructions
Preheat the oven to 350 F.

Poke a few holes into the sweet potato and put it in the oven. It will roast for about 1 hour until soft.

In a food processor, mix the egg and lard together, then add the coconut sugar and mix again, scraping down then sides if needed. Add the flours, salt, and baking soda and then mix again.

At this point, remove the lid of the food processor and feel the dough. If it's super sticky you'll need to keep adding 1 tbs of Tapioca flour at a time and then mixing until you can touch the dough and feel like you could spread it in a pan without it getting stuck to your fingers. It usually takes me about 3-4 tbsp to get there, but this depends on the size of the egg you used, etc.

Transfer the dough to your pie pan and using your fingers, press the dough evenly all around the bottom and up the sides of the pan. If the dough sticks to your hands, wet them slightly. Refrigerate for 15 minutes.

After the refrigeration time is up, poke holes all over the bottom of the pie crust with a fork. (Option: put pie weights in bottom of pan to prevent crust from puffing up). Then bake in the oven (don't worry that your sweet potato is in there) for 20 minutes.

Once your potato is done, turn the oven down to 325 F and then let the potato cool until you can comfortably touch it. Peel it, and then puree it in a blender, food processor, or using an immersion blender. This will make the consistency of the pie nice and smooth. Measure out 1.5 cups of puree. 

In a large bowl, whisk together the eggs, maple syrup, salt, cinnamon, ginger, and vanilla extract, then add the sweet potato puree and coconut milk to the mixture and whisk until combined.

Pour the mixture into the pie shell and bake for 1 hour or until the filling is set. You may need to put a pie crust shield or a piece of aluminum over the crust halfway through to help prevent the crust from turning too brown. Let cool completely before serving.
Did you make this recipe?
Leave a comment below or share a photo on Instagram and tag me @thrivingautoimmune !