This post may contain affiliate links. Please read my disclosure policy.
These no-bake pumpkin pie bites are perfect for a holiday dinner or potluck where you have to serve a variety of diets like Paleo, Vegan, or gluten-free
There used to be a time, like back in the Norman Rockwell painting kinda days, where everyone would gather around the table at the holidays, eat the meal that was so lovingly prepared by the hostess, and be happy.
Like this:
Times sure have changed though. Nowadays it looks more like this:
Everyone is on a different diet these days. Paleo, Vegan, only eats seeds procured by a virgin under the light of the harvest moon…. you get it.
It's not necessarily a bad thing. I mean, I'm completely guilty of it.
This shift points to a larger issue that people just don't feel great eating the standard American diet and they are searching for alternatives. And because they're using food as a means to feel better, it's fantastic.
When we all come together for a meal, this phenomenon becomes a problem.
Meat is gonna be out for some, and forget tofu because those against soy won't eat that. Don't even think about making your great-grandmother's famous biscuit recipe if it has wheat flour in it. What exactly do you have left to make?
It's hard and I totally get it. ESPECIALLY if you are the host or are trying to find something to bring to a potluck that your multi-diet friends will be at. But if you have a bunch of dietary styles at your gathering, you'll never be able to please everyone. So just get that out of your head right now.
So What Can You Do?
You can come up with some dishes that will please the majority, then fill in the gaps here and there or even have the people with really different diets provide some dishes. It's not that unheard of nor uncalled for these days to ask guests with restrictive diets to bring their own dishes. Emily Post might not agree, but Emily didn't have to serve dinner to people on 5 different diets.
One of those dishes that can please a number of diets? These no-bake pumpkin pie bites.
Some of the diets these treats are good for:
Paleo
Vegan
Vegetarian
Gluten-free
Dairy-free
Grain-free
Standard American
GAPS
Weston A Price
SCD diets
Can be made nut-free.
You can also make them ahead of time, which is key during those busy holiday dinners or potlucks that you have to run to after work or school events.
Get Your Printable Recipe Card and Table Tent
Because you might be making these for a variety of diets, it might also be helpful to have a recipe card and/or ingredient tent to put out so people can just read what went into it rather than ask you a billion times. Click on the image below for the free printable:
These pumpkin pie bites will bring a smile of delight to the faces of most of your friends and family — although that harvest moon seed eater is on her own.
More Helpful AIP & Paleo Resources in the Freebie Library
If you find this recipe helpful, you may really enjoy the resources in my Paleo & AIP Freebie Library! There's a "dump" freezer meal plan, a list of AIP-compliant breakfast toppings, and so much more. Plus, you'll get even more ideas sent to your inbox! Get the password here.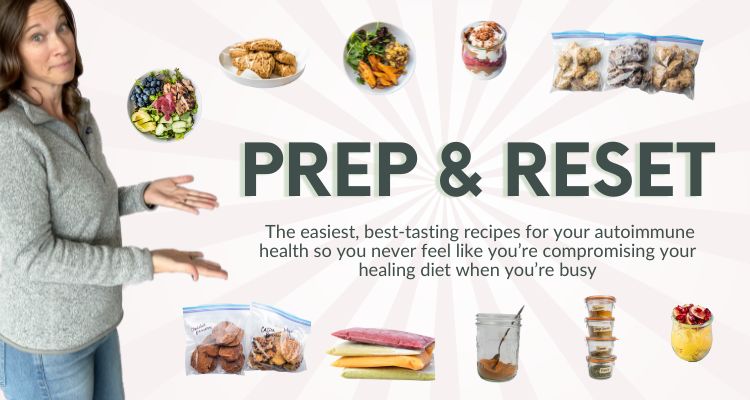 The No-Bake Pumpkin Pie Bites Recipe
I am a participant in the Amazon Services LLC Associates Program, an affiliate advertising program designed to provide a means for us to earn fees by linking to Amazon.com and affiliated sites.
If you make these pie bites, I'd love to hear how they turned out! Either comment below or share a pic on Instagram and tag me @thrivingautoimmune!
No-Bake Pumpkin Pie Bites
These no-bake pumpkin pie bites are perfect for a holiday dinner or potluck where you have to serve a variety of diets like Paleo, Vegan, or gluten-free
Ingredients
For the Crust:
1/2

cup

Pecans

1/2

cup

Dates

(pitted – about 4)

pinch

Sea Salt
Instructions
Either put the cashews into water to soak for at least 2 hours or pour boiling water over them if you want to use them immediately.

Put the crust ingredients in a

food processor

and whir until the mixture comes together in a paste or at least is in very small pieces. (It should stick together when you pick it up with your fingers)

Pat into 6

mini muffin tin

holes. Put in the fridge or freezer to chill while you make the filling.

In a high-speed blender, blend all of the filling ingredients until smooth.

Spoon the filling over the crust in the muffin tins. Place back in the fridge or freezer for at least 30 minutes (better if you can wait at least 4 hours though).

After the chilling time is up, run a knife around the muffin tin holes to loosen the crust and then use a spoon to guide the bites out. Store in the fridge or freezer. (If storing in the freezer, remove to room temperature at least 15 minutes prior to serving)
Notes
These can be made nut-free as well by replacing both the pecans and cashews with equivalent amounts of unsalted roasted pumpkin seeds (pepitas).
You may also come up with a bit more filling than you need. You can either put the remaining filling into the other muffin tin holes as a crustless pie or eat it (that's what I do)
Nutrition
Did you make this recipe?
Leave a comment below or share a photo on Instagram and tag me @thrivingautoimmune !

You May Also Like: