This post may contain affiliate links. Please read my disclosure policy.
Cook and eat dinner together with your family (or for a date night) around the table with this easy Paleo broth fondue recipe. (Paleo, Whole30, and AIP-variation)
Is Dinnertime Conversation a Lost Art?
"I don't know"
The response from my son when I asked him what he did during the day at school was a tad bit lacking in detail.
"Good"
The response from my 8-year-old when I asked him how his day was just as revealing.
Cue the crickets.
Hello awkward and frustrating. I mean, I AM the mom, so couldn't I get at least a short rundown on how their days went?
My husband didn't have any better luck either. So we just kind of sat around the dinner table, wracking our brains until someone came up with something interesting to talk about. I shared how the dog barked at the guys working on the yard next door, my husband recalled a story about work, and the kids made annoying noises and interrupted us every few minutes.
Dinner at my house. Sound familiar?
We hear that having family dinner around the table, with everyone present, is how families bond and how kids grow up to be upstanding citizens of the world who will never even THINK about committing a crime or doing drugs.
But really, is there much value in it when you struggle to think of something to chat about, and then have the kids rushing through their meals and squirming in their seats until you excuse them?
It sounds kind of detrimental if you ask me. Like a chore.
After weeks of this, I thought to myself "there really has to be a better way".
I have fondue memories
Then I remembered how much fun we had the last time we went to the fancy fondue restaurant for my birthday. We all gathered around the table, loading up our skewer-things with meats and veggies, and chatted the night away while our food cooked before our very eyes. No one squirmed to get up because their food was still cooking as we ate. Plus it's just plain fun to cook your own food as a kid, and I don't know any kid who doesn't love dipping things in sauces.
I wondered if maybe we could recreate that at home so that we could have FUN during dinner (at like 1/8 of the price)? I wouldn't have to really cook since we'd be doing that at dinner. I'd just have to prep some things and hmm…. then that pesky conversation thing stopped me in my tracks.
Yeah, that.
Making fondue sounded awesome but on a regular night at home, but we'd still struggle with topics to talk about.
Then, as fate would have it, my son's teacher handed me something one day after school that would change my whole outlook on meals.
So I set to work on a Paleo broth fondue dinner recipe that would make our mealtime fun, used what she gave me, and….
SUCCESS
It was a blast. The kids loved it. My husband and I loved it. We ate delicious food and had fun cooking it. We talked. We laughed. We cried (ok, we didn't really cry. I just squirted myself in the eye with a lime, which made me tear up a little)
THE SECRET TO A GREAT MEAL
What was it that the teacher gave me that was so helpful? A list of conversation starters! I found it so helpful that I came up with my OWN list of conversation starters.
Click the image below to grab it (no email needed).
Making the Paleo Broth Fondue
The following links are affiliate links, which mean I get compensation if you buy through them. Though sometimes, I can you get a discount, like the Kettle & Fire one below! I am a participant in the Amazon Services LLC Associates Program, an affiliate advertising program designed to provide a means for us to earn fees by linking to Amazon.com and affiliated sites.
And as for the fondue? It's a meal we are sure to have again and again. It's honestly one of the easiest meals we make too.
Kettle & Fire Broth Gives This Fondue Flavor
I use Kettle & Fire Mushroom Chicken Bone Broth (use code THRIVING20 to get 20% off) to make it super simple because it already has a ton of amazing flavor already built in. You just need to add a few ingredients to it and, bam – you have extremely tasty fondue broth. Then cut up some meats and veggies, stir (or pour) some dipping sauces, and bring it all over to the table.
What Fondue Pot Should You Use?
I use one of the flame burner type fondue pots, but it's small and I find hard to keep a consistent temperature.
If I were to get another one (which I probably will), I'd get this electric one.
However, you can always do this whole recipe in a saucepan over the stove if you really wanted to. Not as conducive to encouraging conversation though.
To Make This Fondue AIP-Friendly
The Kettle & Fire broth is awesome, but unfortunately it uses nightshades and black pepper, therefore making it not compliant for the Paleo Autoimmune Protocol (AIP diet).
Instead, just use 4 cups of compliant or homemade chicken, beef, or veggie broth and add a dash of salt as well. Follow the rest of the instructions as written.
Note – alcohol is not allowed on the AIP diet unless it is cooked off, and in this case you're cooking the broth for a while, so it's not a problem. However, if you'd rather not include it, that's fine too!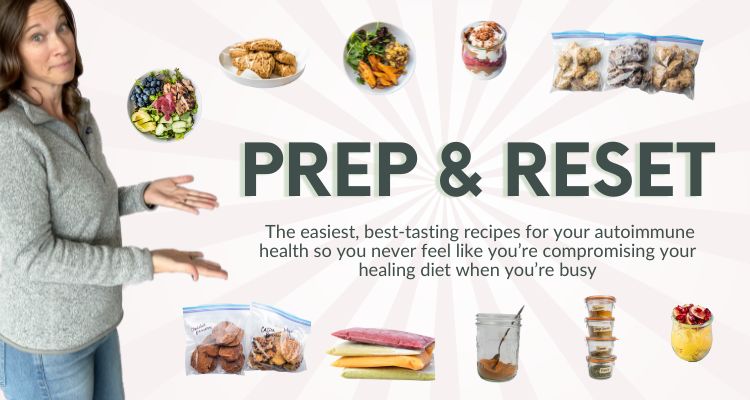 More Helpful AIP & Paleo Resources in the Freebie Library
If you find this recipe helpful, you may really enjoy the resources in my Paleo & AIP Freebie Library! There's a "dump" freezer meal plan, a list of AIP-compliant breakfast toppings, and so much more. Plus, you'll get even more ideas sent to your inbox! Get the password here.
Paleo Broth Fondue Recipe
If you make this broth fondue, I'd love to hear how it turned out! Either comment below or share a pic on Instagram and tag me @thrivingautoimmune!
Paleo Broth Fondue (Whole30, Gluten-free, AIP modifications)
Cook and eat dinner together with your family (or for a romantic date night) around the table with this easy gluten-free, Whole30 and Paleo broth fondue recipe. AIP-modifications available!
Ingredients
2

Cartons Kettle & Fire Mushroom Chicken Bone Broth

(or 4 cups Chicken, Beef, or Vegetable Broth for AIP)

1

cup

White Wine

(optional)

3

Green Onions

(sliced)

3

cloves

Garlic

(minced)

Meats to cook

(choose 2-3 from list in notes)

Veggies to cook

(choose 2-3 from list in notes)

Sauces to dip

(see notes)
Instructions
Either in a saucepan over the stove or in a fondue pot, heat the Mushroom Chicken Broth, white wine, green onions, and garlic until boiling., then turn down to a simmer (sometimes this is easier to do on the stove even if you have a fondue pot, then just pour into the fondue pot when ready)

Cube the meats and cut the veggies into small, bite-sized pieces

Mix up the sauces (see notes for ideas)

Bring everything to your table and everyone start cooking! Potatoes and butternut squash take the longest, so just dump them in and leave them for like 15 min. I also tend to just dump the veggies in too and just use the skewers for the meats. You can use a slotted spoon to fish the veggies and potatoes out. The veggies usually take like 5 minutes to cook. The meats are usually around 5 minutes as well, except for the shrimp, which is more like 1-2 minutes. Always make sure to check your chicken and pork when you take them out to make sure they are done, especially before letting kids eat it (since they might not know when it's done).
Notes
Meat ideas:
Steak
Chicken Breasts
Shrimp
Boneless Pork Chops
Veggie Ideas:
Broccoli
Mushrooms
Potatoes (not AIP)
Cauliflower
Butternut Squash
Zucchini
Yellow Squash
Parsnips
Sauce ideas: 
guacamole (Paleo, Whole30, AIP)
mayo + chili powder + lime juice (Paleo, Whole30)
mayo + curry powder (Paleo, Whole30)
sweet chili sauce (Paleo)
a bottled salad dressing (depends, Paleo, Whole30, AIP)
cocktail sauce (Paleo)
Tzatziki Sauce (Paleo, Whole30, AIP)
Did you make this recipe?
Leave a comment below or share a photo on Instagram and tag me @thrivingautoimmune !
For dessert you could always clean out the fondue pot, throw in some chocolate (I'd also put in a tad bit of dairy-free milk to make it a bit thinner) and then use the melted chocolate to dip cut up fruit and berries in. Yum!
Now my kids' responses to questions are far longer and more involved than "I don't know" and maybe a tad bit fanciful at times, but wow – have I learned SO much about them! I look forward to chatting with them each day and finding out all that goes on in their lives.