This post may contain affiliate links. Please read my disclosure policy.
If you've been hanging out around the Paleo-sphere for a while you most likely have seen Paleo Parent's famous P.F. Chang's Recipe Recreation Roundup. If not, check it out as it is a classic post that features a bunch of dishes that bloggers have created to resemble P.F. Chang's meals without all the garbage.
Well, Stacy and Matt of Paleo Parents are now tackling the Cheesecake Factory! And I'm proud to be a part of the group of bloggers that are recreating a recipe. Check out the rest of the recipes on the Paleo Parents.
The recipe I chose to tackle was their Small Plate called Portabella Mushroom, Avocado, and Zucchini Fries. The menu describes these as: "A Unique Combination of Portabella Mushrooms, Avocado Slices and Fresh Zucchini, Breaded and Fried. Served with Dipping Sauces." All in all, not too bad of a dish, except for the whole breaded and fried part. Breaded in a gluten-filled breading and fried in some sort of most-likely rancid vegetable oil (that also probably is contaminated with gluten from frying other items with gluten in them). And I suspect the sauces probably have a lot of sugar and possibly even some wheat and preservatives.
I am a participant in the Amazon Services LLC Associates Program, an affiliate advertising program designed to provide a means for us to earn fees by linking to Amazon.com and affiliated sites.
So.. instead I made a dish that has a ton of flavor and crunch but doesn't have any of the nasty stuff (or nasty side effects). The coating for the fries was actually inspired by the Thanksgiving Dressing recipe in Kelly Bejelly's book Paleo Eats. I thought her to be a genius when she made a "bread" first, then made the stuffing from the "bread", but it wasn't all fussy like a lot of bread recipes are. So I adapted her "bread" base as my coating and then pulverized it to make breadcrumbs that are the coating for these fries. And you know what? It's amazing if I do say so myself! AND you don't have to go through the hassle of frying these suckers, just bake them in the oven for 10 minutes.
I made the fries themselves egg-free because honestly don't think they need them at all! The mustard/water combo works perfectly to adhere the coating to the fries. You'll see that 3 of the sauces below are made with mayo, so those are out if you are also egg-free, but the Honey Mustard one is fair game for you! If you do use the mayo-based sauces, learn how to make a simple 2 minute mayonnaise via my quick, no-speaking video tutorial.
More Helpful AIP & Paleo Resources in the Freebie Library
If you find this recipe helpful, you may really enjoy the resources in my Paleo & AIP Freebie Library! There's a "dump" freezer meal plan, a list of AIP-compliant breakfast toppings, and so much more. Plus, you'll get even more ideas sent to your inbox! Get the password here.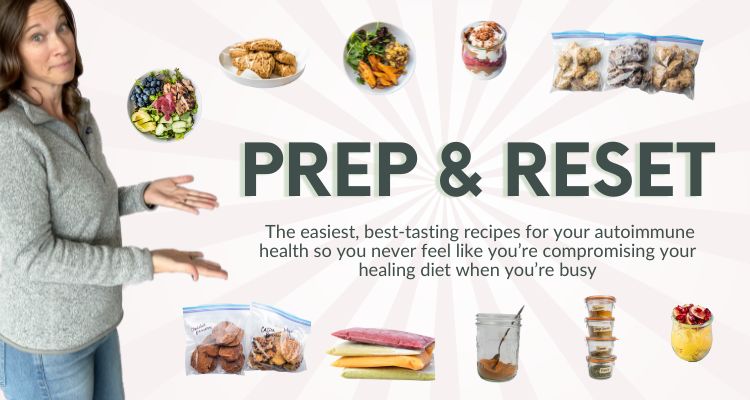 Paleo Portabella Mushroom, Avocado, and Zucchini Fries Recipe
If you make these fries and dips, I'd love to hear how they turned out! Either comment below or share a pic on Instagram and tag me @thrivingautoimmune!
Paleo Portabella Mushroom, Avocado, and Zucchini Fries
A fun and delicious snack or appetizer! Paleo and Whole30-compliant.
Ingredients
For the fries:
1

Avocado

1-2

Portabello Mushrooms

1

Zucchini

1/2

cup

Stoneground Mustard

Water
For the Coating:
1

tbs

Coconut Oil

(melted)

1.75

cups

Almond Flour

1/4

cup

Arrowroot Powder

1/2

tsp

Baking Soda

1/2

tsp

Sea Salt

1/2

tsp

Paprika

1/2

tsp

Garlic Powder

1/2

cup

Chicken Stock
For the Cilantro Lime Sauce:
1/4

cup

Mayo

1

tbs

Lime Juice

1

tbs

fresh chopped Cilantro

pinch

sea salt
For the Honey Mustard Sauce:
3

tbs

Honey

3

tbs

Dijon Mustard
For the Lemon Ginger Sauce:
1/4

cup

Mayo

1/2

tsp

ground Ginger
For the Curry Sauce:
1/4

cup

Mayo

1

tsp

Curry Powder
Instructions
Preheat oven to 350 F. Grease a 9 x 11 pan.

In a large bowl, mix all the ingredients for the coating and then spread evenly into the pan.

Bake for 30 minutes.

Meanwhile, prepare the fries. Slice the mushrooms. If desired, peel the zucchini (I didn't bother, but the coating doesn't stick to the skin very well) and then slice into fry shapes, Cut the avocado in half, remove the pit, and then make 3 slices on each half. Carefully remove the avocado slices with a spoon.

When the coating mixture is done, let it cool until you can handle it, then break it apart into pieces and put into a food processor with the blade attachment. Adjust oven temperature to 375 F.

Process/pulse until the mixture has broken down into crumbs.

In a small flat bowl or plate, mix a few tablespoons of mustard with a bit of water. It should be a pretty liquidy mixture.

Transfer the coating mixture to another flat bowl or plate.

Dip a "fry" into the mustard mixture, then into the coating mixture. Then place the "fry" onto a baking sheet covered in parchment paper. Repeat until all the fries are coated.

Bake the fries for 10 minutes.
For the sauces:
Simply mix according to the ingredients above in small containers.
Notes
*Make sure you don't eat the Honey Mustard sauce if on Whole30 🙂
Did you make this recipe?
Leave a comment below or share a photo on Instagram and tag me @thrivingautoimmune !

You May Also Like:
I consider something to be a success when the little guys like it too (and get it all in their hair in the process, RIGHT after a bath)!