This post may contain affiliate links. Please read my disclosure policy.
When we first turned to the Paleo diet from GAPS back in 2011 I was giddy with excitement over the few cookbooks that existed. I think that was also one of the reasons we DID switch diets – because while the GAPS diet was instrumental in changing the health of my family, I felt a bit of a desire for having some semblance of normal cooking. And for me, that is in the form of cookbooks that I can hold in my hand, look at the pictures, and peruse for meal ideas.
I am a participant in the Amazon Services LLC Associates Program, an affiliate advertising program designed to provide a means for us to earn fees by linking to Amazon.com and affiliated sites.
One of my first Paleo cookbooks was Make It Paleo by Hayley Mason and Bill Staley. It was full of beautiful pictures and lots of meal ideas that were simple enough for me to make, completely along the lines of healthy, grain-free meals, and even had some dessert and baked good recipes that helped me realize I could do this long term.
After getting that book I started following Hayley and Bill via their blog, Primal Palate. Similar to their book, it was a wonderful resource and one that I've found to be consistently great over the years. Like the kind of consistently great that I've never had a recipe of theirs fail, never had to go back and wonder what the heck I did wrong, nor never had my family complain that they didn't really like something. In fact, when friends and family ask for resources for going Paleo, their site (and 30 Day Guide To Paleo Cooking book) is one of the first places I send them.
And well, their other book, Gather, the Art of Paleo Entertaining might just be one of the most beautiful cookbooks out there and completely up my alley of wanting to have a "normal" life while still being on a restrictive diet.
So when they announced that they were making a sequel to Make It Paleo called Make It Paleo II, I was naturally excited. I mean, it's like when someone says they are making a sequel to one of your favorite movies! More of what you love…
I received my review copy several weeks ago and have been cooking furiously from it since. This time they also recruited the help of Hayley's sister Caitlin, who is a trained sushi chef and brings a wonderful new perspective to the dishes.
Some of our favorite dishes I've made were the Roasted Chicken with Aromatic Spices (talk about making the house smell divine), the Pork Meatballs with Creamy Sauce, Moroccan Short Ribs, Roasted Sweet Potatoes with Citrus Dressing (see recipe below), and the No-Bake Cinnamon Cookie Bites (picture below). These cookie bites, by the way, are one of the BEST mid-workout snacks I've ever had. We went up to the mountains here in Colorado for a short trip so I whipped these up in 10 minutes before we left, and then broke them out mid cross-country ski and wow. SO delicious and gave me a good dose of energy. My husband, who typically likes to eat more substantial snacks even remarked that the fat in these made him feel satisfied and full until we got back to the lodge.
The Chocolate Banana Milkshake was a creamy drink of deliciousness that we had as a special afternoon treat.
And then these Roasted Sweet Potatoes with Citrus Dressing were a beautiful and refreshing side dish. A lovely change from many of the side dishes we have gotten into a bit of a rut with but yet still as easy to make. I can see so many main dishes pairing nicely with these. I have been given permission to include the recipe below, so try them out and see for yourself how good these are.
Overall I'd say you can't go wrong with this book. Recipes range from the simple no-fuss to the more complicated but oh so rewarding. And there are plenty of unique recipes in here, some that are recreations of familiar dishes like Empanadas, Pork and Apple Ravioli, Pork Dumplings, Fried Wontons, and Nut-free Pasta. They made sure to note whether a recipe was dairy-free, nut-free, egg-free, and nightshade-free, as well as many notes for modifications when possible, which is SUPER helpful to those of us who can't have some of those things. It's just one of those kind of cookbooks that will immediately enter your regular rotation and become a go-to reference. You can get the book on Amazon and at stores near you.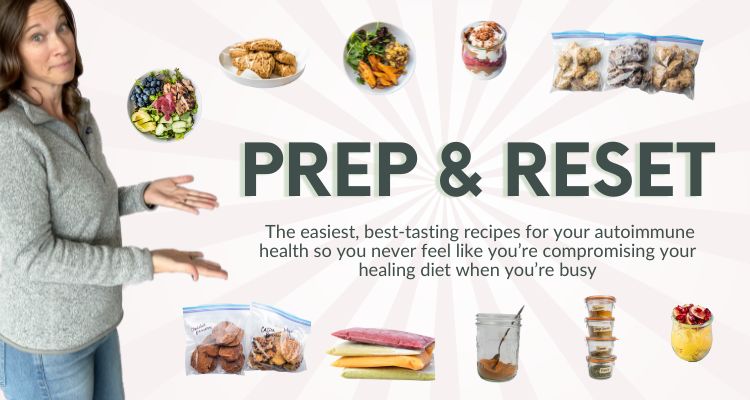 More Helpful AIP & Paleo Resources in the Freebie Library
If you find this recipe helpful, you may really enjoy the resources in my Paleo & AIP Freebie Library! There's a "dump" freezer meal plan, a list of AIP-compliant breakfast toppings, and so much more. Plus, you'll get even more ideas sent to your inbox! Get the password here.
Roasted Sweet Potatoes with Citrus Dressing Recipe
If you make these sweet potatoes, I'd love to hear how they turned out! Either comment below or share a pic on Instagram and tag me @thrivingautoimmune!
Roasted Sweet Potatoes with Citrus Dressing
This flavorful side dish from the book, Make It Paleo II is a nice refreshing change from plain sweet potatoes. It's Paleo and AIP-compliant and can be made Whole30 too.
Ingredients
3

large White Sweet Potatoes

1.5

tbs

Coconut Oil

(melted)

1

tsp

Sea Salt

Grated zest of 1/2 Lemon
For the Citrus Dressing:
Juice of 1 Lemon

(3 tbs)

1/4

cup

Extra-Virgin Olive Oil

2

tbs

Filtered Water

Pinch

Sea Salt

Pinch

Ground Black Pepper

(skip for AIP)

2

tsp

Coconut Sugar

(skip for Whole30)

1/4

cup

a handful fresh Cilantro Leaves, chopped

1

tbs

chopped fresh Chives

1/4

medium Shallot

(thinly sliced)
Instructions
Preheat the oven to 375 F.

Peel and chop the sweet potatoes into bite-sized pieces. Spread the sweet potato pieces evenly over a large rimmed baking sheet lightly greased with coconut oil. Toss with the melted coconut oil and season with the salt. Roast for 40 minutes, or until fork-tender, stirring every 15 minutes to ensure that they cook evenly and to prevent burning.

While the sweet potatoes are roasting, make the dressing: Combine the lemon juice, olive oil, water, salt, and pepper in a small mixing bowl, whisking to blend the oil with the acid. Add the coconut sugar and whisk again until it has dissolved into the dressing. Add the cilantro, chives, and shallot and whisk again to combine the ingredients.

Remove the sweet potatoes from the oven and carefully transfer them to a large glass mixing bowl. Pour the dressing over the potatoes and carefully mix to coat the potatoes evenly in the dressing. Sprinkle the lemon zest over the top of the potatoes and stir again. This dish can be served warm or cold.
Notes
This recipe is dairy-free, nut-free, egg-free, and nightshade-free.
Did you make this recipe?
Leave a comment below or share a photo on Instagram and tag me @thrivingautoimmune !