This post may contain affiliate links. Please read my disclosure policy.
This sweet potato carbonara pasta will satisfy your craving for comfort food but in a much healthier way. Cheap and fast to make too! Paleo, Whole30, and gluten-free, and a Stage 2 AIP Reintroduction (due to eggs and black pepper)
I've had a need for comfort food lately because of my new puppy. He's been with us 3 weeks now and while I've actually gotten a few full nights of sleep since, most nights I am up with him at least once. And unfortunately my adrenals are suffering as a result and I have that "tired but wired" feeling quite a bit. If I get up with the pup at say, 1 am, I'm usually lying in bed tossing and turning until at LEAST 3 am. It doesn't matter if I count sheep, meditate, go downstairs and read for a bit, stretch, whatever – my cortisol levels are spiked and I'm screwed. It's the worst when you are beyond exhausted and all you want to do is sleeeeeep, but your body is saying "nah, maybe later, time to play!". Luckily my functional medicine practitioner was able to give me some adrenal support supplements in the form of some adaptogens which are helping a lot, but it's definitely something I need to keep an eye on for sure.
The last time this happened, after the birth of my youngest, I just pushed through it all, worked out the same, started eating terribly (with a lot of sugar to keep my energy levels up), etc and everything eventually came crashing down around me and I could hardly move. This time though I know to back off on the exercise right now (except for my weekly Barre class and some short walks), try to take naps when I can, go to bed early every night (sometimes at 8:30), meditate at least 10 min a day to help reduce any additional stress, take a few minutes for "me" time each day, eat as cleanly as possible with as little sugar as possible, and not be afraid to ask for help and support from my loved ones. And luckily for me, puppies get through this phase MUCH faster than babies. So we shall see how this goes, but it'll take some recovery for sure!
Anyway – comfort food for me in the "old, pre-Paleo" days included yummy pasta dishes. Well, that's out now obviously, but fortunately I can recreate them with some even more delicious sweet potato noodles 🙂
This Paleo and gluten-free sweet potato carbonara comes together in under 30 minutes and is a great option if you are looking to eat less meat in your diet. Paleo can get a little meat heavy at times, and I've been really wanting to reduce our intake lately. However, if you want more meat or need something a bit more to fill you (or your ridiculously fast growing children), you can easily add some Italian Sausage links or chicken to this dish. Either cook them in a separate pan from the rest of this or roast your chicken in the oven. I personally like chicken thighs sprinkled with salt and pepper roasted in the oven at 425 F for about 40 min.
This meal is also a great budget-friendly dish as potatoes are not expensive and sweet potatoes are one of those things that are almost on the Clean 15 list so I usually feel ok buying conventional to save some moolah. Same with mushrooms. Save your pennies to buy better bacon and organic spinach.
I am a participant in the Amazon Services LLC Associates Program, an affiliate advertising program designed to provide a means for us to earn fees by linking to Amazon.com and affiliated sites.
If you need a tutorial on how to make sweet potato noodles with a sprializer, check out my video. The Paderno spiralizer I have is only $22 on Amazon right now, so it's a great deal!
I hope you enjoy!
More Helpful AIP & Paleo Resources in the Freebie Library
If you find this recipe helpful, you may really enjoy the resources in my Paleo & AIP Freebie Library! There's a "dump" freezer meal plan, a list of AIP-compliant breakfast toppings, and so much more. Plus, you'll get even more ideas sent to your inbox! Get the password here.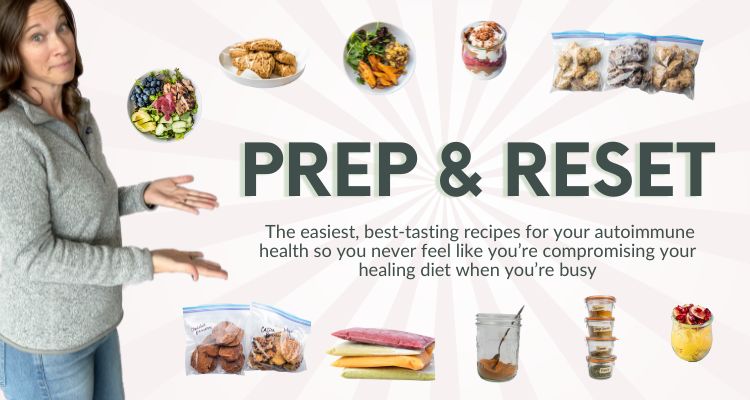 Sweet Potato Carbonara Recipe
If you make this dish I'd love to hear how it turned out! Either comment below or share a pic on Instagram and tag me @thrivingautoimmune!
Sweet Potato Carbonara
This sweet potato carbonara pasta will satisfy your craving for comfort food but in a much healthier way. Cheap and fast to make too! Paleo, Whole30, and gluten-free, and a Stage 2 AIP Reintroduction (due to eggs and black pepper)
Ingredients
2

pounds

Sweet Potatoes

(peeled)

2

eggs yolks + 1 full egg

(beaten)

1/4

tsp

Sea Salt

1/4

tsp

Ground Pepper

3

slices

Bacon

(chopped)

8

oz

Crimini Mushrooms

(sliced)

2

cloves

Garlic

(minced)

2

cups

Baby Spinach
Instructions
Put a large pot of water on to boil.

Using the spiralizer or julienne peeler, make your sweet potato noodles.

Heat a skillet or cast iron pan over medium heat and add the bacon. After a minute, add the mushrooms and cook, stirring often, until the bacon has browned and the mushrooms no longer have any liquid, about 6 minutes. Add the garlic to the pan with the mushrooms and bacon and cook, stirring, for 1 minute. Add the spinach and stir until wilted, 1 to 2 minutes. Remove the pan from the heat.

Cook the sweet potatoes in the boiling water until just starting to soften – about 3 minutes. Reserve about 1/4 cup of the cooking liquid and then drain the noodles. Turn off the heat.

Return the noodles to the pan. Mix the eggs, salt, pepper, and reserved water in a bowl and then pour over the noodles and gently toss until evenly coated.

Add the bacon mushroom mixture to the pasta and toss.
Nutrition
Calories:
330
kcal
Carbohydrates:
50
g
Protein:
12
g
Fat:
10
g
Saturated Fat:
3
g
Polyunsaturated Fat:
2
g
Monounsaturated Fat:
4
g
Trans Fat:
1
g
Cholesterol:
134
mg
Sodium:
442
mg
Potassium:
1188
mg
Fiber:
8
g
Sugar:
11
g
Vitamin A:
33767
IU
Vitamin C:
10
mg
Calcium:
116
mg
Iron:
3
mg
Did you make this recipe?
Leave a comment below or share a photo on Instagram and tag me @thrivingautoimmune !