This post may contain affiliate links. Please read my disclosure policy.
Can't have your morning oatmeal because of dietary restrictions? Try this Paleo, grain-free, and gluten-free breakfast porridge – made in your Instant Pot!
Do you remember how I just love any cookbook that Jennifer Robins puts out? Like the New Yiddish Kitchen or The Paleo Kids Cookbook? Well, she just came out with yet another one, and this time for that wildly popular but honestly kind of intimidating Instant Pot.
I am a participant in the Amazon Services LLC Associates Program, an affiliate advertising program designed to provide a means for us to earn fees by linking to Amazon.com and affiliated sites.
You may have picked up an Instant Pot during one of Amazon's big Prime Day or Black Friday deals. And you may have been super excited to open up the box and start making meals galore in a fraction of the time since EVERYONE seems to be raving about them these days, but then you were like "oh wait, what? How do I use this thing?". Perhaps you found a recipe or two on Pinterest that you made (maybe even my Instant Pot Chocolate Cake?), but you weren't exactly gonna have the same thing every.single.day. now were you? So alas, the IP that held so much hope just sits in your cabinet unused for the most part. It held such hope!!
Well, luckily Jennifer was on the ball and decided to make a cookbook called "Paleo Cooking with Your Instant Pot" filled with delicious looking recipes to save us. (And never fear, those of you that don't have an Instant Pot yet and are saving your pennies for one – she includes slow cooker instructions as well). I was fortunate enough to receive a review copy and so far have found that it looks to be one of the most helpful books out there. Unlike regular cookbooks that just give you recipe ideas, this one gives you recipe ideas + the info you need to actually use this new piece of kitchen equipment, demystifying this thing completely.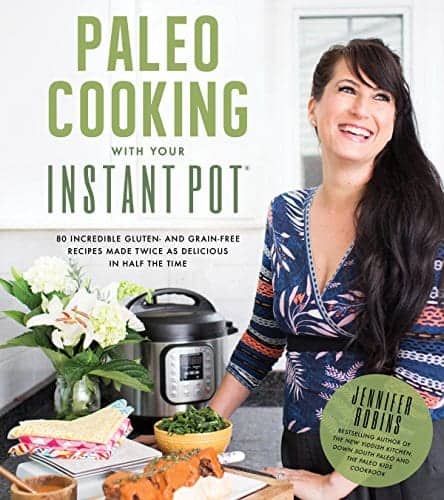 Jennifer was so kind as to allow me to share a recipe from the book with you. I was instantly drawn to this Paleo Breakfast Porridge recipe as it's (a) winter and freakin cold in the mornings (b) I really miss my oatmeal (c) a lot of the grain-free porridges require long soaking times and I just don't always plan that far ahead and (d) it's something that isn't eggs for breakfast (I love eggs, but sometimes I need something else!).
This porridge comes together extremely quickly and is really REALLY good. Plus it's super filling, especially when you add a few pieces of fruit. I could see so many ways of dressing this up – with fresh berries like I did, or with some apple pieces that have been cooked for a while with cinnamon, or just with a swirl of cinnamon and maple syrup. The best part though was that the whole process of making this took less than 10 minutes!
Update Feb 2018 – Here's a Facebook Live Video I did (uploaded to YouTube) that shows how to make this delicious recipe: Instant Pot Breakfast Porridge
Do be aware that when you put the ingredients into the Instant Pot it's going to look like a soupy mess. Not very appetizing. But after the cook time it comes out into a glorious, delicious porridge. I just mention this in case you've made any of the other normal Paleo nut-based porridges – they usually are thick and porridge-looking from the very beginning. So don't think you've done anything wrong, cause you haven't. 🙂
More Helpful AIP & Paleo Resources in the Freebie Library
If you find this recipe helpful, you may really enjoy the resources in my Paleo & AIP Freebie Library! There's a "dump" freezer meal plan, a list of AIP-compliant breakfast toppings, and so much more. Plus, you'll get even more ideas sent to your inbox! Get the password here.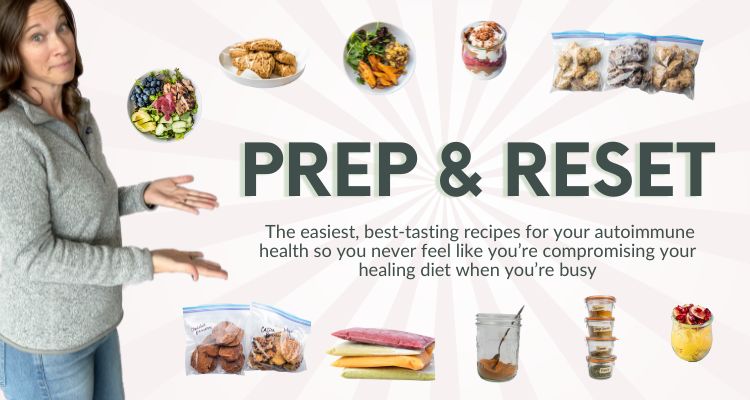 Paleo Breakfast Porridge Recipe
If you make this porridge, I'd love to hear how it turned out! Either comment below or share a pic on Instagram and tag me @thrivingautoimmune!
Paleo Breakfast Porridge in the Instant Pot by Jennifer Robins
Can't have your morning oatmeal because of dietary restrictions? Try this Paleo, grain-free, and gluten-free breakfast porridge – made in your Instant Pot! *This is reprinted with the permission of the author, Jennifer Robins from her book, Paleo Cooking With Your Instant Pot
Ingredients
1/2

cup

Cashews

(raw, unsalted)

1/4

cup

Pepitas

(shelled)

1/2

cup

Pecan Halves

1/2

cup

Unsweetened Dried Coconut Shreds

1

cup

Water

2

tsp

Coconut Oil

(melted)

1

tbs

Maple Syrup or Honey

Optional Garnishes: Fresh fruit

(coconut sugar, or ghee)
Instructions
Combine all of the ingredients except for the water, coconut oil, and maple syrup in a blender or food processor, and blend for around 30 seconds or until the mixture becomes a meal (like almond meal).

Transfer the contents to the stainless steel bowl of your Instant Pot and stir in the water, oil, and maple syrup.

Secure the lid, close off the pressure valve and press the Porridge button. Now press the "-" button until the display reads 3 minutes. Allow the porridge to cook.

Release the pressure valve and remove the lid once safe to do so. Stir the porridge once more and serve topped with fresh fruit, a bit of coconut sugar or ghee, if desired.
Notes
You can also cook this in the slow cooker – follow the preparation steps and then place the ingredients in the slow cooker. Cook on high for 1 hour and serve warm.
Also, make this in a large batch and simply reheat as needed throughout the week.
Did you make this recipe?
Leave a comment below or share a photo on Instagram and tag me @thrivingautoimmune !

I am really excited to dig into the rest of this book since I maaaay have been one of those people who have been intimidated by my Instant Pot and really had no idea what to do with it. I think this book will help me understand it a lot better and then feel way more comfortable with it. Plus, it will help save me a ton of time in the kitchen – something we all need, right?
Get your own copy at bookstores or on Amazon.
UPDATE Feb 2018 – I just did an Instant Pot Week with Kristen from A Mind "Full" Mom and we explained everything from Instant Pot 101 all the way through to all sorts of recipes. If you want to know how to use your Instant Pot or more to do with it (like coconut milk yogurt, a Paleo Beef Stroganoff, Indian Butter Chicken, etc), you can watch the entire playlist on YouTube.