This post may contain affiliate links. Please read my disclosure policy.
The Paleo and gluten-free cookbook, The New Yiddish Kitchen, is full of amazing Jewish recipes (like bagels). The Veggie Kugel (recipe in this post) is a healthy version of the popular Jewish side dish.
I am a participant in the Amazon Services LLC Associates Program, an affiliate advertising program designed to provide a means for us to earn fees by linking to Amazon.com and affiliated sites.
The New Yiddish Kitchen is a new cookbook from the masterminds behind Predominately Paleo (Jennifer Robins) and Zenbelly (Simone Miller). All I have to say is:
Ok, I realize that's a picture and not actually words. But a picture is worth a thousand of them, right? And if you are a bagel fan, as I am, this book is worth it JUST for the bagel recipe. They are Paleo yet the closest thing to a "real" bagel I've had in years. And really not hard to make at all! (And that's the Curried Egg Salad with it)
I'm an ex-New Jersey-ite who grew up in South Jersey, an amazing place if you are into Jewish food. Not only is there a pretty large Jewish population there, you are also close to New York City and all of that food too. This meant that growing up I was exposed to quite a bit of deliciousness. Fast forward twenty years and I am now married to a Jewish man. However, we haven't been able to expose our kids to a lot of the food from his heritage since it's not typically gluten-free. We've made some attempts and we have had some of the gluten-free products on the market, but it wasn't until this book came out that I've been truly excited to make some of the meals I remember.
I immediately jumped into making the bagels from this book, but some of these other recipes are calling my name for sure. Like a grain-free Mazto:
This pastrami:
And this Chocolate Babka. Yep, this Chocolate Babka calls to me. It whispers my name at night.
There are so many more too. Like Matzo Balls, Knishes, Latkes and Blintzes, and even menus for all of the Jewish holidays. It truly is a dream for anyone having to eat gluten-free and/or Paleo and wanting traditional Jewish, kosher food. I can see this book becoming an heirloom in our family and one that I will turn to often.
Jennifer and Simone have been so kind to let me share their Savory Sautéed Veggie Kugel side dish recipe with you, AND to give away a copy of the book to one of you! See below the recipe for the giveaway. If you want to buy the book, you can get it on Amazon (currently under $17 for the hardcopy).
More Helpful AIP & Paleo Resources in the Freebie Library
If you find this recipe helpful, you may really enjoy the resources in my Paleo & AIP Freebie Library! There's a "dump" freezer meal plan, a list of AIP-compliant breakfast toppings, and so much more. Plus, you'll get even more ideas sent to your inbox! Get the password here.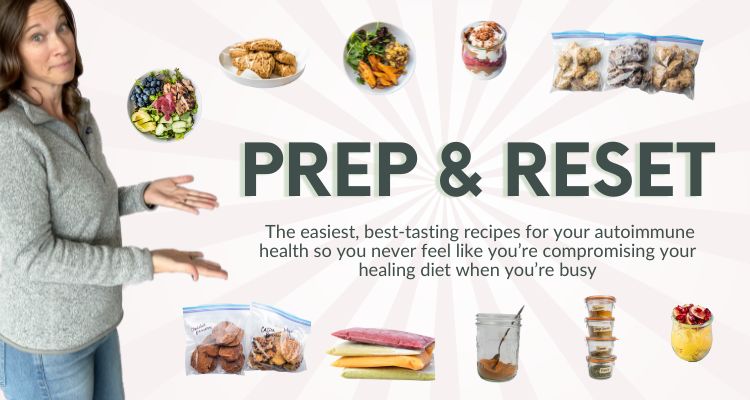 Veggie Kugel Recipe
If you make this veggie kugel, I'd love to hear how it turned out! Either comment below or share a pic on Instagram and tag me @thrivingautoimmune!
Veggie Kugel Recipe from The New Yiddish Kitchen
This Veggie Kugel is a healthy version of the popular Jewish side dish.
Ingredients
2

tbs

Olive Oil

(30 mL )

1

Zucchini

(shredded or julienned)

1

large Sweet Potato

(shredded or julienned)

1

cup

shredded Rainbow Carrots

(115 g )

1

Onion

(diced)

1

tsp

Sea Salt

1/2

tsp

Garlic Powder

1/2

tsp

Onion Powder

1/2

tsp

Ground Black Pepper

3

Eggs

1

cup

Baby Spinach, chopped

(30 g )

1

tbs

fresh or dried Chives, minced

(3 g )

3

tbs

Almond Flour

(18 g )
Instructions
Preheat the oven to 350ºF (177ºC). In a large skillet over medium-high heat, drizzle the olive oil. Add the zucchini, sweet potato, carrots, onion, salt, garlic powder, onion powder and black pepper to the skillet.

Sauté the ingredients on medium-high for 10–15 minutes, shifting the vegetables regularly so that they do not burn. You want them to soften and for any excess moisture to evaporate prior to baking. Turn the heat to high if there is residual liquid in the pan.

After the vegetables are cooked and starting to brown slightly, remove them from heat, allowing them to cool for a few minutes so that they do not cook the eggs.

Once slightly cooled, add the eggs one at a time and stir into the vegetable mixture. Then add the spinach, chives and almond flour.

Once combined thoroughly, pour mixture into a greased, 8 x 6 inch (20 x 15 cm) casserole dish. You may use a larger casserole dish, but you'll need to adjust baking time accordingly.

Now bake the mixture, uncovered for around 45 minutes, or until the center is set. If you choose to use a larger casserole dish, you may need less baking time. Allow the kugel to cool slightly before slicing into squares and serving.
Did you make this recipe?
Leave a comment below or share a photo on Instagram and tag me @thrivingautoimmune !

You May Also Like: