This post may contain affiliate links. Please read my disclosure policy.
When trying to make your kids eat healthier, things like sugary cereal are out. But this Paleo cereal is a healthy, delicious option they'll love! (Paleo, AIP)
I think Jennifer Robins is one of my favorite bloggers since she just keeps putting out amazing cookbooks.
I am a participant in the Amazon Services LLC Associates Program, an affiliate advertising program designed to provide a means for us to earn fees by linking to Amazon.com and affiliated sites.
I raved about the New Yiddish Kitchen that she co-wrote with Simone Miller (hello amazing bagels and bagel dogs) and now she's done it again with her new book, The Paleo Kids Cookbook.
The Paleo Kids Cookbook is a great resource for anyone who wants their children to eat healthy, gluten-free food and actually like it.
I am a sucker for kids food. Sue me, but kids food is like the ultimate in comfort food for me. Chicken nuggets, fish sticks, quesadillas, mac and cheese, grilled cheese, corn dogs, pizza pockets, soft pretzels, funnel cakes, gummy worms, waffles, pancakes, french toast sticks, oh man, I could go on and on and eat this stuff every day if I could.
But guess what.
Every single one of these is in this book in an allergy-friendly, much healthier than the normal way. So yeah, this book is a fave of ours already.
Vanilla Wafers and Banana Pudding make a great after-school snack
If you've been struggling to find food that your kids will like, you should check The Paleo Kids Cookbook out. Not only are the recipes fun to eat but they are also great for making things that look what like other kids eat at school, birthday parties, etc, so your kid doesn't have to be the only one not eating the animal crackers.
And every recipe is grain-free, gluten-free, dairy-free, peanut-free, shellfish-free, and soy-free so most of the major allergies are avoided! This makes preparing food for my kids' schools a breeze.
Plus many of these are fun to actually cook WITH your kids.
The verdict on this paleo cereal from both my sons? "Yummy!"
More Helpful AIP & Paleo Resources in the Freebie Library
If you find this recipe helpful, you may really enjoy the resources in my Paleo & AIP Freebie Library! There's a "dump" freezer meal plan, a list of AIP-compliant breakfast toppings, and so much more. Plus, you'll get even more ideas sent to your inbox! Get the password here.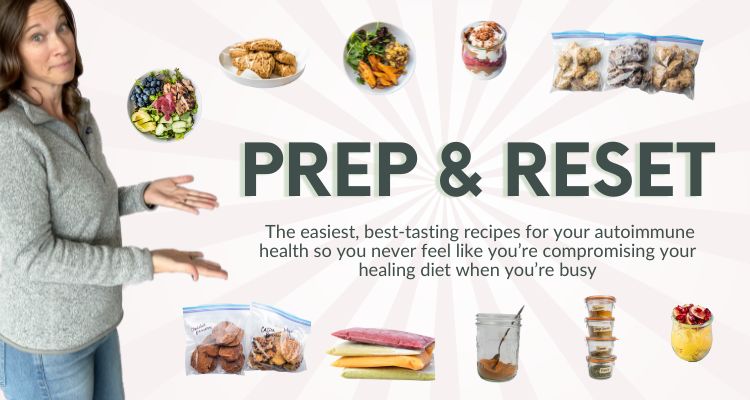 Paleo Cereal Recipe
If you make this cereal, I'd love to hear how it turned out! Either comment below or share a pic on Instagram and tag me @thrivingautoimmune!
Pale-O's Cereal from The Paleo Kids Cookbook
When trying to make your kids eat healthier, things like sugary cereal are out. But this Paleo cereal is a healthy, delicious option they'll love! Paleo and AIP friendly
*Recipe used and reprinted with permission from the author, Jennifer Robins
Instructions
Preheat the oven to 350 F (175 C).

Combine all ingredients in a bowl. The dough should be thick, but able to be piped.

Once desired consistency is reached, spoon mixture into a sandwich bag or piping bag.

Cut a small tip off the corner of the sandwich bag.

On a parchment-lined baking sheet, pipe small dollops of dough, about 1/3 inch (7 mm) in diameter (or to your size preference).

Bake for around 10 to 12 minutes, depending on your oven, then remove and allow to cool. The nuggets should be nicely browned and will crisp more upon cooling, after about 5 minutes or so. Many kids love these as a fun finger food versus a cereal to submerge in milk, but they are delicious however you decide to serve them!
Notes
FOR LITTLE HANDS: Allow your child to help mix the dough ingredients and help pipe the cereal if your helper is a little older.
Did you make this recipe?
Leave a comment below or share a photo on Instagram and tag me @thrivingautoimmune !

You May Also Like:
Get your copy of The Paleo Kids Cookbook here.