This post may contain affiliate links. Please read my disclosure policy.
If you like pumpkin spice you're gonna love this tigernut-based granola! Completely nut-free and Paleo and AIP friendly.
It seems fall these days is synonymous with pumpkin spice.
There's pumpkin spice EVERYTHING, right? Which is cool if you like pumpkin spice, but even as a fan I'll admit some things can be taken a bit far, haha!
But alas, I still love it, and translating my favorite Chocolate Tigernut Granola into a pumpkin spice version was something I had to do.
And it works SO well. Not only is it delicious, but it also tastes different enough from the chocolate version that it feels like something completely new.
Tigernuts are nut-free, Paleo and AIP compliant
One of the first questions I always get about tigernuts is why they're allowed on the AIP Diet if nuts are removed during the elimination period.
But tigernuts aren't nuts!
They're actually small tubers, like small sweet potatoes, that grow in the ground but wind up resembling nuts.
In some countries they're called chufa or ground nuts.
Because of this though they're AIP-compliant AND nut-free! This makes them a great alternative for those of you trying to eat a Paleo-style diet and remain nut-free because of allergies or intolerances to nuts.
Uses for this granola
• As a cereal: Like the chocolate granola it's great topped with some milk and eaten like a cereal. These milks are perfect if you're on AIP: Homemade Coconut Milk, Homemade Tigernut Milk, or Banana Milk.
• As a topping: It can be used as a topping over sweeter breakfast bowls like the Spiced Carrot Porridge (Paleo, AIP), a Sweet Potato Bowl (Paleo, AIP), or a Pumpkin Coconut Parfait (Paleo, AIP). Or just put it over some Coconut Yogurt (Paleo, AIP).
I also love granola as a topping on pancakes to give them a bit of crunch. You could do these AIP Cassava Flour Pancakes or these Paleo Carrot Cake Pancakes.
Plus it's great as a topping on more savory dishes – like the Harvest Bowl.
• As a snack: You could just eat this plain as a snack as well. It's quite delicious that way and may be the way I eat it most 🙂 To make it a bit more hearty you could add raisins too.
Ingredients needed
I am a participant in the Amazon Services LLC Associates Program, an affiliate advertising program designed to provide a means for us to earn fees by linking to Amazon.com and affiliated sites.
The main ingredients you need to make this granola are:
• Sliced Tigernuts – You'll want the sliced ones for this because the whole tigernuts are really hard (and a bit dangerous) to slice by yourself. Just do yourself a favor and buy pre-sliced. Also, I've still never found any sort of tigernut in a store, so I just get mine on Amazon.
• Coconut Flakes – This adds a nice, airy touch to the granola without it tasting coconutty (See next section on making this coconut-free)
• Canned Pumpkin – Use canned pumpkin for ease, but if you happened to have some pumpkin or other squash puree on hand, you can always use that as well
• Mace (for AIP) or Nutmeg – Mace is the outer covering of the nutmeg seed and is AIP-compliant. It tastes a lot like nutmeg so you get the same flavor. You can use nutmeg though if you aren't doing AIP.
• Vanilla Bean Powder or Vanilla Extract – This is an optional ingredient but I love the flavor it brings to this granola. Some people don't do well with vanilla extract though, so if that's you, leave it out or use the powder (and yes, vanilla bean powder is AIP-compliant as the "bean" is not actually a bean in the traditional sense. And the vanilla seeds are so teeny tiny that you probably won't break them down as you eat them, much like seeds in berries – so they're fine on AIP)
• Maple Syrup – Feel free to use the equivalent amount in honey if you'd rather, though the taste will change slightly
• Cinnamon, Ginger, and Cloves – these dried spices round out the pumpkin spice flavor!
See all the ingredients I recommend in my Thriving On Paleo Amazon store!
How to make this granola coconut-free
Since I know I'll get this question, you can make this granola coconut-free by replacing the coconut flakes with an equal number of sliced tigernuts. The granola will taste a bit different and may not clump together as much, but it will still be delicious.
Make Ahead
You can make this pumpkin granola and store it up to a month in a sealed container at room temperature!
That's what makes this so great – spend an hour making it (and I'd make the Chocolate one too at the same time) and then have it at your disposal any time you need it!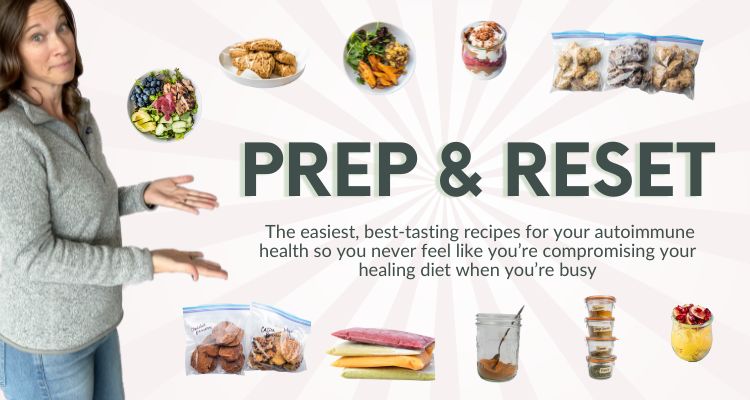 More Helpful AIP & Paleo Resources in the Freebie Library
If you find this recipe helpful, you may really enjoy the resources in my Paleo & AIP Freebie Library! There's a "dump" freezer meal plan, a list of AIP-compliant breakfast toppings, and so much more. Plus, you'll get even more ideas sent to your inbox! Get the password here.
Tigernut Pumpkin Granola Recipe
If you make this granola, I'd love to hear how it turned out! Either comment below or share a pic on Instagram and tag me @thrivingautoimmune!
Tigernut Pumpkin Granola (Paleo, AIP, Nut-free)
If you like pumpkin spice you're gonna love this tigernut and coconut-based granola! Completely nut-free and Paleo and AIP friendly.
Make this dish coconut-free: Replace the coconut flakes with an additional 1 cup of sliced tigernuts.
Ingredients
1

cup

sliced Tigernuts

1

cup

Coconut Flakes

(the wide ones, though shredded can work as well*)

1/4

cup

Avocado Oil

(or melted coconut oil)

1/4

cup

Maple Syrup

1

tsp

Vanilla Bean Powder or Vanilla Extract

(optional)

1/4

cup

canned Pumpkin

2

tsp

Cinnamon

1/2

tsp

Mace

(or Nutmeg if not on AIP)

1/2

tsp

dried Ginger

1/4

tsp

ground Cloves
Instructions
Preheat the oven to 275 F and move the baking rack into the middle of the oven. Line a baking sheet with parchment paper.

Mix all of the ingredients in a large bowl, then evenly spread onto the baking sheet.

Bake for 45-50 minutes, stirring every 15 minutes or so. Check the granola at 35 min to make sure it isn't burning. It may still seem a bit moist at 50 but take it out as it will dry as it cools.

If any is stuck together after it cools, break apart with your hands.
Notes
Store in an airtight container at either room temp or in the fridge for up to a month.
Use the leftover canned pumpkin to make Pumpkin Pudding Parfaits 😀
Did you make this recipe?
Leave a comment below or share a photo on Instagram and tag me @thrivingautoimmune !