This post may contain affiliate links. Please read my disclosure policy.
This AIP breakfast recipe is really easy to make, can be made ahead of time, portable, and very filling. You can also customize it with a bunch of different flavors and toppings so that you don't get bored! I also give instructions on how to make this coconut-free below.
First Published: January 16,2019… Last Updated: February 8, 2021
AIP Breakfast Options Are Limited
One of the hardest things about doing the Autoimmune Paleo (AIP) diet is breakfast. No eggs, grain-based or nut-based porridges, heck even chia seed pudding is out.
This doesn't leave a ton of options that aren't time-consuming and involved, and typically the ones that aren't are either soups or leftovers from dinner.
See also: The ULTIMATE Guide to the AIP Diet – everything you need to know to be successful
Don't get me wrong, I eat a TON of soups and leftovers while on AIP, but sometimes you just want something that resembles what you know – a comforting and almost fun option.
Bonus for it being simple to make, easy to make ahead of time, and portable!
After playing around with making coconut milk-based yogurt I came up with this idea for coconut parfaits, and I humbly say that it's one of my best yet 🙂 If you want more breakfast ideas, check out 10 AIP Breakfast recipes or make this delicious Spiced Carrot AIP Breakfast Porridge!
Video Cooking Demonstration
If you're a visual person (like I am) watch the full length video on how to make an AIP Pumpkin Pie Coconut Parfait on YouTube and then come back to get the recipe below!
Ingredients I used:
I am a participant in the Amazon Services LLC Associates Program, an affiliate advertising program designed to provide a means for us to earn fees by linking to Amazon.com and affiliated sites.
In the video, I mention a few important things.
The coconut milk I use is Native Forest Simple Coconut Milk as it doesn't have guar gum (which is not AIP-compliant). There are a few other brands that have guar gum-free coconut milk but this one is easily attained. (See how to make coconut milk). You can also use tigernut milk or banana milk as well.
I also use canned pumpkin to make this super simple. You can use a pumpkin that you roasted and then pureed as well. If you use canned pumpkin make sure the ingredients are only something like "pumpkin puree" and don't include any non-compliant ingredients.
I use Perfect Supplements grass-fed beef gelatin as my gelatin of choice. If you choose to use the Great Lakes Brand, you'll use the RED container for this one (the one that has to be heated)
MAKE THIS VEGAN: use powdered Agar instead of gelatin
Tips For Success
I mention in both the video and the recipe that it's up to you on how much gelatin you want to use.
If you use only a teaspoon per can of coconut milk you'll get a runnier mixture that is closer to what you expect of yogurt. However, if you use a tablespoon of gelatin you'll get a very solid mixture.
There is no "right or wrong" when it comes to which one you make – it's totally up to you.
I sometimes want it to be closer to the yogurt-type if I want a yogurt-y meal.
But sometimes I really just want that "chew" of eating something more solid, in which case I use a tablespoon of gelatin.
Once you heat the mixture it's best to pour it into either a quart-sized glass Ball jar or into a medium-sized Pyrex container to set.
You'll also want to make sure you let this sit in the fridge for at least 4 hours after heating it up to get to the right consistency.
Portable AIP Breakfast
If you need a portable breakfast and are taking it to go, I recommend either dishing out the set mixture into half-pint sized glass Ball jars or small Pyrex containers.
If eating it at home you can just use a bowl or whatever you have on hand.
Parfait Toppings
In the video, I topped my parfait with sauteed diced apples, raisins, and a drizzle of honey.
I simply diced half of an apple, heated a frying pan over medium heat, added about a teaspoon of coconut oil, let it melt, and then added the apples.
Then I added 1 teaspoon of cinnamon and a pinch of sea salt and tossed to combine.
I let the mixture cook for about 7 minutes, stirring occasionally.
(This topped 2 parfaits – so if you want to top 4, use the entire apple).
Then I put the apples, raisins, and honey on the parfaits.
I also made a version (seen below) that used diced pears, raisins, a dash of cinnamon, and a drizzle of honey.
On this version I did not sautee the pears – they were just diced and placed directly onto the parfait.
I recommend that if you're going to do this and serve it any time other than immediately that you toss the pears with a mixture of some lemon juice and water to prevent browning.
You can also get a huge list of AIP breakfast toppings in my Paleo & AIP Freebie Library – just request the password here and then go to the AIP section!
You could also use my "Chocolate" Tigernut AIP Granola as a delicious topping.
Other Paleo and AIP breakfast recipes you might like:
Spiced Carrot AIP Breakfast Porridge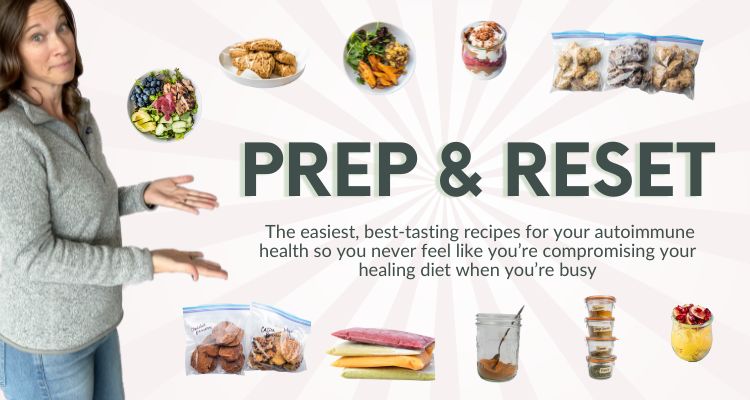 More Helpful AIP & Paleo Resources in the Freebie Library
If you find this recipe helpful, you may really enjoy the resources in my Paleo & AIP Freebie Library! There's a "dump" freezer meal plan, a list of AIP-compliant breakfast toppings, and so much more. Plus, you'll get even more ideas sent to your inbox! Get the password here.
AIP Breakfast Pumpkin Pie Coconut Parfait Recipe
I hope you enjoy these parfaits! If you make them I'd love to hear how it turned out! Either comment below or share a pic on Instagram and tag me @thrivingautoimmune!
AIP Breakfast – Pumpkin Pie Coconut Parfait
A simple Autoimmune Paleo (AIP) breakfast recipe that is egg-free, dairy-free, and easy to make. You can make this ahead of time and then either eat it at home on a busy morning or take it with you as it's highly portable.
Ingredients
13.5

oz

can of Coconut Milk

(you can use 2 cups homemade coconut milk– or Tigernut Milk or Banana Milk as coconut-free alternatives)

1

cup

Pumpkin Puree

1

tsp

Maple Syrup or Honey

1

tsp

Gelatin

(or up to 1 tbs, depending on how thick you want it. Use powdered agar for a Vegan version)

1

tsp

Cinnamon

1/2

tsp

ground Ginger

1/2

tsp

Mace
Instructions
Whisk all of the ingredients together in a saucepan. 

Heat until hot to the touch.

Pour into a glass container and refrigerate for at least 4 hours. Serve with desired toppings.
Did you make this recipe?
Leave a comment below or share a photo on Instagram and tag me @thrivingautoimmune !