This post may contain affiliate links. Please read my disclosure policy.
In this post: 10 delicious AIP breakfast ideas to start your morning right. These are egg-free and also Paleo and many can be made ahead of time so you don't need to spend valuable time in the morning cooking.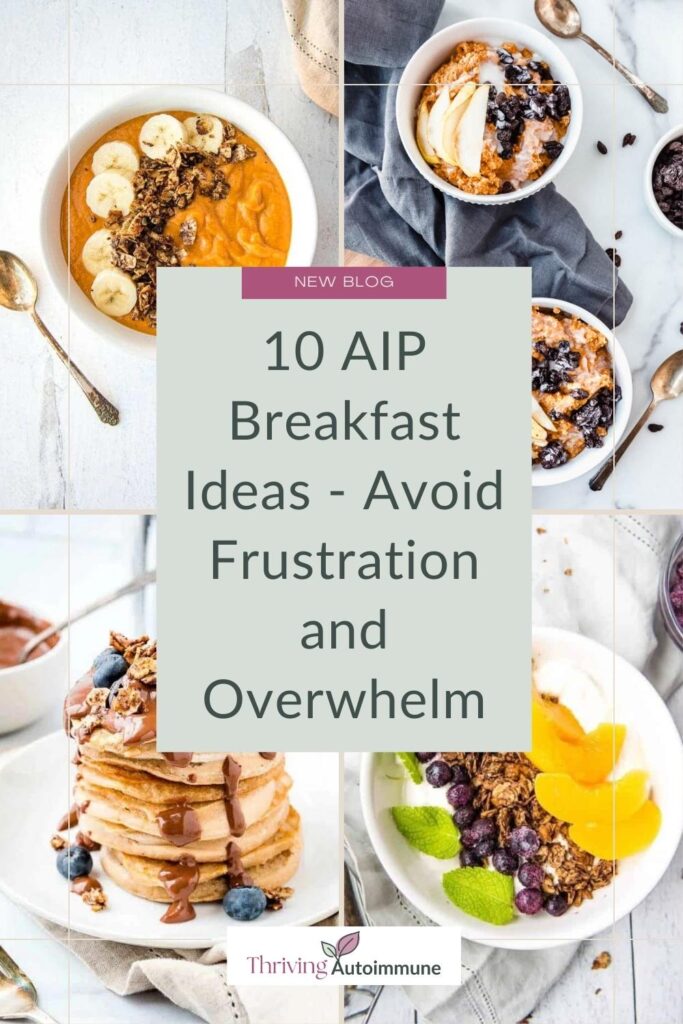 AIP Breakfasts – What to Eat?
One of the hardest meals to wrap your head around while on the Autoimmune Paleo Protocol (or AIP Diet) is breakfast.
You can't have eggs, and many of the other familiar foods like cereal or pancakes are either really hard to make or not encouraged.
Need a refresher on the Yes and No AIP Food List?
So what do you eat?
Here are 10 egg-free Paleo & AIP breakfast ideas to get your morning started. This is by no means a comprehensive list and there are many many other things you can eat, but these should get you started and out of that whole feeling of frustration and overwhelm that comes when you decide to tackle this healing diet.
See also – The ULTIMATE Guide to the AIP Diet – Everything you need to know to be successful
10 AIP Breakfast Ideas Video
If you prefer to watch rather than read, here's my vlog where I talk about each of these 10 AIP breakfast ideas. If you'd rather read, keep reading below!
10 AIP Breakfast Ideas
Here are my favorite 10 AIP Breakfast ideas:
# 1 Coconut Cream Parfaits
These AIP Breakfast Parfaits have quickly become a reader favorite. They are great for making ahead of time and taking with you if you need a portable option. You can customize them via tons of different flavors and toppings. Depending on how much gelatin you put in them they can either be really thick, like panna cotta, or thin, like yogurt.
# 2 AIP Breakfast Soups
These are my favorite breakfast option while on AIP. They're easy to digest, can be made ahead of time, frozen if necessary, and easily thawed and reheated in the morning.
Depending on what you put in them they can be quite nutrient-dense and give you a good dose of vitamins and minerals for your day.
Soups can be simple to make – don't overthink it.
Just take some veggies like broccoli, cauliflower, beets, or even mixed greens, steam them until soft, then blend with some chicken or beef stock, sea salt, and some herbs or AIP-compliant spices. You can use pretty much any veggie or veggie combo.
If you don't want to think about it though, I've got an AIP Soups Batch and Freezer Cooking Plan that shows you step-by-step how to batch cook 4 different nutrient-dense, delicious soups in one 1.5 hour meal prep session. Eat them that week or freeze for extremely quick meals later! (this soups plan is also part of my AIP-only membership, The Autoimmune Collective)
# 3 – Nourishing AIP Breakfast Bowl
Just mix together a bunch of veggies, a meat, and some fat and you've got a nourishing bowl that'll keep you full.
This bowl below is of sauteed mushrooms, kale, a chicken sausage, avocado, and radishes. Tons of different flavors and you can change it up so you don't get bored too.
Get the recipe for this Nourishing AIP Breakfast Bowl
# 4 – AIP Breakfast Porridge
My Spiced Carrot AIP Breakfast Porridge is one of the most warming, comforting breakfasts you can make – and no grains are to be found in it!
You can add so many different toppings on top of this, and it's a good one to make ahead of time and just reheat.
#5 – Sweet Potato Bowl
This delicious bowl that can be made ahead of time but is really quick to make in the morning as well.
It's essentially mashed sweet potato, but when you add some elements like collagen, spices like cinnamon and mace, and fun toppings it becomes so much more. It's also very filling and also super comforting on cold mornings.
See the Sweet Potato Bowl recipe.
#6 – Pancakes
Don't just do a stack of pancakes on a plate with maple syrup, but rather, make a plate or bowl with other elements to round it out a bit and not set your blood sugar on a roller coaster for the day.
Items to eat with pancakes could be breakfast sausage, coconut milk yogurt or even some of the coconut parfaits from idea # 1 above, avocado, berries, tigernuts, etc.
Need an AIP-compliant pancake recipe? You can try my AIP Cassava Flour Pancakes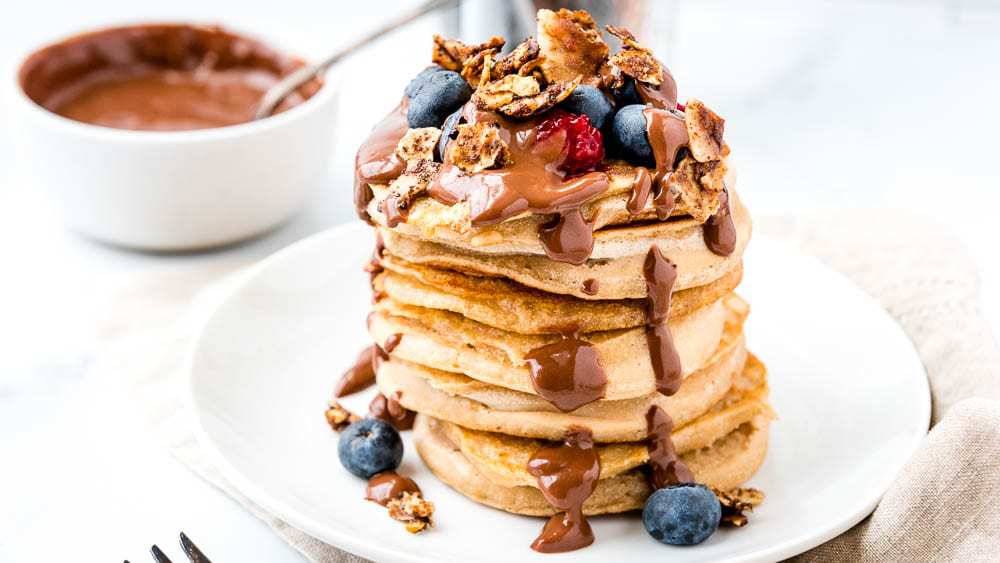 #7 – Leftovers
Leftovers are one of the smartest ideas of what to eat for breakfast while on AIP – and the most nutritious.
Instead of thinking of breakfast as this meal that has to have a totally different kind of food than everything else, you can just eat leftovers from dinner!
Not only is it easy – no need to cook anything – but it's also typically simple to reheat for busy mornings.
Even if you don't have a full meal of leftovers, keep small portions of leftovers and mix them all together to form a meal. Or mix some leftovers with one of the other ideas in this post.
#8 – AIP Breakfast Hash
I think when most people think of a hash they think of potatoes with a fried egg on top, but it does not need to mean that.
Instead, think of a hash as a mixture of diced veggies that can be served for breakfast!
You can put in any AIP-compliant veggies and fruits, like diced sweet potatoes, turnips, parsnips, butternut squash, fennel, apples, onions, etc – the sky's the limit!
Just simply dice and then either cook in a pan or roast in an oven until tender (I personally love the hands-off oven method).
Add some breakfast sausage, ham, fresh greens, or avocado to complete the meal!
#9 – Sweet Potato Toast
Sweet potato toast is so versatile – you can easily make them either sweet or savory and put so many different things on top.
To make, peel and thinly slice a sweet potato into 1/4 inch slices and then either cook in the oven at around 425 F for 15-20 min (or until soft), or in a toaster on the longest setting for a few rounds (until soft). Then top with whatever you want.
Alternatively, you can purchase the freeze-dried sweet potato slices from Sweet Potato Awesome – they are crunchy, stable vehicles for your sweet potato toast and don't require any cooking. Simply top and eat. (Watch a review my kids and I did on several different Sweet Potato Awesome varieties)
Some suggestions for AIP sweet potato toast toppings:
Sliced Avocado
Guac (AIP guac – mash an avocado, add a splash of lime juice, a pinch of sea salt and garlic powder, and add some diced red onion and cilantro)
Sliced Bananas, Tigernut Butter, and Honey
Ham
the Fig and "Ricotta Cheese" toast I shared in the How to Make Coconut Milk post
Liver pate, radishes, garlic, arugula (this is one of the only ways I can eat liver pate)
smoked salmon
coconut yogurt
stewed berries
Sweet potato toast is also a great meal to serve when you have guests or families because you can make the toast and then have assorted toppings that satisfy everyone. You can make some scrambled or fried eggs and other things that they can have and you stick to your AIP-compliant ingredients.
#10 – Smoothies
Sometimes ya just gotta have a smoothie!
Dr. Ballantyne says these aren't the BEST option to eat as a meal because our bodies react differently to chewing versus drinking our foods, but I know many rely on these as their fast, portable option.
Note: It's best if you can have an item to chew, like breakfast sausage or slice of ham, along with your smoothie so that the proper digestive enzymes and hormonal releases (things like insulin, etc) all work properly.
If you want a smoothie while on AIP, opt for more veggie-heavy vs. fruit-heavy ones, add some fat like avocado or MCT or coconut oils, and add some protein via a scoop of collagen. This way your blood sugar will be more stable until your next meal.
Many smoothie recipes you find usually can be converted pretty easily to be AIP-compliant.
Bonus Idea – AIP Granola
After I originally wrote this post I came up with this recipe for a "Chocolate" Tigernut AIP Granola – it's something you could put in a bowl with some coconut milk, tigernut milk , or banana milk as a cereal, or over some coconut yogurt – or even a coconut parfait!
Hopefully this list gets you started and out of being overwhelmed about what you can eat while on Autoimmune Paleo!
Want even MORE Breakfast Ideas?
Check out my AIP Breakfasts digital cookbook! It's got 61+ recipes and ideas for breakfasts on the Autoimmune Protocol that'll make your mornings great again and give you tons of inspiration and motivation to continue on. Includes dishes like an AIP Mushroom, Bacon, and Caramelized Onion Quiche, Blueberry Muffins, Apple Muffins, and so much more!
Some more posts you might like:
AIP Coffee Substitutes – skipping coffee is not as bad as it seems
AIP Coconut Milk Alternative – Banana Milk!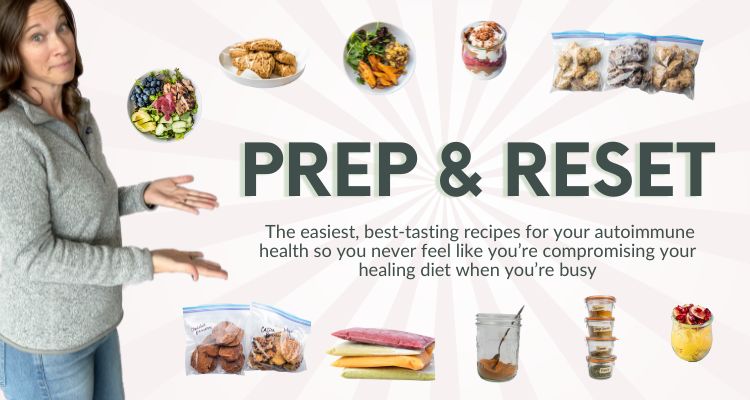 More Free AIP Resources
Want to make AIP easier? If you haven't joined my Paleo & AIP freebie library yet, you'll find a bunch of AIP resources in it – including a mini dump-and-go freezer meal plan, breakfast toppings list, swaps list, snack ideas, and starter guide! Get the password here.