This post may contain affiliate links. Please read my disclosure policy.
If you're on the AIP Diet you know the HORROR of not being able to have coffee (it's a seed). Here are 8 AIP coffee alternatives you can enjoy instead! Yes, enjoy. Why? Because these hot drinks are delicious! This post includes a recipe for a Golden Milk Latte.
Sorry, no Coffee on AIP
These are the dreaded words that most people hate to hear!
It's the reason the AIP Diet strikes fear in those who finally have a shred of hope that they'll be able to put their autoimmune disease symptoms to rest.
The idea of not having coffee for a few months is simply torturous!
In fact, I've seen many people decide to continue suffering through their autoimmune symptoms JUST so they don't have to give up coffee for a month. That's how much of a hold it has on us.
Trust me, we've all been through it. Alas, it's really NOT as bad as it seems.
There are so many options!
Want to know more about the AIP Diet? Here's the Ultimate Guide!
Why Can't You Have Coffee on AIP?
Coffee isn't allowed on AIP because it's a seed, and since seeds are not allowed during the elimination diet portion of AIP, it's not compliant. (No, it's not actually a bean, despite the term coffee bean!)
Seeds are eliminated on AIP because they contain compounds that can be hard on our bodies and may exacerbate leaky gut and bacterial overgrowths.
What About Caffeine?
That's not all though – caffeine, while still allowed on AIP, can pose a problem for some people. It's not the reason that coffee is eliminated, but it's something to pay attention to.
If you're on AIP because of adrenal fatigue issues, extreme exhaustion, hormonal issues, or blood sugar issues it really is best if you can try to eliminate caffeine for at least 30 days.
Caffeine has the ability to spike cortisol (the stress hormone) for up to 6 hours after drinking only one cup! That's a long time for that hormone to be circulating in your bloodstream. Plus if you have any issues falling asleep at night – look at that as one possible cause.
Tea with caffeine is allowed on AIP, but please exercise caution if any of these issues pertain to you!
What's the Best Way to Quit Coffee?
The next question I always get it "how do I quit coffee (or caffeine)?" After all, it's an addictive drug! There are ramifications to stopping it!
My suggestion is always to go slowly. Cut down on the amount you have gradually over a week period (or longer if you need it).
Start by cutting down by a 1/4 cup per day and then possibly switching to black or green tea for a day or two before stopping all caffeine.
While some people can quit cold turkey with no issues, the majority of us get terrible migraine headaches, massive sugar cravings, monster-like irritation, and more if we stop all at one time. So do yourself a favor and baby step it.
AIP Coffee Alternatives
So of course, next up is always "So what CAN I drink instead?"
I mean, a hot drink is very comforting, right? It's a ritual, something you look forward to each morning (or afternoon).
TOTALLY understand, as I'm definitely a fan of a cozy warm beverage.
Luckily there are a ton of things you can do and below are several coffee substitutes.
Please note that many of these substitutes are coconut milk-based. However, you can use tigernut milk or even banana milk for any of them. And if you want to save money on coconut milk, be sure to make your own homemade coconut milk!
If you're a visual person, this is the full-length video on Youtube where you can learn about the alternatives or continue reading!
Beetroot Latte
Even though this might sound really strange, beet lattes are really good!
They have a certain warm earthiness that one looks for in a hot drink, and bonus that it's good for your liver!
This is a simple drink to make, the only ingredients needed are coconut (or tigernut or banana) milk, beet powder, cinnamon, and maple syrup.
See the full AIP Beetroot Latte recipe
Broth
Chicken, beef, fish, or vegetable broths (or stock) make a great, nutrient-dense alternative to coffee.
I still remember when I first went onto a healing diet (the GAPS diet was my first) how I brought a huge thermos of chicken stock into my office every day.
I'd simply refill my cup with hot broth every few minutes and was nourished and warm all day long. Not sure why I ever stopped doing that actually!
Now I drink a cup every night after dinner and it's a ritual I look forward to.
Making your own stock is really easy too – there are a gazillion recipes out on the internet so just google it, but you can make it in so many different ways.
Chai Latte
This chai latte was a recipe I shared a few months ago and was an instant hit.
Sweet, spicy, and warm, it's the perfect hot drink for a cold day. Plus it only takes 5 minutes to make, so you can quickly be cozying up to a mug in minutes.
It uses coconut milk (or tigernut or banana milk), mace (an AIP nutmeg replacement), ground ginger, cinnamon, cloves, maple syrup, and optionally, vanilla powder.
See the AIP Chai Latte Recipe
Chicory Dandelion "Coffee"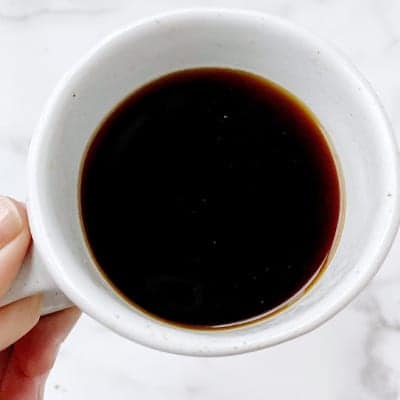 This is a popular AIP coffee substitute. It's got the bitterness of coffee and sometimes you can almost fool yourself that you're drinking coffee. Almost. 🙂
It's decent on its own, but also makes a great base for lattes or other coffee-based beverages if you want that bitter undertone.
This recipe is the one I always recommend people start with but play around with the ratios of chicory and dandelion root to get to your desired level of bitterness.
1 tsp dried Dandelion Root
1/4 tsp dried Chicory Root
1/4 tsp Carob Powder
Place in the bottom of a small French Press or mug and cover with boiled water. Steep for 3 minutes, then strain and serve.
**NEW IN 2021 – There's a new AIP-friendly dandelion chicory coffee product called Sip Herbals created by 2 lovely ladies who have done Paleo for a long time (and saw the need for this!). It's a spot-on version of this "coffee" that I highly recommend, especially if you don't want to commit to buying all of the ingredients to make it on your own. Check Sip Herbals out here and use code THRIVING10 to get 10% off your order!
Be careful to avoid store-bought dandelion coffee drinks like Teechino and Dandy Blend as they contain non-AIP seeds and barley, therefore are NOT AIP-compliant.
Coffig
I am a participant in the Amazon Services LLC Associates Program, an affiliate advertising program designed to provide a means for us to earn fees by linking to Amazon.com and affiliated sites.
One of the strangest things to actually resemble coffee is roasted figs. Trust me, I didn't believe it when I heard about it either.
Yet, once I tasted Coffig roasted fig beverage I was sold. It really does taste strangely like a lightly-brewed coffee.
You simply brew it for several minutes in a French press or saucepan and then strain.
Hot "Chocolate"
What's a hot drink list without some hot chocolate?
Of course you cannot have chocolate on AIP (it's also a seed), but carob makes a decent replacement.
Carob actually has more nutritional benefits than cocoa/cacao and it doesn't contain stimulating ingredients such as caffeine and theobromine. It also has protein, fiber, lots of vitamins and minerals, AND has a great effect on our immune systems. So definitely not something to ignore!
See the AIP Hot Chocolate recipe – note that it's a holiday-themed post but can be made at any time.
That post also explains how to make this as a pre-made mix, so all you have to do is add milk to a few tablespoons of mix whenever you want a drink!
Tea
As I mentioned above, tea is an AIP-compliant beverage.
There are some caveats to this though – make sure to check that the tea doesn't have any gluten, soy lecithin or eliminated preservatives or additives.
Also make sure there are no immune-stimulating herbs that are eliminated as well. Elderberry, ashwagandha, and maca are a few that come to mind that I've seen in tea blends, but that's not all.
Some of the mushroom teas can be ok but also check them as well for immune-stimulating herbs.
Yerba Mate is ok.
My choice of AIP-compliant tea usually is the Mango Green Tea by Wild Zora (I'm not a huge tea drinker but really love this instant tea). If you like English Breakfast they've got one of those too.
Golden Milk Latte
One of my favorites, a golden milk latte is a delicious anti-inflammatory beverage.
More Helpful AIP & Paleo Resources in the Freebie Library
If you find this recipe helpful, you may really enjoy the resources in my Paleo & AIP Freebie Library! There's a "dump" freezer meal plan, a list of AIP-compliant breakfast toppings, and so much more. Plus, you'll get even more ideas sent to your inbox! Get the password here.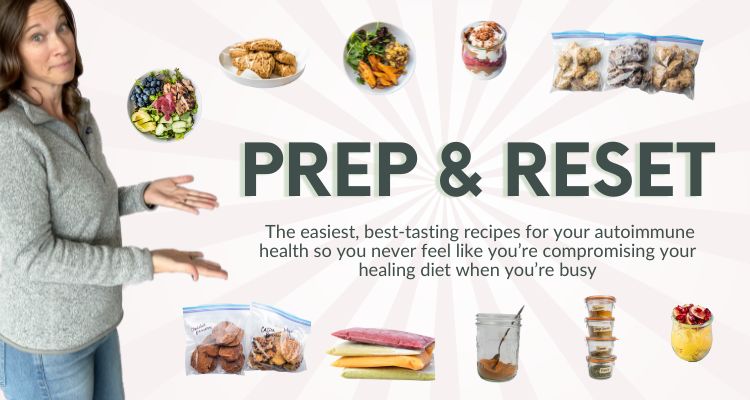 Golden Milk Latte Recipe
If you make this latte, I'd love to hear how it turned out! Either comment below or share a pic on Instagram and tag me @thrivingautoimmune!
Golden Milk Latte (Paleo, AIP)
This is another easy AIP coffee drink that can be made in less than 5 minutes and features anti-inflammatory turmeric powder.
Instructions
Whisk together in a small saucepan and then warm gently on the stove. (I garnished the one in the picture with some cinnamon)
Did you make this recipe?
Leave a comment below or share a photo on Instagram and tag me @thrivingautoimmune !
Summary
I hope you've found this helpful and are inspired to go make a drink right now! If you like ways to make AIP easier and more interesting, be sure to get access to my Paleo & AIP Freebie Library with a bunch of resources that do just that, plus you'll be updated with emails of more helpful stuff!
Other AIP Posts You Might Like
10 AIP Breakfast Ideas – breakfast is often the meal people struggle with most on AIP – here are 10 ideas of what to eat!
or perhaps Quick 1-minute AIP Snack Ideas are more what you need
or if you're lacking energy and time, AIP Freezer Meals can really help!