This post may contain affiliate links. Please read my disclosure policy.
This creamy, soothing AIP Chai Latte is a quick, warming dairy-free coffee replacement drink. It has a lot of flavor from the rich spices and is slightly sweet, so it can be a lovely afternoon pick-me-up. Made in 5 min!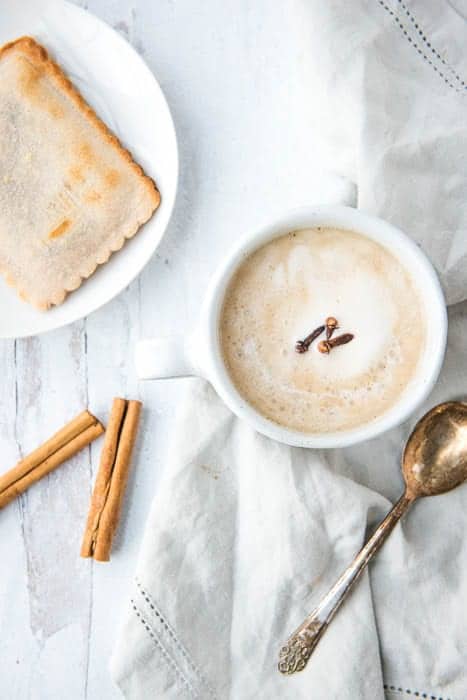 A Warm AIP Coffee Alternative
Fall and winter can be one of the harder times to do the AIP Diet because the cold temperatures often lead you to desire coffee.
It's pretty obvious why – coffee is warm. You are not.
However, there are loads of other warming drinks! And some delicious ones at that.
Like this AIP Chai Latte!
This post includes affiliate links, which means I may earn a commission if you purchase through them.
Before anyone asks, the toaster pastry (Poptart) is a pre-made AIP one from Paleo on the Go. So good! (use code TOP15 to get $15 off your first order)
AIP Chai Ingredients
This particular chai is creamy and soothing due to the rich nature of the spices used. Spices are pretty limited on the Autoimmune Protocol, but there are quite a few in this drink!
I am a participant in the Amazon Services LLC Associates Program, an affiliate advertising program designed to provide a means for us to earn fees by linking to Amazon.com and affiliated sites.
The Included Ingredients
Coconut Milk – this dairy-free milk gives the drink its creamy texture (learn how to make coconut milk) If you cannot have coconut, tigernut milk would be a great replacement or even banana milk!
Mace – an AIP-compliant alternative for nutmeg that comes from the outer red coating of the nutmeg plant. Tastes a lot like nutmeg!
Ginger – gives it a spicy kick and good for digestion
Cloves – a warming spice that is often used in fall and winter recipes
Vanilla Powder – this is optional, but made from ground vanilla pod and gives this drink a nice flavor
Maple Syrup – to add a tad bit of sweetness and maple flavor. You could of course replace with honey or coconut sugar or omit completely
Alternative Ingredients
If you'd like, you could make this into a "coffee drink" by adding your favorite coffee-alternative like Chicory Dandelion Coffee (you can make your own or buy this delicious blend from Sip Herbals – use code THRIVING10 for 10% off!) or this "coffee" made from figs called Coffig.
You could also add black tea as well – either simmer it with the coconut milk and other ingredients or add pre-brewed tea separately.
Another alternative is to use the whole form of each of the spices as well – simmering for 15 minutes using cinnamon sticks, whole cloves, fresh sliced ginger, and even a vanilla bean. Just remember to strain before drinking!
Make a Pre-made Mix for it:
Even though this is a super quick recipe to pull together, you may not always have the ingredients on hand (like if you're in an office or traveling) – or you might just not want to deal with it.
For times like that – make a pre-made mix that all you need to do is scoop out a bit and mix with your milk of choice.
If you make the mix WITH coconut milk powder, all you need to do is mix it with hot water – which is a great option for work or travel.
To make a pre-made mix that makes 10 servings:
2.5 tsp Mace (or Nutmeg as a Stage 1 Reintro or for Paleo)
2.5 tsp Ground Cloves
5 tsp Ground Ginger
5 tsp Ground Cinnamon
3 tablespoons Coconut or Maple Sugar
5 tsp Vanilla Powder (Optional)
Optional: 1.5 cups Coconut Milk Powder
When making the latte, mix 1 tablespoon of the mix with 1 cup hot or cold milk of choice.
If you added coconut milk powder, mix 3 tablespoons of the mix with 1 cup of hot water.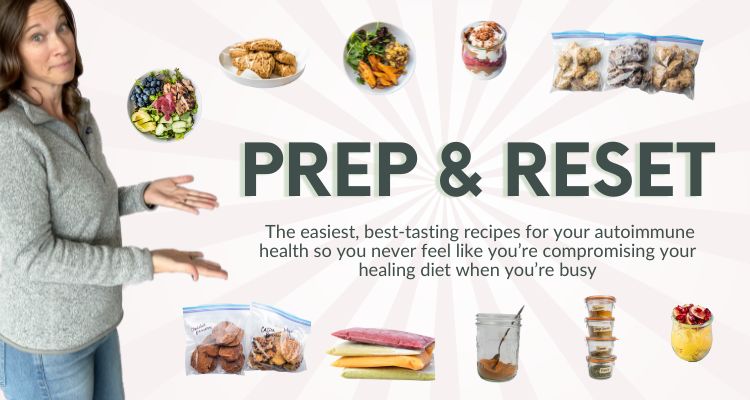 Other Posts You Might Like
AIP Coffee Alternatives – many more hot drink substitutes!
Get More Helpful AIP & Paleo Resources in the Freebie Library
If you find this recipe helpful, you may enjoy my Paleo & AIP Freebie Library resources! There's a "dump" freezer meal plan, step-by-step meal prep plans, easy AIP-friendly recipes, cheatsheets, a guided relaxation meditation, and so much more!
Plus, you'll get even more easy ideas to help you find relief from your autoimmune disease sent to your inbox! Get the password here.
AIP Chai Latte Recipe
If you make this AIP chai latte, I'd love to hear how it turned out! Either comment below or share a pic on Instagram and tag me @thrivingautoimmune!
AIP Chai Latte Recipe
This creamy, soothing AIP Chai Latte is a warming dairy-free coffee replacement drink. It has a lot of flavor from the rich spices and is slightly sweet, so it can be a lovely afternoon pick-me-up. This version doesn't use tea or coffee, just a dairy-free milk and spices, but you could always add black tea, Coffig, or Chicory Dandelion Coffee.
Instructions
Add all of the ingredients into a small saucepan, whisk together, and simmer until desired temperature. Whisk again to make it frothy and enjoy!
Did you make this recipe?
Leave a comment below or share a photo on Instagram and tag me @thrivingautoimmune !

YOU MAY ALSO LIKE: