This post may contain affiliate links. Please read my disclosure policy.
Sweet crumbles of ooey gooey deliciousness await you in this easy Paleo & AIP friendly berry crumble recipe. Have it for breakfast or dessert – you choose!
Breakfast OR Dessert Recipe? You Choose!
When I first created this nut-free berry crumble recipe for the AIP Breakfasts book, I asked my Instagram readers if they'd consider a crumble like as just a dessert, or both a breakfast and a dessert,
The answers were pretty overwhelming that most of you think this could be either.
Which is good, since I think it makes an amazing breakfast, especially when you can't eat eggs!
It's definitely a fun choice for a weekend breakfast, especially if you're on the AIP diet and options are limited.
Easy to Make
One of the greatest things about a crumble is that it's incredibly easy to make.
Just mix together a few ingredients for the berries, and then a few for the crumble and bake.
My kids have really been getting into cooking lately and they find this one to be really simple to throw together, so I'm sure you can do it too.
Ingredients in this crumble:
There aren't a huge amount of ingredients for this crumble but you will need some nut-free, AIP and Paleo flours. See the recipe card below for exact measurements and directions
• Frozen mixed berries – I use frozen because they're often a lot less expensive and easier to get. However, if you have an abundance of fresh berries you can definitely use them. Also see the next section for some substitutions for the berries
• Lemon Juice – this can be jarred or fresh, it's just to add a hint of brightness to the berries
• Arrowroot Powder – this is to thicken the "sauce" that will result from the berries cooking. You can replace this with tapioca starch or even more cassava flour if you'd rather, or omit it altogether
• Vanilla Bean Powder or Vanilla Extract – This is an optional ingredient but I love the flavor it brings to this granola. Some people don't do well with vanilla extract though, so if that's you, leave it out or use the powder (and yes, vanilla bean powder is AIP-compliant as the "bean" is not actually a bean in the traditional sense. And the vanilla seeds are so teeny tiny that you probably won't break them down as you eat them, much like seeds in berries – so they're fine on AIP)
• Cassava Flour – This is a flour made from the whole cassava (yucca) root. Read more about this flour in the post AIP Foods You May Not Be Familiar With
• Coconut Sugar or Maple Sugar – this is what gives the topping its sweetness. You could omit this if you want the dish to just be naturally sweetened with the berries, but I recommend you use it 🙂
• Cinnamon – This spice brings a warmth to the topping
• Sea Salt – A pinch is all that is needed, but it offsets the sweetness and brings out the other flavors
• Coconut Oil – This is the glue that holds the topping together. I use refined coconut oil so that it doesn't have a coconutty taste. If you can't tolerate coconut or don't have any coconut oil, use Palm Shortening, Lard, or Avocado Oil instead. They'll all work just fine!
Substitutions for the berries:
There are quite a few ways to go about this crumble as well.
If berries aren't your thing, or you don't have any, use any number of other fruits. Some great choices:
diced apples and/or pears with cinnamon and add raisins for an even more fun kick
diced peaches – add a 1/2 tsp of dried ginger for even better flavor
sliced bananas – this isn't one you see much, but it's good, trust me (you don't need the lemon juice if you use these)
Make this crumble ahead of time:
This berry crumble holds up really well in the fridge, so you could make it up to 5 days ahead of time and then just reheat it in the oven or toaster oven for a few minutes, or the microwave for about a minute before serving.
You could also eat it cold, making it a great dish to bring with you on-the-go.
What to serve with this berry crumble:
The question of what to serve with this crumble really depends on whether you're eating it as a breakfast or as a dessert. So let's tackle them separately.
BREAKFAST:
• Maple Blueberry Sausages are awesome with this as they're slightly savory and slightly sweet. They're Paleo and AIP-friendly
• Apple Thyme Sausages are also good. A little more on the savory side than the maple blueberry sausages, but still delicious. They're Paleo, Whole30, and AIP-friendly)
• Eggs – If you're not on the AIP Diet or have successfully reintroduced eggs, they'll of course be a great side as well
DESSERT:
• Vanilla ice cream (this is a good recipe) – this is kind of a quintessential pairing for a crumble or a crisp
• Coconut whipped cream (I like this recipe) – not as hard to make as ice cream, coconut whipped cream can be made quickly and quite easily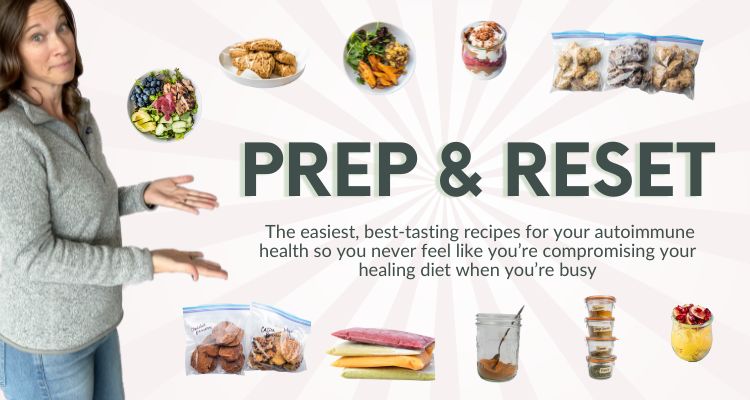 Want more breakfast ideas?
I love making breakfast recipes, therefore I've got a TON on this site and in the AIP Breakfasts Book as well.
AIP Pancakes – fluffy and the answer to your prayers
AIP Waffles – crispy, delicious, weekend treat
10 AIP Breakfast Ideas. – get some great ideas in this post!
More Helpful AIP Resources in the Freebie Library
If you find this recipe helpful, you may really enjoy the resources in my Paleo & AIP Freebie Library! There's a "dump" freezer meal plan, a list of AIP-compliant breakfast toppings, and so much more. Plus, you'll get even more ideas sent to your inbox! Get the password here.
Berry Crumble Recipe
If you make this crumble, I'd love to hear how it turned out! Either comment below or share a pic on Instagram and tag me @thrivingautoimmune!
Berry Crumble (AIP, Paleo)
Sweet crumbles of ooey gooey deliciousness await you in this easy Paleo & AIP friendly berry crumble recipe. Have for breakfast or dessert – you choose!
Ingredients
For the filling:
2

cups

frozen mixed Berries

1

tbsp

Lemon Juice

1.5

tsp

Arrowroot Powder

(see notes for substitutions)

1

tsp

Vanilla Powder or Vanilla Extract

(optional)
For the topping:
1

cup

Cassava Flour

1/4

cup

Coconut or Maple Sugar

pinch

Sea Salt

1

tsp

Cinnamon

1/3

cup

Coconut Oil

(melted (or Palm Shortening, Lard, or Avocado Oil))
Instructions
Preheat the oven to 350 F.

In a 8×8 inch square baking dish or similar size, add the ingredients for the filling and stir a bit to coat. Set aside.

Mix the ingredients for the topping in a large mixing bowl until it starts to resemble coarse breadcrumbs. With your hands, spread the topping over the filling evenly.

Bake in the oven for 30 minutes or until the topping is lightly browned and the filling is gooey and warm inside.
Notes
Substitutions: This crumble works great with diced apples and/or pears and raisins instead of the berries. It also works great with sliced or diced peaches – you may also want to toss in a 1/2 tsp of dried ginger then too! Substitutions: Don't have arrowroot powder? Tapioca starch works as well, or you could use a bit of cassava flour too, or omit completely. It's just to thicken the berry "juice" as it heats. Make ahead: Make this crumble and keep in the fridge up to 5 days. Reheat before serving if desired.
Did you make this recipe?
Leave a comment below or share a photo on Instagram and tag me @thrivingautoimmune !