This post may contain affiliate links. Please read my disclosure policy.
These Paleo egg muffins are dairy-free and gluten-free, yet have the flavors of yummy pizza. Make these ahead of time for a quick breakfast on the go.
In yet another installment of my "wow, look at my exciting life that happens during the summer but completely gets boring in the fall/winter/spring" vlog, my 7 year old son and I climb a mountain. Not just any mountain, but one of the alpine ones here in Colorado. It's called Mt. Audubon and it stands at 13229 feet, which is pretty high. There are definitely taller ones (like the famous 14'ers), but for my son's first one this was a biggie.
The thing about climbing mountains is that you have to get there REALLY early lest you get caught near the top during an afternoon thunderstorm. That's just bad news. So we left our house at 5:30 in the morning to get to the trailhead at 7 am. Definitely an early start, and because of that, I wanted to have everything packed and ready to go so we could just get up and head on out in the morning. That included breakfast.
I am a participant in the Amazon Services LLC Associates Program, an affiliate advertising program designed to provide a means for us to earn fees by linking to Amazon.com and affiliated sites.
You can see in the video that we ate these Paleo Pizza Egg Muffins as part of our breakfast, as well as some Chunky Monkey muffins from the book Primal Cravings. It made for a good solid meal and it was easy enough for us to eat in the car without spilling all over the place. I made them the day before, packed them in individual containers (plastic because I didn't want to worry about breakage in the car while driving), and we just grabbed them from the fridge right before we left. I heated my son's up a bit in the microwave but I ate mine cold since I needed to wait at least an hour to eat after taking my daily thyroid medication (I take Armour).
Watch the video and then get the recipe for the egg muffins below!
If you can't see the video, watch Mountain Climbing with my kid (what we ate Paleo)
Some of the other things we ate:
The whole thing took a LOT longer than I expected, so if you plan on doing something like this with your kids, expect to take a lot of breaks and account for their slowness. However, I cannot be more proud of my son and am so happy he figured out how to dig deep and tackle this adventure with me! Definitely a great bonding experience.
More Helpful AIP & Paleo Resources in the Freebie Library
If you find this recipe helpful, you may really enjoy the resources in my Paleo & AIP Freebie Library! There's a "dump" freezer meal plan, a list of AIP-compliant breakfast toppings, and so much more. Plus, you'll get even more ideas sent to your inbox! Get the password here.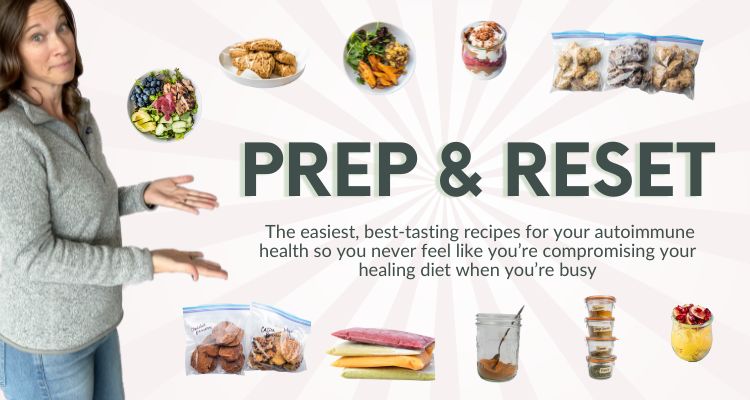 Paleo Pizza Egg Muffin Recipe
If you make this egg muffins, I'd love to hear how they turned out! Either comment below or share a pic on Instagram and tag me @thrivingautoimmune!
Paleo Pizza Egg Muffins
These Paleo egg muffins have the flavors of yummy pizza yet are dairy-free and gluten-free! Make these ahead of time for a quick breakfast on the go. (Also Keto and nut-free)
Ingredients
10

Eggs

1/4

cup

Coconut Milk

(or other non-dairy milk)

1/4

tsp

Sea Salt

1/4

tsp

dried Oregano

1/8

tsp

Black Pepper

1

cup

Tomatoes

(diced (about 1 large or 2 small))

4

oz

Pepperoni

(Applegate makes a good one, chopped)

1/4

cup

Black Olives

(pitted and chopped)
Instructions
Preheat oven to 350 F. If using a standard muffin tin, line the tin with paper liners. I recommend using a silicone muffin tin for egg muffins though since they just slide right out and cleanup is minimal.

In a large bowl, whisk together the eggs, coconut milk, salt, oregano, and pepper. Add in the tomatoes, pepperoni, and olives and mix. Pour the mixture into the muffin cups evenly.

Bake for 30 minutes or until the muffins are set.
Notes
These are best made in a silicone muffin tray – makes for super easy removal of the muffins and cleanup.
Nutrition
Did you make this recipe?
Leave a comment below or share a photo on Instagram and tag me @thrivingautoimmune !