This post may contain affiliate links. Please read my disclosure policy.
Make these Paleo and Whole30 egg muffins ahead of time for a super quick portable breakfast option
This week I come to you with a quick post as I decided to take a little time to myself for a few days and relax after working so hard on my new 4-Week Paleo Meal Plan. I realized I had kind of neglected my romance novel-loving, crafting, sewing self for too long and I need a bit of soul nourishing. I mean, I sit here preaching that you guys should do this all the time and look at me, not doing that. Sheesh, what kind of health coach/blogger am I? Do as I say people, not as I do – at least if you want to feel better. So instead of working on this blog for a day, I instead made myself this leather bag. So fun!
I am a participant in the Amazon Services LLC Associates Program, an affiliate advertising program designed to provide a means for us to earn fees by linking to Amazon.com and affiliated sites.
The Perfect Portable Paleo Breakfast Option
Anyway – this week I bring you a springtime recipe for these Paleo, Whole30, gluten-free, and dairy-free Asparagus and Pancetta Egg muffins. They are PERFECT for a grab-and-go breakfast.
Not only can you eat them cold, they also aren't messy, can be eaten in a car or out somewhere, and can be stored in a bag or tupperware.
Great For Meal Prep/Batch Cooking
They also keep well for a few days so they are great to make during a batch cooking session. Simply make a batch (or two) and eat throughout the week.
Having some of these ready helps alleviate some of the stress of mornings -instead you can spend the rest of your hectic morning time looking for your son's missing shoe.
Cooking The Muffins
I find cooking egg muffins like this easiest with a silicone muffin tray (this is the one I have). They make it a LOT easier to pop the muffins out than from a traditional metal or clay tin and they're also much easier to clean. Do yourself a favor and save the metal or clay tins for muffin muffins and use a silicone tray – it'll be so much less of a headache.
Other posts you might like:
Asparagus Soup (Paleo, Whole30, AIP-modifications)
Asparagus with Breadcrumbs (Paleo)
More Helpful AIP & Paleo Resources in the Freebie Library
If you find this recipe helpful, you may really enjoy the resources in my Paleo & AIP Freebie Library! There's a "dump" freezer meal plan, a list of AIP-compliant breakfast toppings, and so much more. Plus, you'll get even more ideas sent to your inbox! Get the password here.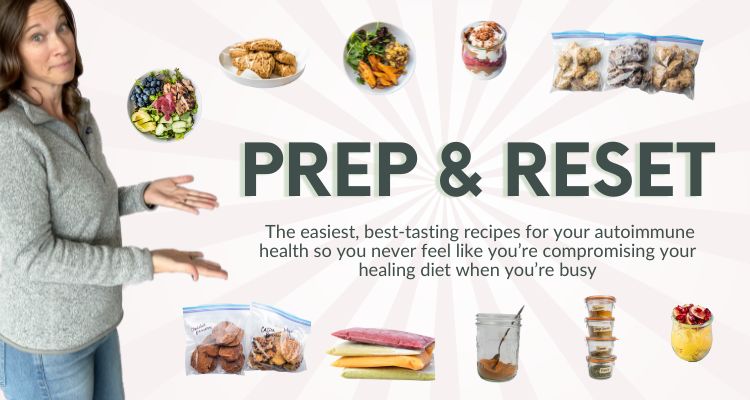 Paleo and Whole30 Egg Muffin Recipe
If you make these egg muffins, I'd love to hear how they turned out! Either comment below or share a pic on Instagram and tag me @thrivingautoimmune!
Asparagus and Pancetta Egg Muffins
Make these super quick Paleo and Whole30 egg muffins ahead of time and have an easy breakfast option.
Ingredients
1

tbs

Cooking Oil

(Avocado, Coconut, Olive, etc)

1

lb

Asparagus

(trimmed and cut into small pieces)

3

oz

Pancetta

(diced (use sugar-free for Whole30 – can substitute with bacon too))

10

Eggs

1/4

cup

Coconut Milk

(or other non-dairy milk)

1/4

tsp

Sea Salt

1/8

tsp

Black Pepper
Instructions
Preheat oven to 350 F. If using a standard muffin tin, line the tin with paper liners. I find it best to use a silicone muffin tray,

like this one

, because it makes cleanup SOOO much easier than using a metal or stoneware one.

In a large pan, heat the cooking oil and then add the asparagus and pancetta and cook, stirring occasionally, for about 7 minutes, or until the asparagus is tender.

Meanwhile, in a large bowl, whisk together the eggs, coconut milk, salt, and pepper.

Once the asparagus mixture is done, add to the egg mixture and stir to combine. Pour the mixture into the muffin cups evenly. Bake for 30 minutes or until the muffins are set.
Nutrition
Did you make this recipe?
Leave a comment below or share a photo on Instagram and tag me @thrivingautoimmune !