This post may contain affiliate links. Please read my disclosure policy.
Tostones (also known as Patacones) are simply twice-fried green plantains and make the most delicious crunchy snack or side dish to a meal. The best part? Because they are only 3 ingredients, they are Paleo as well as AIP, Whole30, gluten-free, and dairy-free! In this post, I show you how to make them.
First Published: August 28,2017… Last Updated: July 5,2019
Imagine biting into a warm, crispy, slightly sweet, fried disc of deliciousness. That's what eating a tostone is like.
When we went to Costa Rica a few years ago (I wrote about what we ate in this post), patacones (or tostones as they are called in some countries) were one of my most favorite things. There the patacones were the size of dinner plates and fried to utter taste perfection.
We ate them both plain and then topped with so many different things – guacamole and fresh salsa, braised beef, pork, a bean mixture, some mango salsa, and I even had them one morning topped with rice, beans, and fried eggs. Just so good!
What are Tostones?
Tostones (pronounced tos-tone-ehs) are twice-fried green plantains.
Also called patacones (pronounced pat-a-cone-ehs) in some countries, they are often used as a base in main dishes, topped with some shredded meats, sauces, beans, or salsas.
They can also be a tasty snack or appetizer.
These discs of taste enjoyment are a staple food of many Latin American countries, but if you can find green plantains in your store, you too can enjoy these.
How do you make Tostones?
Tostones are made by peeling and slicing green plantains, then frying once in a hot oil, smashing, and then frying again in the hot oil until crispy and delicious.
Tostones might seem a bit intimidating to make, but to be 100% completely honest, they are nothing to be intimidated about it all. I had let my husband do it the first few times we made them, but then I tried and laughed at myself for having been scared. Really, these are no big deal!
Where do you find green plantains?
The trickiest part of this dish is finding the green plantains to make the tostones. It really depends on whether your local stores carry them. I find many times if my stores carry plantains, that they're already yellow and maybe even turning black.
However, I've usually had luck at either my local grocery stores or ethnic Asian markets.
If you go to the store and can't find any green plantains, ask an employee of the store to see if they might have some in the back. I've been lucky quite a few times to score green plantains this way.
How do you typically use Tostones?
One of our favorite ways to eat tostones is as base under some pulled pork and mango salsa. It's just such a perfect combo.
However, because they are so easy to make and offer a hearty kind of starch to any meal, they are perfect for a lot more than just that.
* I am a participant in the Amazon Services LLC Associates Program, an affiliate advertising program designed to provide a means for us to earn fees by linking to Amazon.com and affiliated sites.
Like case in point, look at this picture I took of a page in the cookbook Latin American Paleo Cooking by Amanda Torres:
They can be used as a sandwich! (Now if you are from Latin America, you are probably laughing at me saying "of course!!", but I'm a sheltered American girl. Until I went Paleo, sandwiches meant two slices of Wonder Bread)
We also like to use them as a different type of appetizer or snack – just plain with sea salt and maybe some cilantro.
And some days we make it as an alternative to french fries when eating something like burgers or hot dogs (I know, it seems like a strange combo, but it's really good!)
This Tostones Recipe is from the Latin American Paleo Cooking cookbook
This recipe is from that book I mentioned up above – Latin American Paleo Cooking by Amanda Torres (with help from her Puerto Rican mother-in-law, Milagros Torres). This is a great book that has:
over 80 traditional recipes that are authentic as possible and have been made Paleo.
Over 90% of them are also Autoimmune Paleo-compliant (AIP).
All the recipes are gluten-free, dairy-free, and nut-free, and all but 1 are egg-free
Recipes include Family Dinners, Party Food, Quick & Easy Meals, Sides, Sweets, and the Essentials
All of this I mention because I know quite a few of you are either living in a Latin American country or are of Latin American descent and aren't sure how to continue eating your favorite foods from your culture.
Cultural foods are one of the hardest sometimes to let go of when going on a restricted diet, whether because you have to because of a newly discovered food allergy/sensitivity or because you heard a Paleo diet can help heal you or help you lose weight.
It's resources like this then that are SO valuable because they essentially allow you to continue to carry on your traditions but also allow you to feel better too.
One of my favorite parts of this book is that there are some really delicious-looking recipes for starchy sides. If you too get sick of cauliflower rice (a) there are some flavor combos for cauliflower rice that you might want to try out to see if that makes a difference but also, (b) Amanda gives a few other alternatives that go well with stews or other places that you might want rice.
Ingredient Explanations
Amanda explains the ingredients in this book and how to find them, what to look for, substitutions, etc, which is great as I have an Asian/Tropical Market near me and I'm always astounded when I go in there how foreign it all feels to me and how many fruits/vegetables I've never used!
I mean, you go into most grocery stores in American and it's the usual broccoli, carrots, beets, celery, red peppers, right? You go into an Asian Market and it's cassava, ugly fruit, taro, lemongrass, durian, etc.
I don't even know WHAT most of these things are, much less how to use them. But I get bored of American stuff and so it's fun to try out new things – with a little help from an expert who can tell you what to do with them. This section of the book is that expert 🙂 (trying out new things is a GREAT way to stay motivated on a restricted diet – "Look at all these things I can eat that I've never had before!"
You can get Latin American Paleo Cooking here (or at most bookstores)
How do you smash the Tostones?
You can do the smashing step in several different ways. Amanda recommends using a tostonera press, which is under $10 and you can either get it your local store or on Amazon here.
I personally use either our tortilla press (this is the one I have) because it does both tortillas and patacones, the bottom of a bowl or pan, or a meat mallet.
You can also use the bottom of a glass or even your hand if you want too (though if the plantain is still hot from the 1st fry, be careful not to burn yourself).
TIPS: If you use a bowl, glass, or pan, you might have to press pretty hard to make sure the plantain is flat enough. And if you use a meat mallet you have to be careful not to whack it too hard or it will break apart.
Long story short, you can make these a ton of different ways. Use whatever one works best for you, the space you have in your kitchen, and your budget.
Can tostones be reheated?
The short answer is yes, but they are best eaten freshly cooked.
If you make them the same day and don't refrigerate them, just reheating them in the oven or in a pan on the stove is fine.
If you're refrigerated them though, I highly recommend using a toaster oven or oven on a high setting – watching to make sure they don't burn, or on a stove in a pan with a little oil.
They really aren't that good reheated from refrigerated in the microwave – they come out mushy and almost tasteless. Definitely not what you're going for.
What diets are these appropriate for?
One of the best things about tostones are that they're literally just green plantains so they fit into almost every diet on the planet (well, except very low carb ones like keto).
Depending on the cooking oil you use, they can Vegan, Paleo, Whole30, AIP (Autoimmune Paleo Protocol), gluten-free, dairy-free, etc.
This is one reason I really love making them for guests as most people can eat them, no matter what their food restrictions. It's fun to make them and then have a bunch of different toppings set out as well, so guests can make their own dishes based on their dietary preferences.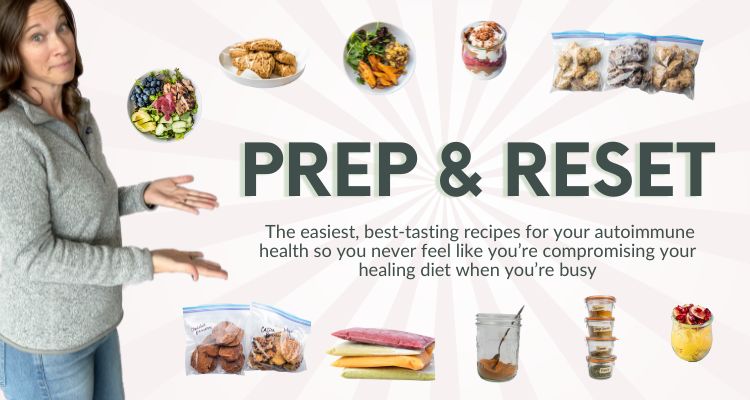 More Helpful AIP & Paleo Resources in the Freebie Library
If you find this recipe helpful, you may really enjoy the resources in my Paleo & AIP Freebie Library! There's a "dump" freezer meal plan, a list of AIP-compliant breakfast toppings, and so much more. Plus, you'll get even more ideas sent to your inbox! Get the password here.
Tostones Recipe:
If you make these tostones, I'd love to hear how they turned out! Either comment below or share a pic on Instagram and tag me @thrivingautoimmune!
Tostones (Patacones)
Tostones, aka Patacones (fried green plantains) make the most delicious crunchy snack or side dishl. Only 3 ingredients and they're Paleo, AIP, Whole30, gluten-free, and dairy-free, and nut-free.
Ingredients
2

green plantains

4 to 6

tbsp

56 to 84 g fat of choice (coconut oil, lard or avocado oil)

Coarse sea salt

1 to 2

tbsp

1 to 2 g chopped fresh cilantro, for garnish (optional)
Instructions
Slice the tips off the plantains with a knife, then cut 1 or 2 slits in the skin down the length of the plantain. If the peel does not lift off easily you can loosen it by soaking the plantains in a bowl of water with about 1 tablespoon (6 g) of salt for 10 to 15 minutes.

Slice the peeled plantain crosswise into disks to 1 inch (2 to 2.5 cm) wide.

In a large skillet, heat your fat of choice over medium heat until shimmering, 3 to 5 minutes. Carefully add the disks to the heated fat, cooking on each side for 2 to 4 minutes, or until they have turned a darker, more golden color. Do not allow to brown.

Remove the disks from the oil and flatten, using a tostone press (recommended) or a sturdy glass/jar or flat meat mallet. If using a tostone press, place the disk in the recessed circle and then clamp down the lid on top.

Return the flattened plantain disks to the hot oil and fry for an additional 2 to 3 minutes on each side, or until crispy and browned. You will likely need to work in batches to fry the flattened disks.

Add extra cooking fat as needed, because these will absorb quite a bit of fat as they cook. Top with a sprinkling of coarse sea salt and a garnish of cilantro and serve immediately; tostones do not reheat well. Serve with your favorite main dish.
Notes
This dish is 

AIP compliant: No adjustments necessary!
Recipe Reprinted with permission from Latin American Paleo Cooking by Amanda Torres with Milagros Torres, Page Street Publishing Co. 2017.
Did you make this recipe?
Leave a comment below or share a photo on Instagram and tag me @thrivingautoimmune !