This post may contain affiliate links. Please read my disclosure policy.
This 10-minute cauliflower rice dish is an extremely easy, yet flavorful side dish recipe. Even if you aren't the biggest fan of cauliflower rice (like me), you should try this one!
Yeah, I, Ms. Paleo Blogger, am not a big fan of cauliflower rice. "GASP", you say… "isn't that like one of the staples of a Paleo diet?".
Well, um, yeah, it can be? But if you don't like it, not so much.
I love – like love love mashed cauliflower. I love roasted cauliflower (well, some recipes), and even raw cauliflower I don't mind (remember when I made that cauliflower tabbouleh recipe for July 4th?).
But cauliflower rice- I am a total "meh" on that one. It just tastes bland and boring to me. Too watery or something? I'm not sure, but you don't often find me putting it on our weekly meal plan.
However, you see it every-freakin-where these days. Whether it's via recipes online or pre-riced packs at the grocery store.
So I figured I really needed to embrace it because after all, it really is so much better for you than white rice and the cauliflower just packs a great nutritional punch.
Like it's one of the easiest swaps you can make to up your nutrition density in your day and to avoid all that vitamin and mineral-leeching lectin stuff that grains have.
After much experimentation I came up with a recipe I actually like – no, make that love, and the best part is that it's super super simple. Like 5 min prep, 5 min cook and then eat.
You know it's a keeper too when your non-Paleo friends ask for a cauliflower rice recipe and when you give them this one they always report back that they love it.
It's also Whole30 and Autoimmune Paleo compliant (AIP compliant if you use coconut oil instead of butter).
More posts you might like:
Roasted Broccoli – an easy, hands-off side dish that goes with so many main dishes (Paleo, AIP, Whole30)
Bahn Mi Burgers – the perfect accompanying main dish (Paleo, AIP)
Braised Rainbow Chard – another great side dish (Paleo, Whole30, AIP variations)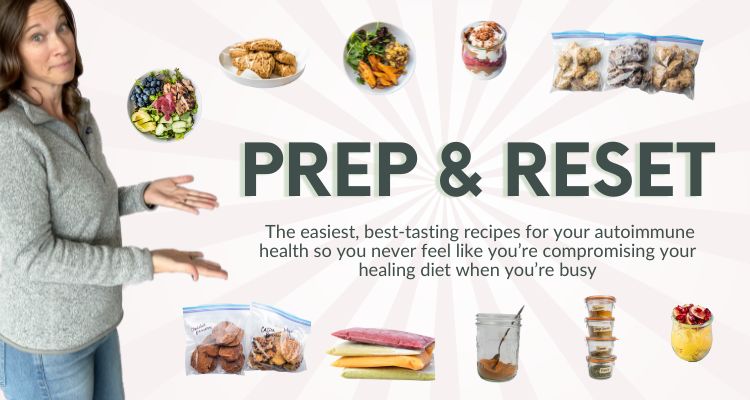 More Helpful AIP & Paleo Resources in the Freebie Library
If you find this recipe helpful, you may really enjoy the resources in my Paleo & AIP Freebie Library! There's a "dump" freezer meal plan, a list of AIP-compliant breakfast toppings, and so much more. Plus, you'll get even more ideas sent to your inbox! Get the password here.
Coconut Cauliflower Rice Recipe
If you make these cauliflower rice, I'd love to hear how it turned out! Either comment below or share a pic on Instagram and tag me @thrivingautoimmune!
Coconut Cauliflower Rice
Cauliflower rice that tastes GOOD. Make this extremely easy side dish as a pair to any meal, especially Asian- and tropical-inspired ones. Whole30 and AIP too.
Ingredients
1

medium/large head Cauliflower

1

tbs

Coconut or Avocado Oil

1/4

tsp

Sea Salt

1

tbs

Butter, Ghee, or Coconut Oil

((use Coconut Oil for AIP))

6

tbs

Coconut Milk

(full-fat canned tastes best)

1

tbs

Cilantro

(minced (optional))
Instructions
(Skip this step if you bought pre-riced cauliflower) Cut the cauliflower through the middle into 4 parts and remove the leafy outside. Put the shredder blade in your food processor and then feed the cauliflower down through the top chute while the machine is on to create the cauliflower rice. You may have to cut the cauliflower up a bit smaller to get it to fit in the chute. Alternatively you can use your regular S-blade, but you may have to do this in batches so you don't wind up with cauliflower puree. And yet another option if you don't have a food processor – use a grater and grate the cauliflower into rice.

Heat a large pan over medium heat. Add the cooking oil and let get warm. Then add the cauliflower rice and salt and cook for about 5 minutes, stirring occasionally. (Strain excess liquid off if using frozen cauliflower).  Add the butter/ghee/coconut oil, let melt, then mix in. Add the coconut milk and cilantro and mix in. Serve.
Notes
If you are using coconut oil instead of butter, I recommend expeller pressed oil (the flavorless type) unless you really like the coconutty taste of extra virgin. It might be too much coconut flavor though with that and the coconut milk, but if you like it, go for it!
If you're doing AIP, use coconut or avocado oil as the cooking oil and coconut oil in step 2 instead of butter or ghee.
Did you make this recipe?
Leave a comment below or share a photo on Instagram and tag me @thrivingautoimmune !