This post may contain affiliate links. Please read my disclosure policy.
You'd never know these Gyro Wraps were AIP-compliant sandwiches! The meat and flatbread freezes exceptionally well and can be reheated in seconds.
AIP Gryo Wraps
You ever create something that you're so intensely proud of? That's these Autoimmune Paleo (AIP Diet) Gyro Wrap Sandwiches for me.
Sometimes I get it in my head to create something and it fails MISERABLY. There are quite a few recipes in my past that I was excited to AIP-ify or Paleo-ify and they just were disasters. Not even fit to give to a dog (though to be honest, our dogs seem to eat better than we do…).
But this wrap? This one worked and I'm over the moon about it!
It tastes JUST like the gyro wraps you'd get in a Mediterranian restaurant and yet, it's compliant for the AIP diet!
AIP Gryo Wrap Demo Video
I made a video demonstrating how to make these wraps on YouTube, so you can watch this and/or skip ahead to read about it.
The Gyro Wrap Components
There are several pieces to these wraps, but you should not let that scare you off from it.
Two of the components – the gyro meat and the flatbreads both freeze really well, so you can do these ahead of time in a meal prep session. (I'll explain in a bit how to do that)
The components you'll make are:
The gyro meat
The flatbreads
The tzatziki sauce
any additional desired add-ins like lettuce, sliced cucumbers, sliced red onions, etc
How to Make these AIP Wraps
It's best to start by making the gyro meat as it takes the longest.
It's basically a "throw into a food processor" recipe, so it's super easy to make. (Recipe below)
Then while that's in the oven, start on the AIP Flatbreads.
If you haven't yet seen that video or recipe – go check it out: AIP Flatbread Recipe
While those are cooking, work on the dairy-free Tzatziki Sauce. This one is just a "throw stuff into a bowl and mix" recipe, so also easy to make.
Then slice up any cucumbers and red onions you plan to use, plus prep any greens (if you didn't buy already prepped greens from the store).
By this time the meat might be done, so remove that from the oven, let it cool for a bit, then slice it into 1/4 inch slices.
If making the wraps immediately or planning on taking them with you somewhere without access to a stove that week, fry up the slices you need in a pan with some coconut oil.
Freezing the AIP Gyro Wrap Meat
If saving these for later, either place in the fridge or place flat on a baking sheet to freeze.
Once they're frozen (a few hours typically), remove from the baking sheet and place a small piece of parchment paper in between each slice and then put them in a plastic bag in the freezer.
To cook frozen gyro meat you just have to remove what you need from the freezer, heat some fat in a pan over medium heat and fry the slices up. The process is exactly the same as if you were cooking fresh, not frozen, meat because the slices are so thin.
Freezing the AIP Gyro Wrap Flatbreads
To freeze the flatbreads, you just need to place a piece of parchment paper in between each flatbread, and then put into a freezer bag. Lay flat in your freezer.
To thaw the frozen flatbreads, take what you need from the plastic bag and either thaw on the countertop or fridge for a few hours, for 10-15 seconds in the microwave, or for a few minutes in an oven, toaster oven, or in a pan on the stove.
Taking the AIP Gryo Wraps to Go
These AIP wraps are highly portable, which is awesome if you're going out with friends who are going to have something that makes you jealous 🙂
I recommend bringing these somewhere that you either wrap them in parchment or place in a to-go container with a toothpick to keep it closed.
Please note though that the Tzatziki Sauce tends to be slightly runny as it gets warmer, so you may want to store it in a separate container and place on the wrap just before eating or make sure the bottom of your parchment is closed to catch the liquid.
Products I Used For these AIP Wraps
I am a participant in the Amazon Services LLC Associates Program, an affiliate advertising program designed to provide a means for us to earn fees by linking to Amazon.com and affiliated sites.
You may be familiar with how difficult it can be to source some AIP-friendly ingredients.
Especially locally, ugh.
That's why I buy a lot of my stuff online. However they seem to last quite a while and TYPICALLY you're supporting a small business trying to make a difference in this world, so I think that's just as important as supporting local businesses.
AIP Gryo Seasoning
One of the main products I LOVE for this recipe is Primal Palate's Super Gyro blend. It's AIP-compliant and super tasty. I used it for the gyro meat, but you can use it on pork chops, in meatballs, on chicken, etc – it's a great alternative for those of you missing spices while on AIP.
And Primal Palate is Hayley and Bill from the blog of the same name – just two people trying to make a difference for all of us! (If you're not on AIP, try their Taco Seasoning – it's my FAVE).
Coconut Cream
You'll also see the Tzatziki recipe calls for coconut cream.
It's a bit harder to find AIP-compliant coconut cream without guar gum or any other thickeners, but Thrive Market's brand and Natural Value both are compliant.
Other AIP Recipes You Might Like
A Paleo & AIP Sweet-and-Sour Meatloaf You can Make Now Or Freeze For Later
Easy AIP Dessert – "Chocolate" Orange Truffles (these are portable so great to throw into your lunch with these wraps!)
5 AIP Chicken Marinades – if you want a different Greek recipe, the Greek marinade is a hit with my readers!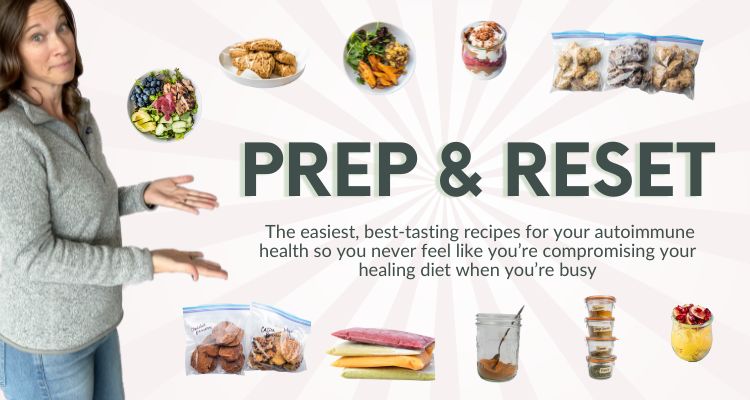 More Helpful AIP & Paleo Resources in the Freebie Library
If you find this recipe helpful, you may really enjoy the resources in my Paleo & AIP Freebie Library! There's a "dump" freezer meal plan, a list of AIP-compliant breakfast toppings, and so much more. Plus, you'll get even more ideas sent to your inbox! Get the password here.
AIP Gyro Wrap Recipe
If you make these wraps, I'd love to hear how they turned out! Either comment below or share a pic on Instagram and tag me @thrivingautoimmune!
AIP Gryo Wrap Sandwich Recipe (with Tzatziki Sauce)
You'd never know this was an AIP-compliant sandwich! The meat freezes exceptionally well and can be reheated without thawing. Freeze some of the flatbread too and all you need to do is make a quick Tzatziki Sauce and add whatever additions you want and have a delicious lunch or dinner!  (Paleo, Egg-free, nut-free, nightshade-free)
Ingredients
For the AIP Gyro Meat:
1

medium/large Yellow Onion

(quartered)

3

cloves

Garlic

(peeled)

1

lb

Ground Beef

1

lb

Ground Lamb

2.5

tbs

Primal Palate Super Gyro Seasoning OR 1 tbs dried Thyme + 1 tbs dried Oregano + 1 tsp dried Rosemary + 1.5 tsp Sea Salt
For the Tzatziki Sauce:
1

cup

Coconut Cream

(2 x 5.4 oz cans or 1/2 x 14 oz can)

1/2

medium Cucumber

(finely diced)

1

tbs

Lemon Juice

1/2

tsp

Onion Powder

1/2

tsp

Garlic Powder

1

tsp

dried Dill

(or 1 tbs fresh)

pinch

Sea Salt
For the Wraps:
Mixed Greens or lettuce

Sliced Red Onion

(optional)

Sliced Cucumber

(optional)

Gyro Meat

Tzatziki Sauce
Instructions
For the Gyro Meat:
Preheat the oven to 325 F. Line a loaf pan with parchment paper.

Place the onion and garlic in a food processor and pulse until chopped into small pieces.

Add the rest of the ingredients until the mixture is smooth and pasty looking.

Scrape the mixture out of the food processor into the lined loaf pan. Press it down as much as you can.

Bake for 60 minutes.

Remove from the oven and let cool. Pour off the excess fat (preferably into the trash can so it doesn't clog up your pipes) and then if possible, let chill in the fridge or on your counter for at least 20 minutes (this isn't necessary but does make slicing a lot easier).

Slice the loaf into thin, 1/4 inch wide slices. If you want to freeze the slices, do so at this point by laying each piece flat on a baking sheet or glass dish for several hours. Remove from the freezer, place small pieces of parchment in between each slice and place into a plastic bag for storing in the freezer. Go directly to step 8 when needed.

Heat a pan over medium heat and then add your preferred cooking oil (coconut oil works well). Add the slices and cook for several minutes a side, until browned.
For the Tzatziki Sauce:
Mix all of the ingredients together and serve or refrigerate for later.
To assemble the wraps:
Lay the flatbread down on a plate or parchment paper. Lay some mixed greens, 2 pieces of gyro meat, optional red onion slices and cucumbers, and a dollop of Tzatziki Sauce on top of the wrap. Roll it all on up and enjoy!
Notes
This recipe makes about 8 wraps, so if you're going to be using ALL the meat you'll need 2 batches of the AIP Flatbreads.
Did you make this recipe?
Leave a comment below or share a photo on Instagram and tag me @thrivingautoimmune !