This post may contain affiliate links. Please read my disclosure policy.
Been missing sandwiches or bread while on the AIP Diet (Autoimmune Paleo Protocol)? This easy-to-make flatbread may be the answer to your dreams!
Life Without Bread?
There are people in this world that hear they can't have bread again, shrug and go on their merry way.
I am NOT one of them.
When I first heard I was Celiac and wouldn't be able to have glutenous, crusty french bread, pita bread, and pretty much anything else that had made up the majority of my diet my whole life, I was crushed. I mean, what was the point?
And then to make matters worse, as soon as I learned I was Celiac I went straight onto AIP. No eggs and no almond flour meant even fewer options – even my beloved Paleo muffins and quick bread were out.
Now mind you, this was back in 2014, the Dark Ages of AIP. Even pancakes were rare. Today there are MANY more options luckily.
I am a participant in the Amazon Services LLC Associates Program, an affiliate advertising program designed to provide a means for us to earn fees by linking to Amazon.com and affiliated sites.
Yet, even when I went back on AIP for a few months in 2018 I still missed some sort of way to make sandwiches. My kids were a lot older this time around and that meant we were constantly going out on adventures every weekend. Sandwiches would have just made things easier – easier to tote around, not have to have completely chilled, not need a fork and knife – the list goes on and on.
I heavily relied on Squirrel in the Kitchen's crepe recipe from her book Simple French Paleo to make simple wraps, and while they were great, I wanted something a little more substantial.
See Also: The ULTIMATE Guide to the AIP Diet – Everything you need to know to be successful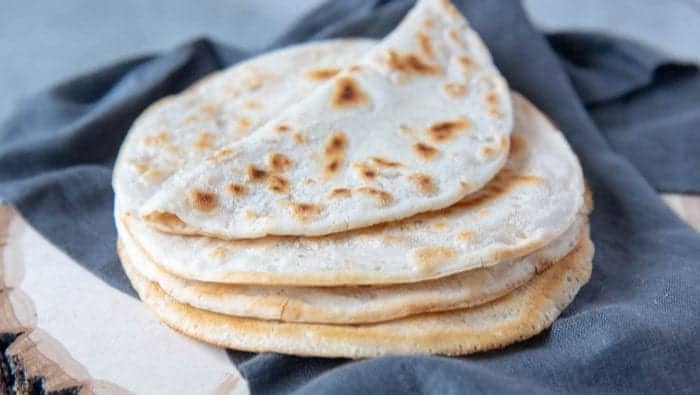 Paleo Naan Bread to the Rescue
Fast forward a few months later when I was back on regular ole' Paleo (what I typically eat to keep my Hashimoto's and Celiac diseases under control) and I made a regular favorite recipe of ours – My Heart Beet's Paleo Naan.
Now if you've never had Ashley's Paleo Naan, you must do it. Well, if you aren't currently on AIP or can have almond flour that is. It's freakin delicious, makes the BEST side for curries, Indian Butter Chicken, and well, any other Indian dish you can think of. I've even passed this recipe on to non-Paleo Indian friends and they've loved it, plus I've served it to countless non-Paleo friends and they rave over it. So try it.
One evening recently I was making some of this Paleo Naan as a side to an Indian dish and wondered to myself – what if I replaced the almond flour with cassava flour to make it AIP-compliant?
So the next day I set about trying it out. It took a few tries as the ratios weren't exactly the same, but once I hit on the right ration I was PSYCHED!
I tried it again with tigernut flour and again, success. I know some of ya hate cassava flour, so I'm lookin' out for you 🙂
After making a ton of batches to make sure it wasn't a fluke, I decided to share it with you.
AIP Flatbread Video
For a full explanation of the process, watch this video on YouTube.
AIP Flatbread Tips and Tricks
To make this a successful recipe I have these tips for you:
• Use a small non-stick crepe pan if possible, as that will work the best for this. If you have to use a larger non-stick pan that's fine, you may have to cut your flatbread in half once you cook it to make it manageable and you might also have to cook it longer. When I've used a large pan I've almost doubled the time per side.
• The batter should be runny, not super thick. If you need to, add more milk or water to make it this way.
• I state in the recipe to cook it 4 minutes a side at first, and then you may have to adjust the time downwards as your pan gets hotter. This is a good starting point, but if you notice your breads are gummy in the middle or aren't flipping easily, give it more time. They will bubble up at first and then once the bubbles recede you can flip them.
• I like to put these on a baking rack after cooking to let them get air all around them. If you do not have a rack you can put them on a plate, but they tend to get a bit sticky/gummy/wet if you stack them before they are completely cool. So make sure to not stack them.
Using Tigernut Flour Vs Cassava Flour
I liked both the cassava flour version and the tigernut flour version, but I did notice that the tigernut flour version was a bit sweeter, darker, and also seemed to be a bit thinner. It seemed like a thick crepe to me.
The cassava flour one felt and tasted a lot more like a traditional pita bread or naan than the tigernut one.
Unfamiliar with either tigernut flour or cassava flour? See AIP Foods You May Not Be Familiar With
It really is up to you what one you'd make, but if you can't decide, I'd go with tigernut for a sweeter application (maybe a jam and tigernut butter wrap?) and with cassava flour for a savory sandwich (like the gyro wraps I'll share next week).
Freezing the AIP Flatbread for Later
One of my favorite parts of this recipe is that they freeze BEAUTIFULLY. This to me is a game changer in itself.
To freeze, simply make up a batch (or 2 or 3) and then put a piece of parchment paper in between each bread. Put into a bag or freezer-safe container and freeze.
When you want to eat them, remove one or more from the freezer, thaw on the countertop or in the fridge for a few hours, over low heat in a pan or in the oven for a few minutes, or in the microwave for 10-15 seconds. Then use as desired.
I now have a batch of this in my freezer ready to go any time I need to have a sandwich ready to go in minutes, or have some sort of bready side to go with a curry, etc.
Troubleshooting
As soon as I posted this video on YouTube some viewers took to their kitchens to make this bread and helpfully shared some tips that may help you as well:
This recipe does not do well on stainless steel pans, use a nonstick pan if possible.
I used Native Forest Simple Coconut Milk with no guar gum but a viewer (Jen G, thanks!) used Golden Star Coconut Milk and had to add some water to make it less thick. She stated she was able to get 7-8 flatbreads out of the recipe as a result.
A nonstick griddle can work as well (thanks GeekGirlGA!)
You can put them back over the heat if you discover they aren't done
I used Anthony's Cassava Flour and Organic Gemini Tigernut Flour – you may have different results with different brands (update: it sounds like Bob's Redmill Cassava flour and Lya Cassava flour lead to gummy breads – so do NOT use these. So interesting how cassava flour can differ so much between brands!)
IF you do get a gummy flatbread, some people have reported that putting them in the microwave for 10-30 seconds seems to get rid of some of the gumminess. Again, I think this is based on the cassava flour you use, but this may help!
You May Need
These are the things I found helpful for making this recipe:
8-inch non-stick pan (this is the frying pan I used but you can also use a crepe pan)
A baking cooling rack for letting the air flow around the breads as they cool
I personally like Anthony's Cassava Flour the best, but use whatever brand you're loyal to
I like the Native Forest Simple brand of guar gum-free coconut milk, but there are several others. You can also make homemade milk.
Use this Flatbread with the AIP Gyro Wrap
One of my favorite ways to use this flatbread is with my AIP Gyro Wraps!
The meat is actually pretty easy to make, and it freezes well, so you can have a genuine-tasting gyro sandwich in minutes from frozen!
More Helpful AIP & Paleo Resources in the Freebie Library
If you find this recipe helpful, you may really enjoy the resources in my Paleo & AIP Freebie Library! There's a "dump" freezer meal plan, a list of AIP-compliant breakfast toppings, and so much more. Plus, you'll get even more ideas sent to your inbox! Get the password here.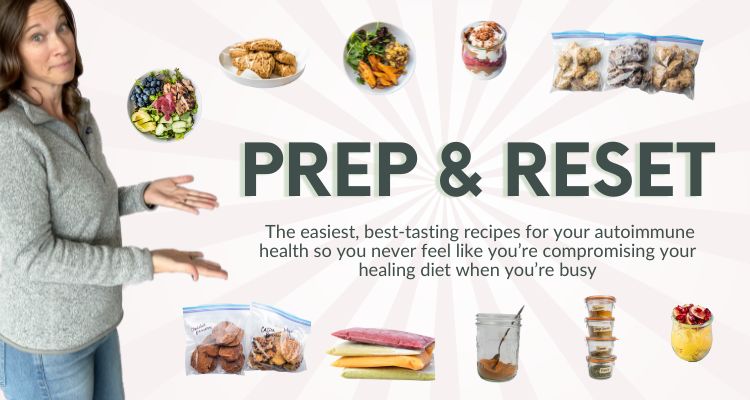 AIP Flatbread Recipe
I hope you enjoy these flatbreads! If you make them I'd love to hear how it turned out! Either comment below or share a pic on Instagram and tag me @thrivingautoimmune!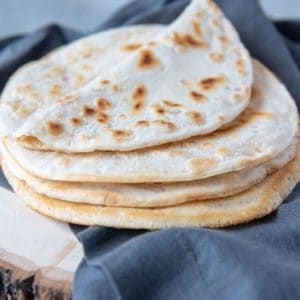 AIP Flatbread Recipe
This amazing, versatile AIP flatbread can be used as a side dish with soups or stews, or as a sandwich wrap. It's adapted from My Heart Beet's Paleo Naan recipe, which is awesome, but not AIP-friendly (though I definitely recommend you make it when/if you can eat almonds).
Instructions
Preheat a small nonstick pan over medium heat.

Mix all of the ingredients into a bowl. If using tigernut flour, really make sure all of the lumps are broken apart (it really likes to clump). Make sure the batter is somewhat runny, you don't want it really thick. Add water or more milk if necessary.

Pour enough batter into the pan to cover the bottom of the pan + about 1/8-1/4 inch thick. These are a tad bit thicker than crepes.

Cook for 3-4 minutes per side, adjusting the time up above 4 min if the batter doesn't look completely dry when you flip it, and adjust the time down if you get too many brown or black spots. Black or brown spots are totally fine, just don't want to burn these!

You'll notice that the cooking time will get less as you continue to cook the breads, since the pan gets hotter. If the bread is gummy inside it needs to be cooked longer. (This all sounds kind of fussy and complicated but trust me, you'll figure it out after a few – it's just different pans, cassava flours, coconut milks, amount of heat, etc all makes it a little bit different for everyone).
Notes
Use a small bit of oil if you notice your batter sticking to the pan. I have never needed it, but if your nonstick surface isn't working as well as it used to it may be necessary. Also, stainless steel pans don't work great for this, but if that's all you have, definitely use some oil or a cooking spray.
*Note that the nutrition facts are based on full-fat coconut milk, cassava flour, tapioca flour, and sea salt. Any variation of this will result in different nutritional data.
Nutrition
Calories:
154
kcal
Carbohydrates:
38
g
Protein:
1
g
Fat:
1
g
Saturated Fat:
1
g
Monounsaturated Fat:
1
g
Sodium:
11
mg
Potassium:
10
mg
Fiber:
1
g
Sugar:
1
g
Vitamin C:
1
mg
Calcium:
34
mg
Iron:
2
mg
Did you make this recipe?
Leave a comment below or share a photo on Instagram and tag me @thrivingautoimmune !

You May Also Like