This post may contain affiliate links. Please read my disclosure policy.
The ultimate comfort food – gooey, warm, and filling – this Bacon Mac and Cheese is cozy and delightful. No need to worry about triggering a flare though if you can't have dairy – this one's dairy-free!
I did a survey of my AIP membership (The Autoimmune Collective), asking what their favorite comfort food was – and what they missed the most, and the resounding answer was mac and cheese.
Yeah…. I agree.
I'm not on the AIP Diet anymore, but it doesn't mean dairy has made it back into my life. Dairy appears to be one of those things that will forever be on my "avoid" list, though admittedly I do cheat and have it every so often, usually to regret it later.
Unfortunately I know a lot of you have the same experience, as dairy is one of the top triggers for autoimmune disease activity and flare ups of symptoms.
Boo!!!
But instead of crying by yourself in a corner, cry into a bowl of dairy-free mac and cheese instead 🙂
(I know, I shouldn't promote numbing your feelings with food and in fact I think you should avoid that as much as possible, but sometimes….. ya just got to)
So I present you with a dairy-free, Paleo and AIP-friendly mac and cheese. In fact, it's a delicious BACON mac and cheese!
Ingredients in this AIP Mac and Cheese (and substitutions)
Now, I'll be the first to admit that this AIP mac and cheese does use some harder-to-get ingredients. If you're not in the United States, getting the AIP cassava flour pasta may be difficult, expensive, and/or impossible. But I do have some alternatives for you in the next section as well.
(To get all of the exact measurements, etc, see the recipe card below.)
The main ingredients for this dish are:
• Coconut Milk – this is the base of the "cheese" sauce but works just as well though with Tigernut Milk or Sweet Potato Milk if you need to be coconut-free while on the AIP Diet, or you can use any dairy-free milk of choice if you're not on AIP or if you've successfully reintroduced it
• Nutritional Yeast – this is what gives the sauce the cheesy flavor. Unfortunately, this is critical in this recipe so if you cannot tolerate it, this will not be the recipe for you. (Sorry!!)
• Arrowroot Powder – this helps to thicken the sauce. I prefer arrowroot over tapioca starch for this recipe, but you could use tapioca if that's all you have (I don't think cassava flour would work well though in the amount needed)
• Coconut Oil – this gives the recipe a bit of fat (which is needed, especially if you use a homemade coconut or tigernut milk). If you use canned coconut milk you could omit this due to a higher fat amount, but I still like to keep it in. Avocado or olive oil would work as well
• Apple Cider Vinegar – because you cannot use mustard on the AIP diet, which is a typical ingredient in a dairy-free "cheese" sauce to give it some tang, we use apple cider vinegar instead. Just a small amount is needed. You can use white wine vinegar instead, however.
• Garlic Powder – this is just a tad bit of savory flavoring. I would avoid using fresh garlic as that would be too overpowering. The powder is just enough to give it a slightly garlicky flavor.
• Turmeric – this is slightly for flavor, a lot for color. Plus it's just good for you with its anti-inflammatory properties!
• Mace – this is the AIP substitution for nutmeg – it's the dried outer webbing from the nutmeg plant, so it tastes like nutmeg, but isn't a seed. If you're not on AIP you can use nutmeg instead. It just imparts a subtle flavor to the mac and cheese that I absolutely love, but you DO taste it, so if you aren't a nutmeg/mace fan, omit it.
• Bacon – um, yeah, one would need this in a Bacon Mac and Cheese, right? Bacon is allowed on AIP as long as you get clean bacon made without a whole bunch of preservatives and spices (so bacon with "spices" in the ingredient list is a no). Sugar is ok – it's used for curing, as well as naturally occurring nitrates and nitrites.
I am a participant in the Amazon Services LLC Associates Program, an affiliate advertising program designed to provide a means for us to earn fees by linking to Amazon.com and affiliated sites.
Alternatives to store-bought elbow pasta
Unfortunately, I do know sourcing the Jovial Foods Cassava Flour Elbow Pasta can be difficult or impossible for some of you. And as of the time I write this, they are the only AIP elbow pasta that I know of that you can purchase.
However, if you cannot find it, here are some alternatives:
Have any other ideas? Comment below because I certainly am not the keeper of all ideas and there may be a bunch I'm missing!
How to make this mac and cheese
Luckily MAKING this is really simple.
You just need to cook the bacon, cook the pasta, and then make the cheese sauce.
While the sauce is a bit more involved from an active standpoint, it's not difficult.
It's simply:
• Mix the arrowroot starch with the water
• Add in the rest of the cheese sauce ingredients
• While whisking constantly, bring the mixture to a boil over medium heat
• Continue to whish until it gets thick, about 1-2 more minutes
(So like, 5-7 minutes basically of whisking)
Then you drain the pasta, chop up the bacon, and mix everything together!
What to serve with the mac and cheese
First – is it a side dish or a main dish? You get to choose.
It'll serve 2 as a main dish, and 4 as a side dish.
While it makes a pretty picture just by itself, it's probably a better option nutrition-wise to pair it with something else. Below I show how you can add a grilled chicken breast on top.
You could also serve it as a side to this above with another side of roasted broccoli, which is what I'd recommend if you were not trying to eat a ton of carbs in one sitting and wanting a more balanced meal.
But I know, there really isn't anything quite like digging into a bowl of mac and cheese, so I give you permission to do so OCCASIONALLY. (Please don't make that an everyday thing because then you really have to start to question what your goal in doing AIP in the first place is….This is not a health food. This is comfort food, pure and simple.)
Meal Prepping the AIP Mac and Cheese
You can make this mac and cheese up to 5 days ahead of time, store in the fridge, and reheat as needed. I really do recommend reheating as I don't like the texture as much when it's cold.
You can also freeze the sauce for up to 3 months. To do this, make the sauce, let it cool, put into a freezer-safe container or bag (I've been loving these reusable freezer bags!), lay flat in your freezer until frozen, then place somewhere in your freezer for storage. (This method allows you to get a lot more into your freezer.)
Then when you need the cheese sauce, you can thaw it in the fridge overnight and reheat, or push it out of the container into a pot on the stove and gently reheat (if it is having a hard time coming out of the container/bag, put the container/bag in a bowl of warm water for a few minutes).
More delicious Paleo and AIP dishes
Here are a few other recipes that might suit you if you're on a comfort food binge 🙂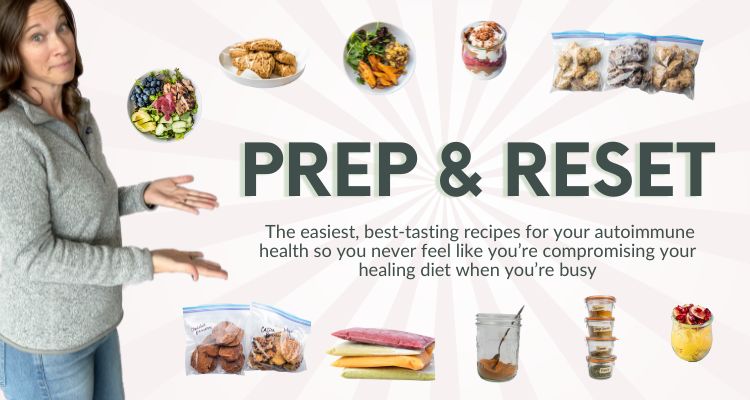 More Helpful AIP & Paleo Resources in the Freebie Library
If you find this recipe helpful, you may really enjoy the resources in my Paleo & AIP Freebie Library! There's a "dump" freezer meal plan, a list of AIP-compliant breakfast toppings, and so much more. Plus, you'll get even more ideas sent to your inbox! Get the password here.
Bacon Mac and Cheese Recipe
If you make this mac and cheese I'd love to hear how it turned out! Either comment below or share a pic on Instagram and tag me @thrivingautoimmune!
Bacon Mac and Cheese (Paleo, AIP, Dairy-free)
The ultimate comfort food – gooey, warm, and filling – this Bacon Mac and Cheese is cozy and delightful. No need to worry about triggering a flare though if you can't have dairy – this one is dairy-free! Also Paleo and AIP friendly.
*Note – this serves 4 people as a side, or 2 people as a main dish
Instructions
Cook the bacon in a pan until done, set aside.

Put a pot of water on to boil, then cook the pasta according to the package directions.

Meanwhile, in a medium saucepan, whisk together the water and arrowroot. Then whisk in the remaining sauce ingredients.

While whisking constantly, bring the sauce mixture to a boil over medium heat. It will thicken noticeably once hot – continuing whisking for another 1-2 minutes, then remove from the heat.

Drain the pasta, finely chop up the bacon, and add the pasta and bacon to the pan with the sauce. Mix together and serve warm. (Option: reserve a bit of the bacon to sprinkle on top)
Did you make this recipe?
Leave a comment below or share a photo on Instagram and tag me @thrivingautoimmune !