This post may contain affiliate links. Please read my disclosure policy.
Missing quiche when you can't have eggs? Need a portable, easy make-ahead breakfast option? This eggless quiche is a delicious choice! Crispy bacon, sweet caramelized onions, and nutrient-dense zucchini all add to the wonderful flavor of this dish. Eat for breakfast, lunch, or dinner! Paleo and AIP-friendly
One of my BIGGEST gripes with AIP is that casseroles and other easy dishes like them (like um, a quiche for instance?) are not as easy to come by. Eggs and cheese seem to play a big role in these sorts of dishes, so when you can't have either, what do you do?
Well, I've come up with a solution for the quiche at least!
This eggless quiche is surprisingly delicious and it's even one that I continue to make, even though I've successfully reintroduced eggs back into my diet.
And the best part is that it's 100% portable, so if you're looking for something you can take with you for breakfast, lunch, OR dinner – this is a great option!
Ingredients needed for this recipe (and substitutions):
Quiche Base
Because this is an egg-free quiche, it obviously doesn't use eggs to set the pie mixture up. Instead, it uses a combo of coconut milk or tigernut milk or sweet potato milk and gelatin to achieve the same thing.
Substitution for coconut, tigernut, or sweet potato milk: If you're not on the AIP Diet you can use any milk that you tolerate.
Pie Crust
The pie crust is made from a mixture of tapioca and coconut flours mixed with some gelatin, palm shortening, and water to help bind it together, and baking soda to help it rise just a tad.
Substitution for the pie crust ingredients: for tapioca, you can use an equal amount of arrowroot flour. Unfortunately, I don't know of a decent substitution for coconut flour, though tigernut flour may work (I haven't tried it though). And you can use lard or leaf lard in place of the palm shortening – and if you aren't on AIP you can use butter as well. Softened coconut oil might work but the texture might be a bit different.
The Quiche Veggies:
Then the rest of the quiche is made up of a mixture of crispy bacon, caramelized onions (basically just cooked at a low temperature for a while to bring out the sweetness), sauteed mushrooms and zucchini, and some nutritional yeast to give a slightly "cheesy" flavor.
Substitutions for the quiche veggies: You can use any meat or veggie you prefer and omit any you don't want! You can also omit the nutritional yeast if you don't have it, like it, or can't tolerate it.
How to make this eggless quiche:
Despite the longer list of instructions, this quiche is not difficult to make.
See the recipe card for exact instructions, but the basic gist is:
• Cook the bacon
• While that's cooking, prep and pre-bake the pie shell
• While the pie shell is baking, cook the onions, then the mushrooms and zucchini
• Prep the liquid base by whisking the ingredients together
• Pour the veggies, bacon, and liquid base into the pie shell and then bake for an additional 30 minutes
• Let chill for several hours to set up
NOTE !!! This cannot be reheated and served warm or else it will melt. That is unfortunately the nature of the gelatin/milk base – it's basically like a savory panna cotta or jello that sets up into solid form when chilled. And if you reheat it, it reactivates the gelatin to become liquid.
How to meal prep the quiche:
While time-consuming upfront, this is a great breakfast – all you have to do is remove it from the fridge and eat it. Literally, NO prep time to reheat or fuss with it. Just remove and eat.

You can store it in the fridge for up to a week or slice and put it in the freezer for up to 3 months (thaw in the fridge).

It also could be used as portable food on the go – put into a travel container and bring with you! (see pic below for example). It's great served with a sausage patty as well (seen in the picture – Apple Thyme Breakfast Sausage)
Other Paleo and AIP breakfast recipes you might like:
Mango Kiwi Breakfast Parfaits (Paleo, AIP) – an easy make-ahead, portable breakfast that has tons of tropical flavor!
Maple Blueberry Breakfast Sausages (Paleo, AIP) – a good side dish for this quiche if you want a little more protein!
AIP Breakfasts Book – this is my ebook full of over 60 Autoimmune Paleo-friendly breakfast recipes to start your day off right!
More Helpful AIP & Paleo Resources in the Freebie Library
If you find this recipe helpful, you may really enjoy the resources in my Paleo & AIP Freebie Library! There's a "dump" freezer meal plan, a list of AIP-compliant breakfast toppings, and so much more. Plus, you'll get even more ideas sent to your inbox! Get the password here.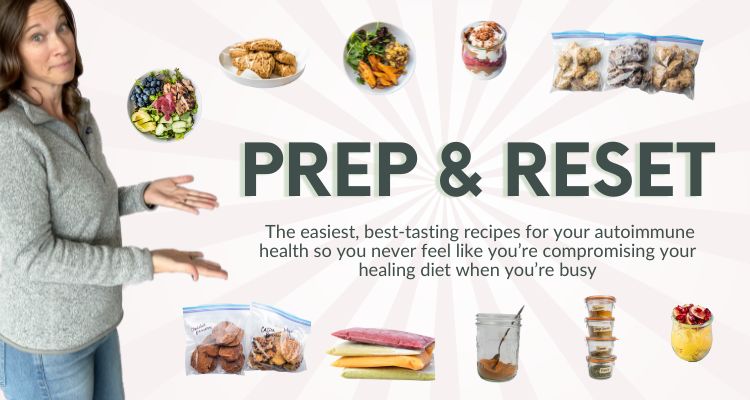 Bacon and Onion Eggless Quiche Recipe
If you make this quiche I'd love to hear how it turned out! Either comment below or share a pic on Instagram and tag me @thrivingautoimmune!
Bacon and Onion Eggless Quiche (Paleo, AIP)
Missing quiche when you can't have eggs? Need a portable, easy make-ahead breakfast option? This eggless quiche is a delicious choice! Crispy bacon, sweet caramelized onions, and nutrient-dense zucchini all add to the wonderful flavor of this dish. Eat for breakfast, lunch, or dinner! Paleo and AIP-friendly
*This recipe has been adapted from one of my favorite Paleo Running Momma recipes – Bacon, Caramelized Onion, and Veggie Quiche
*This recipe is included in my AIP Breakfasts Book
Instructions
Cook the bacon over medium high heat until done.

Meanwhile, preheat the oven to 350 F. Sprinkle the gelatin for the crust over the water in a small bowl or measuring cup and let sit.

In a food processor, pulse the flours, baking soda, and sea salt together a few times. Then add the palm shortening and pulse a few more times. Finally, add the gelatin water mixture and run the food processor until the mixture comes together.

Scoop the mixture out into the pie pan and flatten into the pan using your hands. Bake for 15 minutes.

Once the bacon is done, remove from the pan and add the sliced onions. Cook for about 10 minutes on high, stirring occasionally, and then lower the heat to low and cook for an additional 10 minutes. Then add the mushrooms, zucchini and a pinch of sea salt. Stir and cook for 5 more minutes, then crumble the the bacon into the mixture as well.

In a large bowl, whisk together the coconut milk, 1/2 tsp sea salt, nutritional yeast, and gelatin.

Add the veggie mixture to the pre-baked pie shell, then pour the coconut milk mixture over it. It's ok if it doesn't sink in.

Bake for 30 minutes, then remove from the oven, let sit for 20 minutes to cool, then transfer to the fridge for another 3- 4 hours to set. Serve COLD – if you try to heat this it will melt. Seriously, I tried 🙂
Nutrition
Calories:
354
kcal
Carbohydrates:
20
g
Protein:
6
g
Fat:
29
g
Saturated Fat:
14
g
Polyunsaturated Fat:
5
g
Monounsaturated Fat:
9
g
Trans Fat:
2
g
Cholesterol:
11
mg
Sodium:
528
mg
Potassium:
288
mg
Fiber:
2
g
Sugar:
2
g
Vitamin A:
36
IU
Vitamin C:
5
mg
Calcium:
18
mg
Iron:
2
mg
Did you make this recipe?
Leave a comment below or share a photo on Instagram and tag me @thrivingautoimmune !