This post may contain affiliate links. Please read my disclosure policy.
A tropical mix of shredded pork, baked plantains, pineapple, cauliflower rice, radishes, and an avocado lime mousse will delight your senses and transport you to an island getaway while you eat dinner. Paleo, Whole30, and AIP friendly!
I absolutely adore tropical flavors, and when the opportunity to put a bunch of them together comes along, sign me up!
These bowls are great for meal prep, quite easy to throw together, and extremely satisfying on both the taste level (DELICIOUS) and how filling they are.
Ingredients in this tropical bowl
See the recipe (which is actually on 40 Aprons' site as a guest post) for the exact measurements.
• Shredded Pork – In the recipe I talk about using Cheryl of 40 Aprons' pork carnitas, which are awesome. But they're Paleo and Whole30, so if you are on AIP – use something like this Instant Pot Kalua Pork instead, omitting the cabbage (or here's the slow cooker version I tend to use more)
• Baked Plantains – you need to use plantains that are yellow with black spots on them for this recipe (not the green ones) because they'll caramelize with a beautiful sweet crust when they bake in the oven. (Use the green ones for tostones!)
• Cauliflower Rice – I use my popular Coconut Cauliflower Rice for this one as it pairs perfectly with the flavors of the dish (omit the coconut if you need to be coconut-free)
• Pineapples – you can't have a tropical dish without this, right? You can use fresh or canned chunks
• Radishes – I'm not so sure radishes are "tropical" but they are a nice spicy addition to the meal and add that spice that is harder to get without nightshades if you're on AIP
• Avocado Mousse – this is just a mixture of avocados, coconut milk, lime juice, and salt but it's a beautiful sauce for this dish (you can also use tigernut milk to make it coconut-free if that's a concern)
How to make this bowl
Again, exact instructions are in the recipe, but the gist is this:
• Cook the pork in whatever method you want (slow cooker, Instant Pot, oven, etc)
• Bake the plantains
• While the plantains are baking, make the avocado mousse, slice the radishes and pineapple (if not already in chunks from a can), and rice the cauliflower if you didn't buy pre-riced
• Cook the cauliflower rice
• Assemble the bowls
Easy peasy and pretty quick too if you keep shredded pork on hand in your freezer! If you're doing AIP by yourself I definitely recommend that – keep the shredded pork in individual portion sizes so you can just take it out and reheat it for dishes just like this.
More Bowls You Might Also Like:
Green Goddess Bowl (Paleo, Whole30, AIP)
Harvest Bowl (Paleo, Whole30, AIP)
Brussels and Candied Carrots Bowl (Paleo, AIP)
Nourishing Breakfast Bowl (Paleo, Whole30, AIP)
Winter Bowl (Paleo, Whole30, AIP)
More Helpful AIP & Paleo Resources in the Freebie Library
If you find this recipe helpful, you may really enjoy the resources in my Paleo & AIP Freebie Library! There's a "dump" freezer meal plan, a list of AIP-compliant breakfast toppings, and so much more. Plus, you'll get even more ideas sent to your inbox! Get the password here.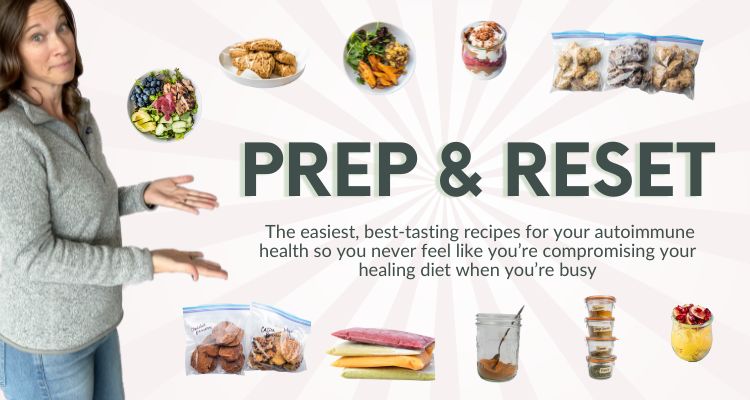 Pork and Pineapple Bowl Recipe
This recipe was a guest post I did on the 40 Aprons site – **** you can see the recipe here ****
*See the notes in the Ingredients section above if you need to be coconut-free
If you make this bowl, I'd love to hear how it turned out! Either comment below or share a pic on Instagram and tag me @thrivingautoimmune!