This post may contain affiliate links. Please read my disclosure policy.
This Instant Pot Cinnamon Apple Cake is a flavorful welcome to fall. Cook the entire dessert in your Instant Pot and enjoy! This recipe is Paleo, gluten-free, dairy-free, and Stage 2 AIP Reintroduction-compliant.
We've got an illegal apple tree.
My husband and son came home one day from Home Depot a few years ago with this little Charlie Brown-like apple tree and were SO excited to plant it that I didn't have the heart to tell them that our HOA specifically prohibits fruit trees.
Well, I told my husband, who told me to stop worrying, but I didn't tell my hopeful son.
That tree grew and grew, but no apples appeared – until this year. For some reason, we now have a major crop, and I've been closely watching it until the point that all those apples are completely red.
Then I'm making a cake.
A few years ago I posted a Cinnamon Apple Cake that is simply amazing, and a few months ago I came up with the Instant Pot equivalent, which I share below. Either one will do for me since we've had some version of this cake for so long that it pretty much IS the start of fall for me. (Now that I don't really drink PSL's so much anymore).
Why Instant Pot Cakes?
Last spring I held an Instant Pot Week, where Kristen from a Mind "Full" Mom and I taught our audience how to use an Instant Pot effectively. I worked on several recipes for that week, two of them being cake recipes.
The two cakes were this Cinnamon Apple one I share below and a Chocolate one. After much deliberation, I decided to share the Chocolate one during the workshop, and save this one until now. Which made a lot of sense, since Chocolate is good ANY time, and apple cinnamon is more of a fall/winter kind of thing.
The thing about Instant Pot cakes is that they come out so much less dry than oven-baked cakes. This means it's perfect for those of you who might struggle a bit with baking, or if your oven hates cooperating with you on temperature.
As I also explain in the Chocolate Cake post, it's good for those of you who might not have access to an oven – college dorm rooms, kitchen remodels, hotels, RV's, tiny houses, small apartments, etc. You CAN still have your cake :-). Read the Instant Pot Chocolate Cake post to see more advantages and disadvantages of making an Instant Pot cake, some tips to make sure your cake comes out perfectly, and the step-by-step process of making a cake in the Instant Pot.
If you make the apple cake, I hope you enjoy!
I also hope that I can get the apples off of my tree before my HOA notices.
You May Need:
I am a participant in the Amazon Services LLC Associates Program, an affiliate advertising program designed to provide a means for us to earn fees by linking to Amazon.com and affiliated sites.
I have this Instant Pot –> the 6 qt DUO 7:1. it's the older model, therefore cheaper now, but I love it!

Sealing Rings (use one for savory dishes, one for sweet, and one if you make yogurt – this helps your sweet dishes not taste like last night's chili)
Steam Rack (get this to keep your cake off the bottom if your Instant Pot didn't come with one)
Stage 2 AIP Reintroduction Compliant
This isn't an AIP elimination-phase dessert but is suitable for Stage 2 reintroductions as it features nuts (almond flour) and whole eggs.
If you're reintroduced these successfully then you're all set!
Other Paleo cake recipes
If you have a liking for cake, you may also want to try these other Paleo cake recipes out!
Cinnamon Apple Cake (this is the original cake that this Instant Pot recipe is based on)
More Helpful AIP & Paleo Resources in the Freebie Library
If you find this recipe helpful, you may really enjoy the resources in my Paleo & AIP Freebie Library! There's a "dump" freezer meal plan, a list of AIP-compliant breakfast toppings, and so much more. Plus, you'll get even more ideas sent to your inbox! Get the password here.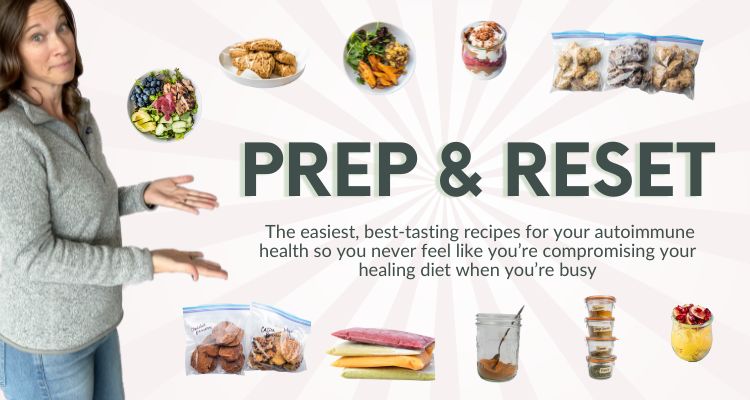 Instant Pot Apple Cinnamon Cake Recipe
I hope you enjoy this cake! If you make it I'd love to hear how it turned out! Either comment below or share a pic on Instagram and tag me @thrivingautoimmune!
Instant Pot Cinnamon Apple Cake
This Instant Pot Cinnamon Apple Cake is a flavorful welcome to fall. Cook the entire dessert in your Instant Pot and enjoy! This recipe is Paleo, gluten-free, dairy-free, and Stage 2 AIP Reintroduction-compliant.
Ingredients
2

tsp

Cinnamon

1/4

cup

Coconut Sugar or Maple Sugar

1

large

Apple

(grated)

1

cup

Almond Flour

1

tsp

Baking Powder

1/4

tsp

Sea Salt

2

Eggs

(whisked)

1/4

cup

Coconut Oil (melted) or Avocado Oil

2

tbsp

Coconut Milk

(or other dairy-free milk of choice)
Instructions
Mix the cinnamon and coconut sugar together in a bowl. Grate the apple and place in another bowl. Mix 2 tsp of the cinnamon sugar mix into the grated apple. Set aside.

In a large bowl, mix the almond flour, baking powder, salt and ⅛ cup of the cinnamon sugar mix. Add the wet ingredients and mix well.

Using a fork, squeeze most of the liquid out of the apples and drain the liquid. Then add the apples to the cake batter and mix well.

Add the cake batter into a lightly greased 6-inch round cake pan and cover with aluminum foil. Pour 2 cups of water into metal liner of the Instant Pot and add the steamer rack. Place the cake pan on top and set your Instant Pot for 40 minutes at high pressure. Let it release naturally for 10 minutes, then release the remaining pressure. Let the cake sit for another 5-10 minutes.

Sprinkle with the remaining cinnamon sugar mix and serve. Store remaining cake in the fridge.
Did you make this recipe?
Leave a comment below or share a photo on Instagram and tag me @thrivingautoimmune !