This post may contain affiliate links. Please read my disclosure policy.
A quick and easy fresh topping for proteins, seafood, and even veggies, this mango salsa is a tropical delight. You won't think your meal is boring after this!
We use this mango salsa on so many things that I figured it deserved its own post. It's super versatile, quick to whip up, and can be used on so many things (see below for ideas).
The mango salsa ingredients (plus substitutions)
The beauty of this salsa is that you may usually have most of the ingredients on hand (if you're like me and always have onions and cilantro, lime juice, and canned mango on hand that is). See the recipe card below for exact measurements.
• Red Onion – I like the flavor of red onion in this better than white or yellow as it's less pungent and gives a good spicy kick to the salsa. However, if you don't have a red onion you can still use a yellow or white one, but if you don't love raw onion flavor I'd reduce the amount by about half.
• Mango – obviously! The recipe calls for fresh mango, but I often interchange that with canned mango or frozen and thawed mango. They all have a bit of a different texture, with fresh having the crisp and bright flavor, frozen being a bit more muddled in flavor and mushier, and canned being the mushiest and least flavor. However, they all still taste great and brighten your dish with the tropical flavor, so if all you have is canned, go for it.
• Lime Juice – You can either use fresh limes or bottled lime juice. Confession – I don't really notice a difference between the two. I also live in Colorado, where lime trees don't really exist. So limes, by the time they get here, aren't super fresh and amazing. If you live where limes ARE amazing, use fresh by all means! But if you're like me and don't notice that much of a difference, bottled lime juice is just fine
• Cilantro – This herb is for a little color and flavor in the salsa. If you hate cilantro, omit it. Some fresh mint in the place of the cilantro could be good (though it will change the flavor of the salsa)
• Sea Salt – just a small amount is needed to season the dish for optimal flavor!
How to make this salsa
This recipe is extremely easy to make, only requiring the use of some knife skills. And if you don't make your cuts all beautiful, even cuts, who cares!
All you need to do is:
• peel and dice the mango
• peel and dice the onion
• chop the cilantro
• mix all of that together with the lime juice and sea salt
What to use this salsa on
The best part of this salsa is its versatility and ability to be delicious on so many different dishes.
Here are some examples:
• On a piece of fish – like grilled salmon or broiled cod
• On shredded pork– I love making a Kalua-style pork (this recipe by NomNom Paleo is my go-to) and serving it over coconut cauliflower rice with some mixed leafy greens and topping it with this mango salsa
• On this Coconut Chicken Sheet Pan Dinner – get all sorts of tropical goodness by adding it to a shredded coconut-coated chicken.
• On tacos – use a shredded beef, pork, or chicken, ground beef, or flaked fish and add this salsa to brighten up the flavor! (I love these cassava flour tortillas by Downshiftology for an AIP version)
• On tostones/patacones – this can be a ridiculously good snack, or part of your meal. You can even top the tostone with some shredded pork (mentioned above)!
Make it ahead of time
This salsa can be made up to 5 days ahead of time and stored in the fridge.
More easy condiments
Want more ideas for condiments? Try these!
Pineapple Salsa (Paleo, Whole30, AIP)
Tomato Jam (Paleo)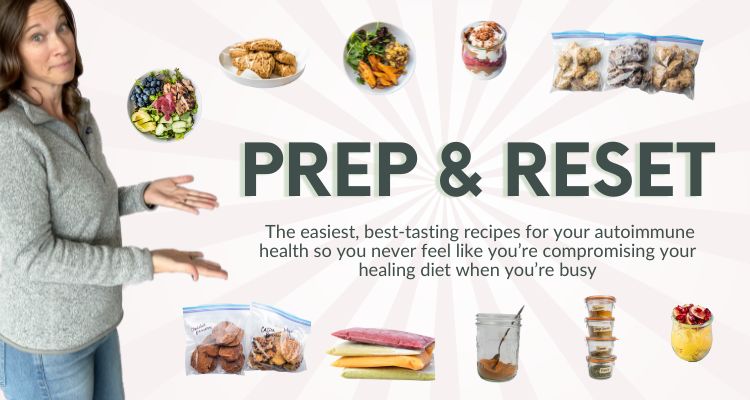 More Helpful AIP & Paleo Resources in the Freebie Library
If you find this recipe helpful, you may really enjoy the resources in my Paleo & AIP Freebie Library! There's a "dump" freezer meal plan, a list of AIP-compliant breakfast toppings, and so much more. Plus, you'll get even more ideas sent to your inbox! Get the password here.
Mango Salsa Recipe
If you make this salsa, I'd love to hear how it turned out! Either comment below or share a pic on Instagram and tag me @thrivingautoimmune!
Mango Salsa (Paleo, Whole30, AIP)
A quick and easy fresh topping for proteins, seafood, and even veggies, this mango salsa is a tropical delight. You won't think your meal is boring after this! Paleo, Whole30, and AIP friendly
Ingredients
1

Mango

( peeled and diced into 1/4-inch cubes)

1/4

cup

Cilantro

(finely chopped)

1/4

Red Onion

(diced)

1

Lime

(or 1 tbsp bottled Lime Juice)

1/4

tsp

Sea Salt
Instructions
Peel and dice the mango, dice the onion, finely chop the cilantro, and add all of this to a bowl.

Add the juice of 1 lime (or 1 tbsp of bottled lime juice) and sea salt, and then mix the salsa together.
Nutrition
Calories:
39
kcal
Carbohydrates:
10
g
Protein:
1
g
Fat:
1
g
Saturated Fat:
1
g
Sodium:
147
mg
Potassium:
119
mg
Fiber:
1
g
Sugar:
8
g
Vitamin A:
636
IU
Vitamin C:
24
mg
Calcium:
14
mg
Iron:
1
mg
Did you make this recipe?
Leave a comment below or share a photo on Instagram and tag me @thrivingautoimmune !