This post may contain affiliate links. Please read my disclosure policy.
A Paleo biscotti recipe that's perfect for the holidays or for a coffee break with friends. A vibrant gingerbread flavor will be sure to have you coming back for this crispy cookie snack! (Paleo, gluten-free, and an AIP Stage 2 reintroduction due to egg yolks and almond flour)
I love to be good at things. Sometimes though, I'm incredibly good at things I shouldn't be.
Like NOT keeping up with friends.
It's not that I'm anti-social (which I am to a certain extent – comes with the territory of being an introvert).
I'm just busy. As are my friends. When we were all young and single it was easy to get together.
"Wanna go have some drinks tonight?"
"Yeah, sounds fun!"
Once you have kids the conversation is more like "Want to have the whole family over for dinner 3 months from now? We'll have to start at 4 pm so we can get the kids to bed by 8."
Half the time we even plan things that far in advance and then the day before somebody has to cancel because so-and-so is sick or a soccer game had been rescheduled for that time.
One of my friends and I have been trying to reconnect for months in this way and finally, we realized it just wasn't going to happen. Our kids just have too much going on and if we waited for the perfect moment, we'd never see each other. Instead, I invited her over for some coffee.
The Perfect Side for Coffee
You can't have someone over for just coffee, can you? It's kind of requisite to have a delicious baked good to accompany that coffee. I wanted a crunchy biscotti to dip into my beverage because that is the epitome of coziness. Dip, chat, sip, laugh, crunch, feel that connection to a long-lost friend.
My friend isn't Paleo and isn't even gluten-free, so I had to serve her something she'd want to devour. A soggy, half-assed Paleo-ized version of a biscotti certainly wouldn't work. But it wasn't like I could run out to Starbucks to grab any either because I can't eat gluten.
So I put on my apron and set to work, making a Paleo gingerbread biscotti I could be proud of. A crunchy, crispy one that could be dipped in coffee and savored.
The recipe I came up with was all that. Crunchy, delicious, just the right amount of gingerbread spice. Look at this crispness:
The coffee date with my friend? It was amazing. It felt so good to see her and to catch up. We slipped right back into our familiar banter, enjoying the ease of conversation while we sat snug and cozy in my kitchen, sipping on our drinks and eating our snack.
Plus, she absolutely loved the biscotti (she didn't even know it was Paleo until I told her).
I miss being able to connect with friends like this on a regular basis, but it's nice to know I have an easy option to have someone over for coffee and a treat. Also, I'm comforted by the fact that even though I need to be on a restrictive diet due to my autoimmune issues, I can still enjoy these little intimate moments involving a favorite snack.
For once in my life, I'm actually trying to be bad at something. My incredible ability to not connect with friends? Hopefully, I'll completely suck at that soon.
Here's a Facebook Live video I did on how to make these delicious treats (it's on YouTube so everyone can watch):
I am a participant in the Amazon Services LLC Associates Program, an affiliate advertising program designed to provide a means for us to earn fees by linking to Amazon.com and affiliated sites.
More recipes you might like:
Paleo Biscotti with White Chocolate and Strawberries
Paleo Molasses Cookies with Maple Cream Filling
Ginger Baked Pears (Paleo, AIP)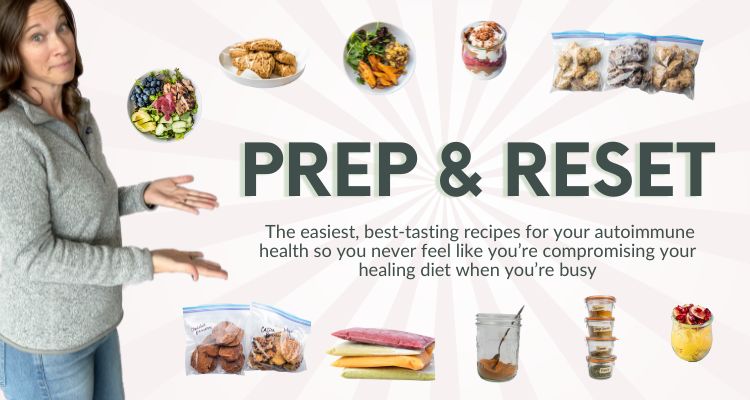 More Helpful AIP & Paleo Resources in the Freebie Library
If you find this recipe helpful, you may really enjoy the resources in my Paleo & AIP Freebie Library! There's a "dump" freezer meal plan, a list of AIP-compliant breakfast toppings, and so much more. Plus, you'll get even more ideas sent to your inbox! Get the password here.
Gingerbread Biscotti Recipe
If you make these biscotti, I'd love to hear how they turned out! Either comment below or share a pic on Instagram and tag me @thrivingautoimmune!
Paleo Gingerbread Biscotti
A Paleo biscotti recipe that is perfect for the holidays or for a coffee break with friends. A vibrant gingerbread flavor will be sure to have you coming back for this crispy cookie snack! Gluten-free and Stage 2 AIP Reintroductions-compliant (egg yolks and almond flour)
Instructions
Preheat the oven to 350 F. Place a piece of parchment paper on a baking sheet.

Add the almond flour, arrowroot powder, ginger, cinnamon, sea salt, and baking soda to the bowl of a food processor with the s-blade. Pulse a few times to combine.

Add the rest of the ingredients and whir to combine until it comes into a ball.

Scrape the batter out onto the prepared baking sheet. It will be sticky, so wet your hands slightly and form into a flat oval shape, about 1/2 inch thick. Place in the oven for 15 minutes.

Let cool for at least 30 min, preferably 1 hr. Slice the oval into approximately inch-wide strips. then put back in the oven at 300 F for 15 more minutes (this is the key to getting it crispy).

Let cool for a few minutes before serving.
Nutrition
Did you make this recipe?
Leave a comment below or share a photo on Instagram and tag me @thrivingautoimmune !