This post may contain affiliate links. Please read my disclosure policy.
Crunchy gluten-free, Paleo biscotti full of strawberry chunks, pistachios, smothered in delectable white chocolate, and drizzled with dark chocolate.
One of my pre-Paleo afternoon rituals used to be to go to a Starbucks and grab a latte and a biscotti.
I loved the process of dunking the crispy, crunchy stick into my piping hot cup of coffee. It just felt so sophisticated (so European! – but do Europeans actually do that?) and satisfied my desire for something sweet.
Of course once I went Paleo the biscotti part stopped (took me a while to get over the latte part), but I really did miss the crunchy treat.
Luckily, as with most non-Paleo treats/dishes, an intrepid blogger or two have come up with an alternative that helps quell any latent cravings for things that allow us to stay on course.
But SOMETIMES you want a super special, Valentine's Day worthy treat – something that is not only delicious but also super pretty with lots of "bling" for your sweetie, right? (Or… yourself, c'mon, I am definitely NOT one to judge here).
That is why I created this Paleo White Chocolate Strawberry Pistachio Biscotti. Lots of gorgeous color from the freeze-dried strawberries and pistachios, smothered in a delectable dairy-free white chocolate mixture, and drizzled with just a touch of dark chocolate.
And the "strawberry" in the name isn't just from a garnish of strawberries sprinkled on top, but rather I have incorporated strawberries into the batter, both in the form of powdering them so they replace some of the flour and then also adding some right at the end of mixing so you get little chunks in each bite.
You definitely do not need to add the white chocolate (these biscotti are amazing without it), but it is a special touch that brings this from ordinary to extraordinary!
This recipe is a bit more involved than some in that you have to bake it twice and then also make the white chocolate, but it's still easy to make. Most of the "prep" time is waiting around for the biscotti to cool in between baking sessions. Watch the short, no-speaking how-to video tutorial below to see exactly what I do.
It's not that it's complicated, because it's not, but I think seeing it really removes any confusion from a process such as this.
I hope you enjoy these since I know we definitely have (I've now made them like 5 times between recipe testing, photography for this post, and making this video, but my family and friends have not complained one bit about having to eat up the leftovers…)
I am a participant in the Amazon Services LLC Associates Program, an affiliate advertising program designed to provide a means for us to earn fees by linking to Amazon.com and affiliated sites.
Some notes: You need to use cacao butter in this recipe for the white chocolate. This is not to be confused with coconut butter. The white chocolate also uses vanilla powder.
I use this one from Terrasoul since it does not have maltodextrin derived from corn in it (since I possibly have a corn sensitivity) but if you do not have a corn issue there are several other ones that you can use too.
You can also make these egg-free by just excluding the egg. I did this by mistake once and it just comes out a bit denser and not as thick but really not TOO much different.
Make Ahead and Freeze these Grain-Free Biscotti
You can make these biscotti from start to finish and store in an air-tight container in the fridge up to 2 weeks.
You can freeze the raw biscotti dough or the baked and dipped biscotti in a freezer-safe container or bag for up to 6 months.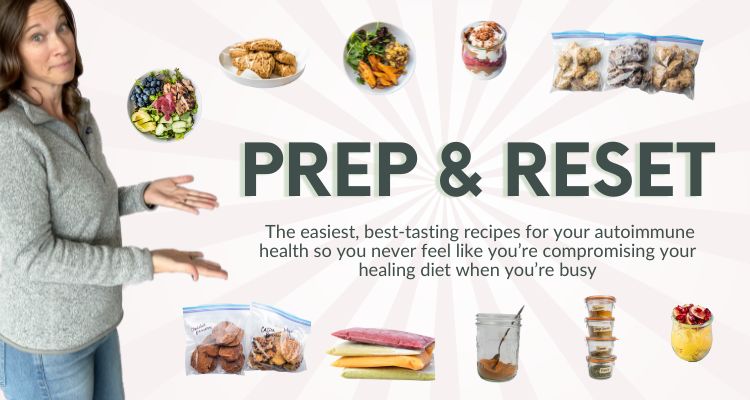 More Helpful AIP & Paleo Resources in the Freebie Library
If you find this recipe helpful, you may really enjoy the resources in my Paleo & AIP Freebie Library! There's a "dump" freezer meal plan, a list of AIP-compliant breakfast toppings, and so much more. Plus, you'll get even more ideas sent to your inbox! Get the password here.
Paleo Biscotti with White Chocolate Coating Recipe
If you make these biscotti, I'd love to hear how they turned out! Either comment below or share a pic on Instagram and tag me @thrivingautoimmune!
Paleo Biscotti with White Chocolate Coating
A decadent treat, these Paleo Biscotti are delicious. Top them with the optional white chocolate, strawberry coating and you've got an amazing gluten-free snack that rivals anything you could get at Starbucks!
Ingredients
For the Biscotti
1

cup

88 g Almond Flour

1/3

cup

44 g Arrowroot Starch

3/4

cup

12 g Freeze-dried Strawberries, divided (plus more for garnish)

1/4

tsp

Sea Salt

1/4

tsp

Baking Soda

1

Egg Yolk

(optional, ok without it too)

1

tsp

5 mL Vanilla Extract

1/4

cup

60 mL Honey

1/4

cup

27 g Pistachios (shelled)
For the White Chocolate
4

oz

113 g Natural, Unrefined Cacao Butter (not coconut butter)

2

tbs

30 mL Honey

1

tsp

Vanilla Bean Powder
For the Garnish
Finely Chopped Freeze-dried Strawberries

Finely Chopped shelled Pistachios

2

oz

57 g Dark Chocolate (I use 85% dark)
Instructions
Combine the almond flour, arrowroot powder, 1/2 cup (8 g) freeze-dried strawberries, sea salt, and baking soda in a food processor and pulse until combined. The strawberries should be a powder.

Add in the egg yolk, vanilla extract, and honey and process until it all comes into a ball.

Add the remaining 1/4 cup of freeze-dried strawberries and the pistachios into the food processor and pulse approximately 10-15 times until the strawberries and pistachios are little chunks. They might not be completely incorporated into the dough, but that's fine.

Pour the dough (and any remaining chunks of strawberry/pistachio) onto a baking sheet covered in parchment paper.

Knead the dough a bit to get all of the chunks incorporated into the dough and then press down to form the dough into a flat rectangle.

Bake at 350 F (177 C) for 15 minutes.

Let cool for an hour, and then slice diagonally into the classic biscotti shape. (put back on the baking sheet if you removed them to cut)

Put back in the oven and bake at 300 F (149 C) for another 15 minutes.

While the biscotti is in for the 2nd bake, melt the cacao butter in a pot over a low flame or double boiler. Once it is a yellow liquid, remove from the heat and let sit on the counter top for 20 minutes.

Pour the melted cacao butter into a food processor and then add the honey and vanilla powder.

Process until well mixed, then transfer the bowl of the food processor (with the cacao butter AND the blade still in it) into the fridge for 15 more minutes (set a timer).

Remove the bowl from the fridge and then reattach it to the food processor base. Process the cacao butter mixture for about a minute until it becomes opaque and creamy.

Either dip the biscotti into the white chocolate mixture or scoop some of the mixture out and pat it on the biscotti with your fingers (it depends on how quickly your white chocolate is cooling). Place on a baking sheet to set up. Sprinkle the garnish of finely chopped strawberries and pistachios over the biscotti and press lightly to imbed them in the chocolate.

If desired, melt some dark chocolate over a low flame or double boiler and then drizzle it over the completed biscotti with a spoon.

Refrigerate to completely set up if it's warm, but if it's cool (like it tends to be in February), they set up just fine on the kitchen counter.
Notes
You can make these biscotti from start to finish and store in an air-tight container in the fridge up to 2 weeks.
You can freeze the raw biscotti dough or the baked and dipped biscotti in a freezer-safe container or bag for up to 6 months. 
Did you make this recipe?
Leave a comment below or share a photo on Instagram and tag me @thrivingautoimmune !

This post was included in the Create & Share DIY Recipe Party # 41.