This post may contain affiliate links. Please read my disclosure policy.
Just because you are on the Paleo diet doesn't mean you can't enjoy a super fun Valentine's Day party!
I am a big fan of looking at party blogs because they always have such creative and fun ideas that you can use to host your own event. The amount of effort that goes into some of those parties though, wow. I definitely don't have that kind of time, but it's still fun to look to get ideas. The problem with looking at those blogs though is that neither I nor my kids can eat any of the food! It's usually gluten-, dairy- or refined sugar- filled stuff that looks good but will cause some major issues with us. So I decided to have our own Paleo Valentine's Day party that only includes food we can eat. I hope you can find some ideas to host your own soiree below!
Of course I had to make my Paleo White Chocolate Strawberry Pistachio Biscotti that I just posted last week.
These Paleo Chocolate Cupcakes with "Peanut Butter" Frosting by Paleo Newbie are amazing, and if you make them JUST for the frosting I wouldn't blame you, because it is incredibly delicious. I'm salivating just thinking about it!
I am a participant in the Amazon Services LLC Associates Program, an affiliate advertising program designed to provide a means for us to earn fees by linking to Amazon.com and affiliated sites.
My kids go bananas over these Strawberry Gelatin Jigglers by Paleo Parents. I made them into hearts by putting the puree into heart-shaped silicon molds.
These dairy-free Yogurt Granola parfaits are fun bursts of color. You can make these one of two ways: if you have time you can make your own greek-style coconut milk yogurt via the recipe from Real Food RN and your own pumpkin pie granola using the recipe from Spunky Coconut. Or if you don't have time you can use So Delicious Coconut Milk Yogurt (not really Paleo due to some preservatives) and Renola Grain-free Granola from larabar.
No party is complete without a fun fizzy drink, so we came up with this Pomegranate Coconut Fizz (recipe below). (Straws from Paper Source but similar straws here)
And you can't have a party without sending your guests home with some fun party favors! I just made these using takeout containers and glitter heart stickers that I found at my local craft store. I filled them with more of the Strawberry Gelatin Jigglers from above.
Make sure you decorate your party accordingly as well. Vibrantly colored tulips are always festive additions to a Valentine's event and aren't too romantic like roses would be.
I'd love to hear what sorts of ideas you have for a Paleo gathering as well! Comment below to let me know!
More Helpful AIP & Paleo Resources in the Freebie Library
If you find this recipe helpful, you may really enjoy the resources in my Paleo & AIP Freebie Library! There's a "dump" freezer meal plan, a list of AIP-compliant breakfast toppings, and so much more. Plus, you'll get even more ideas sent to your inbox! Get the password here.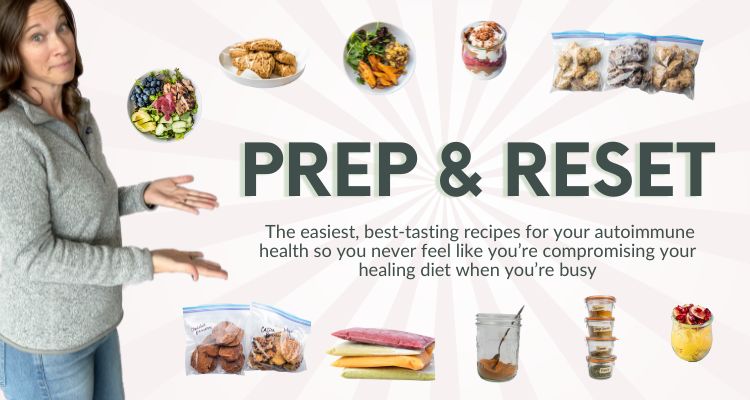 Pomegranate Coconut Fizz Recipe
If you make this drink, I'd love to hear how it turned out! Either comment below or share a pic on Instagram and tag me @thrivingautoimmune!
Pomegranate Coconut Fizz
No party is complete without a fizzy drink. This gluten-free, dairy-free and refined sugar-free drink is a great addition to any gathering you are hosting.
Ingredients
1/3

cup

79 mL Pomegranate Juice

1/3

cup

79 mL Coconut Milk

2/3

cup

158 mL Sparkling Water

Honey or Maple Syrup to taste

Ice
Instructions
Put some ice in a glass. Add the pomegranate juice, then the coconut milk, then the sparkling water. Watch out as it might foam up a bit. Taste and if desired, add sweetener to taste (we don't usually put any in, but I know some might like it a bit sweeter).
Nutrition
Did you make this recipe?
Leave a comment below or share a photo on Instagram and tag me @thrivingautoimmune !
This recipe was included in Phoenix Helix's AIP Recipe Roundtable 62.
This post includes affiliate links. This means I might receive a small amount of compensation if you purchase something through one of the links. This does not mean the price will be any greater for you, in fact, I might be able to negotiate even better prices and discounts for you. The compensation I receive helps me pay for the cost of running this blog and bringing you all of this free information. Thanks in advance for supporting me!
You May Also Like: