This post may contain affiliate links. Please read my disclosure policy.
This filling Asian-inspired salad is chock full of delicious ingredients and is Paleo, Whole30, and can be made AIP.
Wanna know one of the biggest reasons people can't follow those resolutions they so passionately make for the new year?
It's not because they don't want it bad enough. Or because it's too hard or time-consuming.
You Start With the Best of Intentions
Imagine this scenario: You decide that this year you're going to eat Paleo 80% of the time. After trying out eating nutritionally dense foods and none of the processed stuff you've been feeling considerably better so you know this a resolution you want to make. 80% is also a good balance for you because you don't want to ALWAYS have to worry about what you eat and sometimes want a gluten-free baked good or some nachos when out with friends.
You start the year off with gusto. The first Sunday you sit down and plan out your meals for the week, go shopping, and then cut up veggies for the week. You are excited. Everything goes great.
Week 2, same deal. Look at you go!
Week 3 you've got this all figured out, so you think of a few recipes to make in your head and buy the ingredients, but you don't do any actual planning. Everything still goes mostly ok.
Week 4 though… again you buy a bunch of ingredients from the store, thinking you'll figure something out like last week. Tuesday evening comes and your son's basketball game goes longer than expected. Your stress level rises as you scramble to think of things to make on your way home and thankfully get something onto the table in a reasonable amount of time.
Thursday comes and your neighbor stops over to ask a question and winds up chatting for an hour. Then you realize dinner needs to be on the table and you have no idea what you're going to make. Again, the mad scramble to figure out a meal (and subsequent late dinner) causes your stress level to rise yet another notch.
On Saturday you're out with your family and the time gets away from you, so you decide to just eat out rather than try to figure out what to make. When you get home you notice the sell-by date of the ground pork in the fridge had been that evening, so you throw that plus the quickly wilting kale you had purchased out. $15, wasted. You imagine throwing actual money in the trash and cringe. The stress level – plus guilt level, rises yet again.
Eventually, after a few weeks of this, your stress rising to oppressive levels, you throw your hands up in the air and declare that boxed pasta, sauce, frozen chicken nuggets, and pizza are just SO much easier and less troublesome. Reverting back to your old, unhealthy ways just feels comfortable, like a cozy pair of stretchy waist sweatpants. Sure, you're sad that you couldn't do make the healthy thing work, but it obviously wasn't meant to be.
Was the problem time? You might have thought so, but it really wasn't. You had time, you just chose to spend it on other things.
Was it that you honestly didn't want to be healthy? Not at all! You still want to be, but think it's impossible.
The real problem? You stopped planning.
The Key to Success
Planning is the keystone in all of this. It's the special ingredient that's the difference between success and failure. Between achieving your goals and wallowing in the pint of Ben & Jerry's after yet another failed diet.
Often, the planning step is the easiest to overlook. The one that's passed by because it IS possible to eat healthily and workout without planning. Yet, without it, it's also the reason you stop eating healthily and working out.
Your brain is so overworked and you're incredibly busy. Adding that seemingly tiny task of figuring out what to eat, especially in the heat of the moment, can tip the scales towards failure. I'm sure you agree it's much easier to eat out or throw a frozen meal into the microwave.
Just knowing what you're going to make before mealtime can make a significant difference. As in the difference between you continuing to eat a healthy, nutritionally dense diet or a preservative-dense and nutritionally-poor diet that will continue to spark inflammation in your body.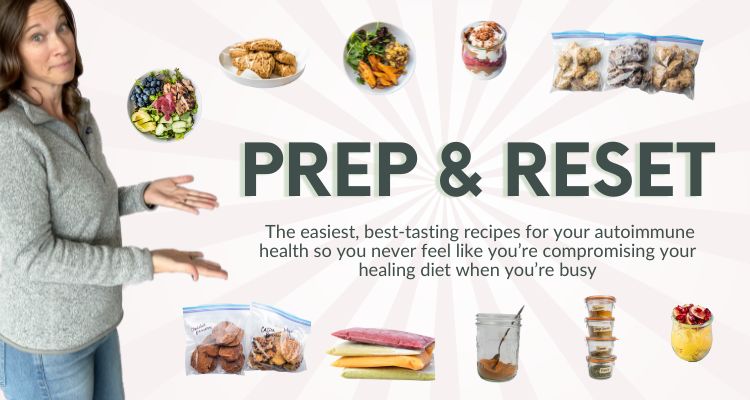 More Helpful AIP & Paleo Resources in the Freebie Library
If you find this recipe helpful, you may really enjoy the resources in my Paleo & AIP Freebie Library! There's a "dump" freezer meal plan, a list of AIP-compliant breakfast toppings, and so much more. Plus, you'll get even more ideas sent to your inbox! Get the password here.
Asian Pineapple Chicken Salad Recipe
If you make this chicken salad, I'd love to hear how it turned out! Either comment below or share a pic on Instagram and tag me @thrivingautoimmune!
Asian Pineapple Chicken Salad
This filling Asian-inspired salad is chock full of delicious ingredients and is Paleo, Whole30, and can be made AIP.
Ingredients
For the Salad:
1

lb

boneless, skinless Chicken Thighs

Sea Salt and Pepper to taste (omit pepper for AIP)

2

heads

Romaine or Butter Lettuce

(shredded)

1/4

Red Cabbage

(thinly sliced)

1

cup

Pineapple

(diced (fresh or canned))

1

Bell Pepper

(diced (omit for AIP))

2

Carrots

(sliced into matchsticks)

2

Green Onions

(sliced)

3/4

cup

Cashews

(chopped (omit for AIP))

3/4

cup

unsweetened

(shredded Coconut)
For the dressing:
1/2

cup

Coconut Milk

1/4

cup

Almond Butter

(or Sunflower Seed butter or Tigernut Butter for AIP)

1

tbsp

Lime Juice

(about 1 lime)

1

tbs

Honey

(omit for Whole30)

2

tbs

Coconut Aminos

1

tbs

Apple Cider Vinegar

1

clove

Garlic

1/8

cup

Cilantro

1/8

tsp

dried Ginger
Instructions
Preheat the oven to 425 F. Place a piece of parchment paper on the baking sheet. Lay the chicken thighs out on the sheet and sprinkle generously with salt and pepper (omit the pepper for AIP). Roast for 40 min.

Meanwhile, prepare all the rest of the ingredients (slice, dice, shred, etc). Make the dressing by placing all of the dressing ingredients in a blender or food processor and blendign until smooth.

Once the chicken is done, chop it into bite-sized pieces. Place romaine/butter lettuce on plates and pile with all the toppings and chopped chicken. If serving now, drizzle with the dressing. Otherwise, store the dressing in a separate container and drizzle just before serving.
Did you make this recipe?
Leave a comment below or share a photo on Instagram and tag me @thrivingautoimmune !