This post may contain affiliate links. Please read my disclosure policy.
This Keto salmon recipe is incredibly, like INCREDIBLY delicious and also Paleo, gluten-free, Whole30, and dairy-free.
Did you know this wasn't going to be a post?
Last week I did a vlog about this recipe (and the book it came from), but I was so blown away by how delicious this salmon was that it needed to have a place here.
I am a participant in the Amazon Services LLC Associates Program, an affiliate advertising program designed to provide a means for us to earn fees by linking to Amazon.com and affiliated sites.
This salmon recipe is from the new book by Vivica Menegaz of The Nourished Caveman, called The Keto Paleo Kitchen.
I think this is one of the prettiest cookbook covers I've ever seen, don't you?
If you watch the video below, I explain my thoughts on eating Keto (I did it for quite a while myself) and then show the making of the recipe.
Can't see the video? Watch Eating Keto Paleo
(In this video I also mention how I made the Stracciatella Soup on my Facebook Live – you can see that here)
Basically, I think eating a keto diet is definitely something worth exploring, even if it isn't a long-term thing for you.
It's not all that much different from eating regular Paleo – it's probably the version of Paleo that a lot of people think of – the low-carb version. So you've got to remove a lot of the baked goods, sweet potatoes, squashes, and fruits that might be a part of your diet. For me, it wasn't a viable long-term option just because I hated having to make different meals from my family or eat part of what they ate. Nothing worse than smelling a delicious baked good that you just baked that you can't eat…
But I also think I had amazing amounts of energy, mental clarity, and weight loss that I don't quite always get on Paleo.
So that's why I think it's worth trying out and seeing if it works for you.
The Keto Salmon Recipe
Anyway – the reason I wrote this post is to share this amazing keto salmon recipe. I made it for the video above and even licked my plate at the end, which is quite rare for me and a fish dish.
That's how good it was.
Hence, here's the recipe for you. Please note I'm sharing this with permission of the author.
I promise I'll get that pancake recipe soon, but when you find a dish-licking recipe, AND you have the ability to share it with the world, you drop everything and do that, right?
Make sure to check out Vivica's The Keto Paleo Kitchen book on Amazon.
More Helpful AIP & Paleo Resources in the Freebie Library
If you find this recipe helpful, you may really enjoy the resources in my Paleo & AIP Freebie Library! There's a "dump" freezer meal plan, a list of AIP-compliant breakfast toppings, and so much more. Plus, you'll get even more ideas sent to your inbox! Get the password here.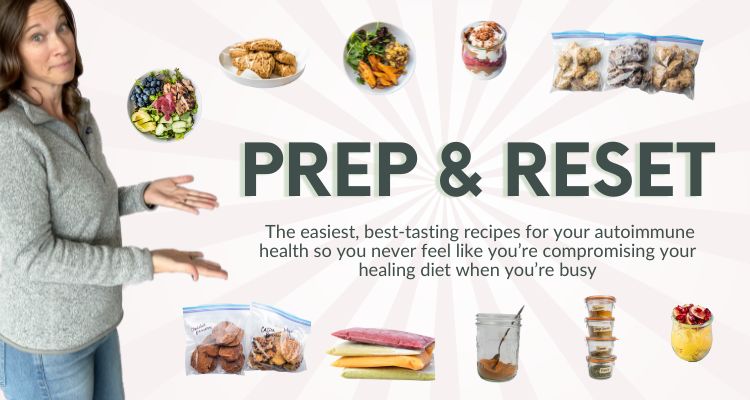 Cashew Crusted Salmon with "Ponzu" Sauce Recipe
If you make this crusted salmon, I'd love to hear how it turned out! Either comment below or share a pic on Instagram and tag me @thrivingautoimmune!
Cashew Crusted Salmon with "Ponzu" Sauce
This Keto salmon recipe is incredibly, like INCREDIBLY delicious and also Paleo, gluten-free, Whole30, and dairy-free.
Ingredients
1

cup

Cashew Pieces

1/2

cup

fresh Cilantro

(coarsely chopped)

2

tbsp

Coconut Oil

(divided)

1/4

tsp

Sea Salt

1

lb

Salmon Fillets

(with skin)

3

tbsp

Coconut Aminos

1

lime

(juiced)
Instructions
In a

food processor

, blend the cashews, cilantro, 1 tablespoon of coconut oil and salt, until even, green crumbles are formed.

In a medium nonstick skillet, heat the remaining 1 tablespoon of coconut oil over high heat, then place the salmon fillets in the pan, skin side down. Immediately spread the cashew crumbles on top the fillets, pressing them down onto the fish and creating a crust about ½ to ¾ inch thick. Cover immediately with a tight-fitting lid and lower the heat to medium. Cook until the salmon is turning opaque all over, about 5 minutes, then turn off the heat and let sit for another minute.

While the salmon is cooking, make the ponzu sauce by mixing the coconut aminos with the lime juice.

Serve hot with a couple of tablespoons of ponzu sauce on top of the salmon.
Did you make this recipe?
Leave a comment below or share a photo on Instagram and tag me @thrivingautoimmune !