This post may contain affiliate links. Please read my disclosure policy.
Just because you're on a healing diet doesn't mean you can't have a delicious, creamy pumpkin pie! AIP, nut-free, egg-free, Paleo, and amazing.
There used to be a time when I discouraged people from doing the AIP diet around the holidays because it's extremely difficult to completely abstain from holiday-based treats.
Seeing everyone around you eat cookies, pies, cakes, candies – it's difficult enough during the rest of the year, but the holidays offers an endless barrage of these.
And for a long time, there weren't many good AIP options, so I just recommended everyone wait until the new year to start the AIP diet.
But these days I actually have changed my stance on this a bit and say that if you're willing to make your own treats, it's really not that hard to do AIP during the holidays anymore!
AIP holiday desserts
Of course, I'm a bit biased when I say this as I've developed a few AIP desserts that you could make, but there are so many other absolutely delicious options out there as well.
But do check these out if you want some ideas:
Ginger Baked Pears (Paleo, AIP)
Pumpkin Pudding Parfaits (Paleo, AIP)
Carob Orange Truffles (Paleo, AIP)
Sweet Potato Pie (Paleo only)
Or you can check below for the recipe to this AIP Pumpkin Pie!
AIP Pumpkin Pie
This pumpkin pie is a bit different than the types you might be familiar with, as it uses no eggs to set up, nor any grains or nuts in the crust.
Instead it's a gelatin-based pie, which allows it to be creamy yet firm.
Mixed with the canned pumpkin and delicious pumpkin pie spices (of course made AIP-compliant), it's a fantastic addition to your holiday meal.
Do note though that you'll need to serve it room temperature or cold as if you heat it up the gelatin will melt somewhat and the pie filling will no longer be firm. Heat it too much and you'll have goo. Which might still be delicious, but not really "pie" anymore, ha!
It's also worth noting that it'll take a few hours for the gelatin to set up, so I recommend making this pie either the day before or in the morning that you'll need it.
Serve with a dollop of coconut whipped cream and you'll be in heaven!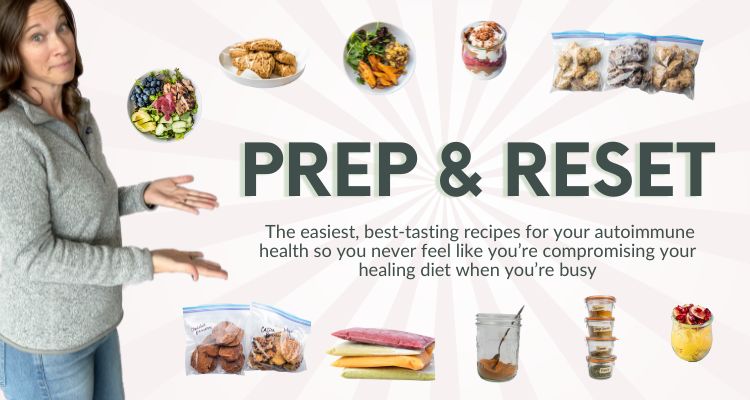 More Helpful AIP & Paleo Resources in the Freebie Library
If you find this recipe helpful, you may really enjoy the resources in my Paleo & AIP Freebie Library! There's a "dump" freezer meal plan, a list of AIP-compliant breakfast toppings, and so much more. Plus, you'll get even more ideas sent to your inbox! Get the password here.
AIP Pumpkin Pie Recipe
If you make this pie, I'd love to hear how it turned out! Either comment below or share a pic on Instagram and tag me @thrivingautoimmune!
AIP Pumpkin Pie (Paleo, Nut-free, Egg-free)
Just because you're on a healing diet doesn't mean you can't have a delicious, creamy pumpkin pie! AIP, nut-free, egg-free, Paleo, Vegan, and amazing.
Instructions
Preheat the oven to 350 F. Sprinkle the gelatin over the water in a small bowl or measuring cup and let sit.

In a food processor, pulse the flours, salt, baking soda, and coconut sugar together for a few seconds. Then add the palm shortening, pulse for a few seconds more. Finally, add the gelatin water mixture and pulse for another 20 seconds. The mixture should come together if pinched together with your hands.

Dump the mixture out onto a piece of parchment paper and form into a ball. Then either flatten into a pie pan with your hands or roll out between two pieces of parchment paper. Bake for 15 minutes.

Meanwhile, sprinkle the gelatin for the filling over water in a small saucepan. Let sit for a few min while you add all the rest of the filling ingredients into a bowl. Heat the gelatin over medium-low heat until the gelatin has dissolved. Whisk until slightly frothy, then put into the bowl with the pumpkin and mix everything together really well.

Pour the mixture into the prepared pie shell.

Turn the heat down to 325 F and place the pie in the oven. Bake for 1 hour.

At the hour mark, take the pie out and let it cool for about 30 min on the counter. It will still be wobbly and won't be set like a normal pumpkin pie at this moment.

Once it's cooled a bit, put it in the fridge for at least 4 hours to set completely.

Let come to room temp for best taste, but it's still great cold. (Do NOT reheat – it will turn to mush as the gelatin will melt)
Did you make this recipe?
Leave a comment below or share a photo on Instagram and tag me @thrivingautoimmune !