This post may contain affiliate links. Please read my disclosure policy.
Sweet Marsala wine and sliced mushrooms make up this classic dish made healthier. This Chicken Marsala recipe is a delicious option for a comforting weeknight dinner. Paleo and AIP
Several years ago when I was a brand new mom and my oldest son was just a few weeks old, one of my oldest and dearest friends came from Portland, OR to visit me. She stayed for a few days helping us out with anything and everything that new parents need help with (like everything) and I still to this day remember an amazingly delicious meal she made for us. In that weird sleep-deprived fog one is in in the initial weeks after having a baby the weirdest things stick out to you, and for some reason I just remember her cutting mushrooms in the food processor and thinking that it was the coolest thing I'd ever seen. I mean it was just mushrooms but you'd have thought she just showed me how to slice bread for the first time.
But I also remember how the meal was so delicious and how it was the first time I'd ever had chicken marsala. I had to ask several times what it was. I've had masala, which is an Indian spice/dish, but that extra r in the word got me because this tasted nothing like the Indian dish. I later learned that marsala is a dry, sweet wine from the Sicily region of Italy and that's why Chicken Marsala is a slightly sweet, Italian-like dish. Makes sense to me now! But oh how confused I was! (To be fair, I think I was confused about what my own name was during that time too. Ah sleep deprivation….)
Recently I've been thinking about that dish. It's not too far off of Paleo but does use flour for dredging the chicken, so I decided to publish a Paleo, gluten-free version for those of you who just don't want to have to think about how to convert a "normal" recipe (who really has time for that? 'cept me that is. That's why I'm here for you).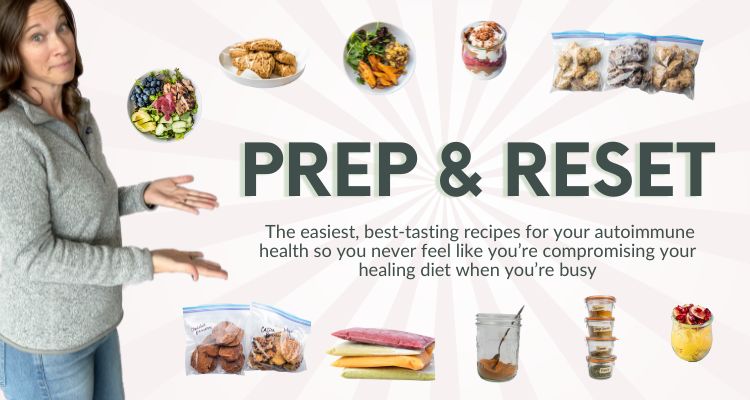 More Helpful AIP & Paleo Resources in the Freebie Library
If you find this recipe helpful, you may really enjoy the resources in my Paleo & AIP Freebie Library! There's a "dump" freezer meal plan, a list of AIP-compliant breakfast toppings, and so much more. Plus, you'll get even more ideas sent to your inbox! Get the password here.
Paleo Chicken Marsala Recipe
If you make this chicken, I'd love to hear how it turned out! Either comment below or share a pic on Instagram and tag me @thrivingautoimmune!
Paleo Chicken Marsala
Sweet Marsala wine and sliced mushrooms make up this classic dish made healthier. This Chicken Marsala recipe is a delicious option for a comforting weeknight dinner. Paleo and AIP
Ingredients
4

boneless, skinless Chicken Breasts

1

cup

Coconut Flour

((use Cassava Flour, Tapioca Starch, or Arrowroot Powder for coconut-free))

2

tsp

Sea Salt

1/4

cup

Coconut Oil, Avocado Oil, or Olive Oil

8

oz

Mushrooms

(sliced (I use crimini))

3/4

cup

Marsala Wine

1/2

cup

Chicken Stock

Chopped Parsley for garnish
Instructions
In a ziplock bag or between two sheets of plastic wrap, pound the chicken breasts with a meat mallet until they are about 1/4 inch thick.

In a shallow pan or dish mix the coconut flour, 2 tsp salt, and 1 tsp pepper.

Heat a large skillet over medium-high and then add the coconut oil.

Once the oil has melted, dredge the chicken breasts in the flour mixture and then add to the pan. Cook for about 5 minutes on each side until golden brown. (Do this in batches if they don't fit in the pan easily). Transfer to a plate when done.

Reduce the heat to medium and add a tablespoon of butter (or more coconut oil) to the pan and once melted, add the mushrooms. Cook, stirring frequently, until most of the moisture is gone from the mushrooms. Season with salt and pepper.

Add the marsala wine and bring to a boil. Scrape any brown bits from the bottom of the pan.

Add the chicken stock and bring to a boil. Add the remaining butter if using and stir the mixture once it has melted.

Return the chicken back to the pan and simmer for a few minutes to heat the chicken back up. Season the chicken if necessary with more salt and pepper and garnish with parsley.
Notes
If you don't buy pre-sliced mushrooms, use the slicing disc on your food processor to slice them in seconds.
Did you make this recipe?
Leave a comment below or share a photo on Instagram and tag me @thrivingautoimmune !