This post may contain affiliate links. Please read my disclosure policy.
Paleo Crepes can be used for so many different purposes – desserts, snacks, actual meals, etc. This gluten-free crepe recipe even adds some protein, making it even more filling and great for after workouts!
This is a sponsored post that contains affiliate links but all opinions are my own.
Back in the days when I used to compete (and I use the term "compete" loosely here) in Ironman triathlons, I used to be quite an idiot, to be frank, with my recovery and refueling options. Let's just say a typical recovery meal involved a bowl of Fruity Pebbles in cow's milk and an ice cream sundae from the closest Good Times.
Not the best for my body and probably a huge reason why I suffered from all the health issues I did after I stopped training. However, as a quick aside – because I had been so stupid with my mid-ride refueling options when I was training for my first half Ironman, I met my husband… I completely lost all energy and will to live on the way back into Boulder during a group training ride and had not the faintest clue on how to get back to where my car was.
But luckily he came back for me and helped guide me. Such a lifesaver 🙂 You know, it's the classic man on trusty steed (bike) rescues damsel in self-induced distress story.
Now that Ironmen and marathons are a thing of the past in my life, I didn't think I'd ever really need any sort of "recovery" options any more.
But turns out, after my once weekly Barre class I get pretty freakin tired and sore, and I do still go on long mountain hikes, bike rides, cross-country ski treks, and sometimes even try to barrel face first down a mountain on skis (still learning that one). So needing a good post-workout recovery option is still pretty important.
I've stayed away from protein powders most of my life mainly because the protein is usually soy, which I avoid, and they usually put so much sugar or fake sugar in them that I can't stand it. My doctor once prescribed a protein powder for me for a blood sugar issue I was having and I hated the sweetness so much that he had me put super bitter green tea extract in it to contradict the sweetness. And don't get me wrong, I have a raging sweet tooth, so I like sweet things! But the protein powders were just too cloyingly, artificially sweet.
So when I heard about Rootz and their Paleo Protein-Superfood I had to admit I was a bit skeptical. But then I started seeing people I trust talking about it and saying how they loved it, so it made me wonder if it was different.
Alas, after trying it I was hooked. I think it still DOES have a sweet taste from stevia leaf, but it's nothing like those other powders. I also think I'm just hyper aware of it so if you were to try it you probably wouldn't even notice. However, the rest of the ingredients in the powder make up for any sweetness issues since it's so clean. Like no weird chemicals or preservatives.
In fact, I even give this stuff to my kids and I wouldn't dream of giving my kids any other protein powders. Plus, I think this is my favorite part – it includes all those trendy cool superfoods that everyone always tries to incorporate in their smoothies, etc these days! As in: Chia Seeds, Flax Seeds, Maca Root, Bee Pollen, Acai, Goji Berries, Blueberries, and Royal Jelly. It's also got a nice chocolate banana flavor.
You can drink it like a shake, but where's the fun in that? Ok, it's totally practical and I do it all the time. But still, leave it to me to try to recipe-fy it so I can have it in other forms.
After some experimenting I came up with these crepes! Now talk about fun 🙂 And practical too! Crepes have so many different uses.
Like as a vehicle for almond butter, banana, and honey. Andddd maybe a bit of melted chocolate if you want an extra special treat 🙂
Or as a vehicle for nut butter and jelly. PERFECT for on the go, like taking on a hike, bike ride or even camping as a lunch or snack. And so good for giving to the kids for lunch at school. We just roll them up (and call them "roll ups", I know, creative) and either wrap them in plastic wrap or put in a container and off we go.
Or as an after-workout treat with chocolate, strawberries, and unsweetened shredded coconut…
You could use them for more savory purposes too, but I'd probably stick with things that do better with sweetness since you do get a bit of the Chocolate Banana flavor from the protein powder. But something even like putting a slice of deli ham, some dijon mustard, and some sliced pears would probably work really well (add some melted nut brie and oh man, that sounds awesome).
Get your Paleo Protein-Superfood for these crepes here – use code THRIVING10 to get 10% off!
More Helpful AIP & Paleo Resources in the Freebie Library
If you find this recipe helpful, you may really enjoy the resources in my Paleo & AIP Freebie Library! There's a "dump" freezer meal plan, a list of AIP-compliant breakfast toppings, and so much more. Plus, you'll get even more ideas sent to your inbox! Get the password here.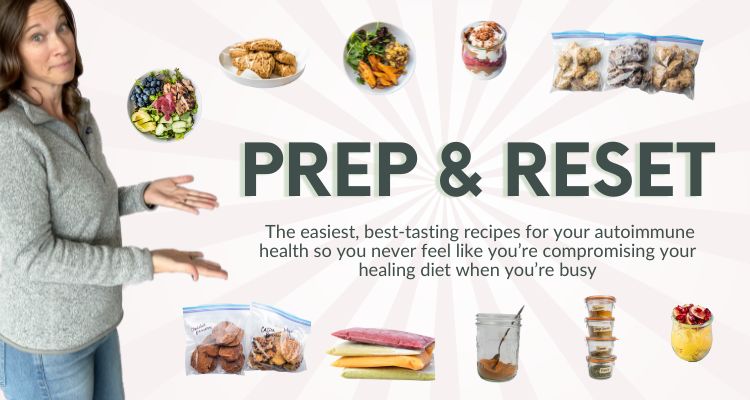 Paleo Crepes Recipe
If you make these crepes, I'd love to hear how they turned out! Either comment below or share a pic on Instagram and tag me @thrivingautoimmune!
Paleo Protein Crepes
Paleo Crepes can be used for so many different purposes – desserts, snacks, actual meals, etc. This gluten-free crepe recipe even adds some protein, making it even more filling and great for after workouts!
Ingredients
2

Eggs

2

Egg Whites

1

tbs

Coconut Oil

(melted)

1/2

cup

Almond Milk

(or other dairy-free milk)

1/4

cup

Rootz Paleo Protein-Superfood

2

tbs

Arrowroot Starch/Flour

1

tbs

Coconut Flour

Pinch

Salt

Coconut Oil for the pan
Instructions
Put all of the ingredients except the oil for the pan in a blender and blend until well mixed.

Heat a small frying pan (I find the 8 inch ones work best) over medium heat. Add a teaspoon of coconut oil and let melt. Swirl around the pan until it is mostly covered and then add enough of the crepe batter to lightly cover the whole bottom of the pan. You may have to swirl the batter around a bit to cover.

Cook approx 30 seconds-1 minute each side or until it is done and turns a light brown color. (In the beginning you'll have to cook them longer. As the pan gets hotter you'll cook them for less time.)
Notes
These are best if stored in the fridge and then either eaten cold or gently reheated in the microwave or in a pan on the stove.
Also, if your crepes stick to the pan, try using a bit more oil in the pan and turning the heat up a tad. I notice the cooler the pan is, the harder it is to flip.
Nutrition
Did you make this recipe?
Leave a comment below or share a photo on Instagram and tag me @thrivingautoimmune !

You May Also Like:
I received compensation from Rootz in exchange for writing this review/recipe. Although this post is sponsored, all opinions are my own.