This post may contain affiliate links. Please read my disclosure policy.
Have you ever had clafoutis before? I think the bigger question is, can you pronounce clafoutis? If you are like us, you probably pronounce it kla-FOO-tee and if you are fluent in French you probably pronounce it the right way, kla-foo-TEE. I keep trying to get myself to pronounce it the right way, but yeah, the American in me just won't cooperate. Just like the South-New Jersey in me won't stop saying things like "arnge" for orange, "TOUR-nament" for tournament (instead of TUR-nament), and "Flaarida" for Florida. I somehow made it out of NJ without saying "wudder" for water, which is somewhat strange considering my entire family pronounces it "wudder". Accents are so funny!
Anyway, I digress. Calfoutis – it's like a custardy kind of casserole traditionally made from eggs and flour, but yeah, the whole grain-free thing doesn't work with the flour part. To counteract that we've been making a Paleo and gluten-free version for years by Nourished and Nurtured that we just adore, and the recipe below is adapted from that. It uses almond flour instead of wheat flour and comes out just as delicious. If you've never had it before, I urge you to try it because it is a refreshing change from pancakes, waffles, or muffins but yet still gives you that hearty breakfast food feel.
This version uses fresh cut strawberries as the main fruit that floats up to the top during baking, but it also uses pureed strawberry as a swirl throughout to give it an extra oomph. Something like this is great to make on the weekend to either serve immediately, or as a make-ahead batch cooking sort of dish. You simply just need to reheat it before serving (though I've had it cold before as well and that is actually quite good).
More Helpful AIP & Paleo Resources in the Freebie Library
If you find this recipe helpful, you may really enjoy the resources in my Paleo & AIP Freebie Library! There's a "dump" freezer meal plan, a list of AIP-compliant breakfast toppings, and so much more. Plus, you'll get even more ideas sent to your inbox! Get the password here.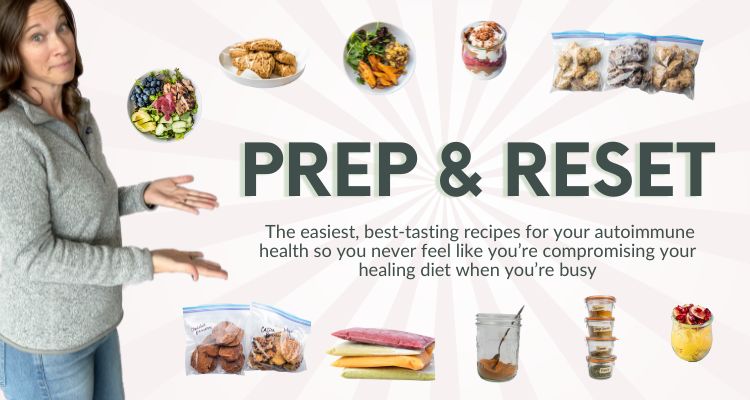 Strawberry Swirl Clafoutis Recipe
If you make this dessert, I'd love to hear how it turned out! Either comment below or share a pic on Instagram and tag me @thrivingautoimmune!
Strawberry Clafoutis
A light and airy custard-like option for breakfast or dessert. Paleo, gluten-free, grain-free, and dairy-free, this strawberry clafoutis is a delicious breakfast recipe.
Ingredients
4

Eggs

1/4

cup

Honey

1/2

cup

Coconut Milk

(or other dairy-free milk)

1/3

cup

Coconut Oil

1/2

tsp

Vanilla Extract

1/3

cup

Almond Flour

1/4

tsp

Sea Salt

1/2

lb

2 cups Strawberries, sliced and divided
Instructions
Preheat oven to 325 F. Oil an 8×8 inch pan (if doubling this recipe use an 8×11 or 9×13 pan).

In a small sauce pan, melt the coconut oil. Turn off heat, add the honey and stir.

In a medium bowl, combine the eggs, coconut milk, salt, and vanilla extract. Use an immersion blender or whisk to mix it all together. Add the honey mixture to the wet ingredients and whisk or blend. Add the almond flour and mix again.

Put half of the strawberries in a small bowl and mix with the immersion blender or mash with a fork until a smoothie-like consistency.

Arrange the rest of the strawberries on the bottom of the pan, then pour the egg mixture over the top. Pour the strawberry smoothie mixture over the top, kind of making a swirling pattern. Take a knife and gently make an s-shape a few times through the mixture. Bake for 50-60 minutes, until it is set and the top is golden. (The time will be closer to 60 min if you doubled the recipe)
Did you make this recipe?
Leave a comment below or share a photo on Instagram and tag me @thrivingautoimmune !