This post may contain affiliate links. Please read my disclosure policy.
A beautiful make-ahead Paleo and gluten-free dessert that is perfect for the summer holidays. It is also AIP Reintroduction Stage 2-friendly (eggs and almonds).
I'm laughing at myself right now because we cut the cord with cable YEARS ago. Like back in 2009. And we've been pretty happy with it. We had watched all the shows we ever wanted to on Amazon streaming or Netflix and I found I really don't like watching much tv and would rather watch a creative tutorial on something like Craftsy, Creativebug, or Creative Live. It feels so much less like wasting time when I am learning something while watching something. Do I make or do half the stuff I learn about? Heck no, but I know HOW to 😉
However, a few weeks ago I did my usual yearly check of internet speeds and what our local offerings are, and found that Comcast was offering double the internet speed of what we currently had PLUS 140 channels of high def cable for the same as what I was paying JUST for internet. Hmm…. So now we have cable again. I guess we went full circle? What's funny though is that I am like a kid in a candy store with all these cable channels. I love love love House Hunters and have always found a way to watch it over the years steaming online, but now I come to find there are House Hunter-like shows just for Hawaii and the mountains?? Wow. And watching old episodes of Barefoot Contessa bring back nostalgic memories of when I was on maternity leave with my oldest and how I went to Whole Foods to buy ingredients to make a few of her dishes and spent $400. For 2 of us (since the baby didn't eat food). That was like 4x the amount I had ever spent at one time. Now $400 at Whole Foods is a normal occurrence for food for 4 of us (no wonder we're broke), but back then – I remember being really sheepish about telling my husband I had done that! But man, were those some good meals, and what really got me into cooking in the first place.
I think one reason I've always loved Ina's (Barefoot Contessa's) recipes is because she makes cooking and entertaining seem like such a wonderful, comforting thing. Cooking is a fun, relaxing activity to create dishes, and those dishes you create are a means to bring those you love together and to share stories, memories, and laughter over a meal. It's all so romantic and dreamy with her – not really about nutrition or healing. So because my last few years have seemed to be all about nutrition and healing, it was good to watch and recapture some of those feelings about cooking as a way to nourish your soul and to reconnect with loved ones. I mean, I still tried to do that over the years, but not to Ina's levels. All I think I need to do is get myself a really nice separate barn with a complete gourmet kitchen and dining area and I'll be all set to get back to it, ha!
Annnnd since that isn't going to happen, how about making a beautiful fruit tart dessert instead?
This is fun to create because you get to put all sorts of beautiful fruits on the top in whatever order and fashion you want, and your guests will ooh and ahh as you impress them with your mad cooking skills. Which don't even have to be that great because this is actually a whole lot easier to make than it looks.
Seriously, Paleo baking is sometimes a lot easier than normal baking because you literally just mix the dough up and pat it into the tart pan with your fingers. If you were able to make anything with play-dough growing up you can make a Paleo tart shell. No need for all that fussy rolling out the dough with a rolling pin and having it break into 100 pieces before you get it into the pan stuff. Since you know gluten-free stuff is gonna probably break anyway, save yourself the hassle and just pat away.
This is a perfect Paleo and gluten-free recipe for any of the summer holidays, like Memorial Day, July 4th, or Labor Day and you can change the fruit around accordingly. Blueberries and strawberries would make it festive for the 4th for sure!
I am a participant in the Amazon Services LLC Associates Program, an affiliate advertising program designed to provide a means for us to earn fees by linking to Amazon.com and affiliated sites.
More Helpful AIP & Paleo Resources in the Freebie Library
If you find this recipe helpful, you may really enjoy the resources in my Paleo & AIP Freebie Library! There's a "dump" freezer meal plan, a list of AIP-compliant breakfast toppings, and so much more. Plus, you'll get even more ideas sent to your inbox! Get the password here.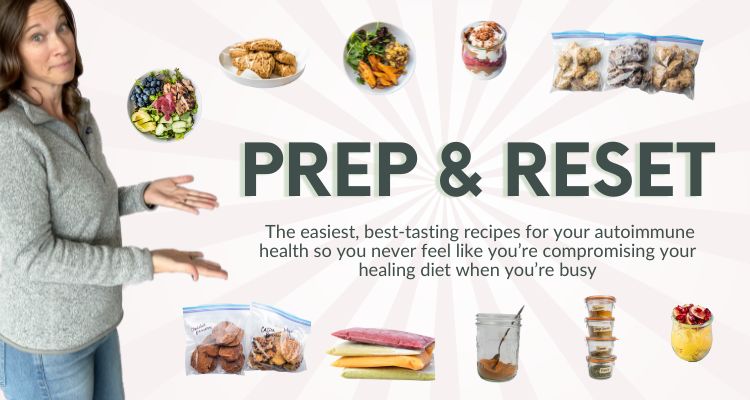 Paleo Fruit Tart with Banana Pastry Cream Recipe
If you make this tart, I'd love to hear how it turned out! Either comment below or share a pic on Instagram and tag me @thrivingautoimmune!
Paleo Fruit Tart with Banana Pastry Cream
A beautiful make-ahead Paleo and gluten-free dessert that is perfect for the summer holidays. It is also AIP Reintroduction Stage 2-friendly (eggs and almonds).
Ingredients
For the Tart:
3

cups

Almond Flour

1/4

tsp

Sea Salt

1/8

tsp

Nutmeg

1/2

cup

Butter

(or Lard or Palm Shortening, diced and kept cold)

1

tsp

Apple Cider Vinegar

1

Egg
For the Pastry Cream:
6

Egg Yolks

2

tbs

Honey

1.5

tsp

Gelatin

(use Agar Powder for Vegetarian or Vegan)

14

oz

can Coconut Milk

2

ripe Bananas

(mashed)

1

tsp

Vanilla Extract
For the Topping:
3

cups

Mixed Fruit

(kiwis, blueberries, raspberries, star fruit, strawberries, oranges, etc)
Instructions
For the pastry cream: Whisk the egg yolks with the honey.

In a medium saucepan, heat the coconut milk over medium heat. Add the gelatin to the coconut milk and stir until dissolved.

Slowly pour the egg mixture into the milk, whisking constantly. Whisk for 5 minutes over the heat, and then add the mashed bananas. Continue whisking until the mixture is thick, 2-3 minutes more. You'll know when it's thick so if you aren't sure, just keep at it. It will resemble pudding when it's ready.

Add the vanilla extract and stir to incorporate.

Take the mixture off the heat and cool in the refrigerator for at least an hour.

Meanwhile, make the tart shell: Preheat oven to 325 F.

Add all the dry ingredients to the food processor and pulse 1-2 times.

Add the diced butter (or lard or palm shortening) and pulse until the butter is pea sized.

With the processor running, add the wet ingredients and mix until they come together.

Take the gob out of the processor and using your hands, spread in a tart or pie pan. Pat it down evenly all around the pan. Poke several holes in the bottom with a fork to prevent it from puffing up while baking.  Place in the oven and bake for 25 minutes. When done, take out of the oven and let cool.

Once the pastry cream and tart shell are cool, pour the pastry cream into the tart shell and then place sliced fruit and berries on top. It is easiest to put the biggest fruits down first and then sprinkle any berries in the spaces leftover.
Notes
Prep time again is misleading in this recipe – active prep time is only around 45 minutes. The rest is waiting for the things to cool off or chill.
This is the tart pan I use
Did you make this recipe?
Leave a comment below or share a photo on Instagram and tag me @thrivingautoimmune !

You May Also Like: