This post may contain affiliate links. Please read my disclosure policy.
Seasoning mixes can often be one of the fastest ways to get an incredibly flavorful meal on the table – which is great when trying to figure out a new way to spice up the same old meats and veggies. These four Paleo and AIP seasoning mixes will take the boring out of dinner. Plus I give you some ideas of what to actually DO with the mixes so they don't just sit in your pantry unused.
Why use a homemade seasoning mix?
First, why would you make your own seasoning blend?
Well, the ones you find in the stores often have additives like MSG or anti-caking agents, plus if you're on the AIP Diet you'll see that many of them include a spice or two that isn't compliant.
So making your own allows you to enjoy these seasonings without worry!
Plus you can adjust the ingredients to make them suit your own tastes.
Seasonings Video
This is the video version of this post, complete with demonstrations of the various recipes I talk about. You can watch this or scroll down below to get the info.
Ranch Seasoning Mix
This is a versatile and popular seasoning that gives you a lot of options once made.
To make a 1/2 cup of this mix you'll need:
1 tablespoon Sea Salt
1 tablespoon Garlic Powder
1 tablespoon Onion Powder
2 tablespoons Dried Parsley
2 tablespoons Dried Basil
2 tablespoons Dried Chives
for Paleo or a Stage 1 AIP Reintroduction: 1/2 tsp Black Pepper
Simply mix together and store in an airtight container in the pantry for up to 1 year.
Some ideas of what to do with this ranch mix
This mix is great over a mixture of chicken and veggies – for example, this Bacon Ranch Chicken Sheet Pan Meal.
Get the recipe for the Bacon Ranch Chicken Sheet Pan Meal.
It also goes makes a fantastic dressing or dip. Simply mix either 1 cup coconut yogurt or coconut cream with 2 tsp of the ranch seasoning and 1-2 tsp lemon juice.
This is delicious over salads, over roasted veggies, or as a dip for raw carrots and celery – and not gonna lie, I sometimes eat this as is by the spoonful!
Greek Seasoning Mix
This is another versatile mix that goes great over poultry, seafood, vegetables, and in dressings!
To make a 1/2 cup of this mix you'll need:
3 tablespoons Dried Oregano
2 tablespoons Dried Basil
1 tablespoon Dried Dill
2 tablespoons Onion Powder
2 tablespoons Garlic Powder
1/2 tablespoons Sea Salt
for Paleo or an AIP Stage 1 Reintroduction: 1 tablespoons Black Pepper
Mix together and store in an airtight container in the pantry for up to 1 year.
Some ideas of what to do with this greek seasoning
This is another one that is fantastic over sheet pan meals that are a mixture of veggies and meat.
Here I used 1 lb of chicken tenders cut into large pieces, a diced zucchini, a chopped red onion, a finely diced sweet potato, and a sliced lemon. I added approx 1.5 tablespoons of the seasoning and drizzled it with 2 tablespoons of olive oil, and then put it in the oven at 425 F for 20 minutes.
I love it served with a dollop of coconut milk yogurt and some kalamata olives.
If you prefer seafood, cod would also be a great choice with this, but leave the filets whole so they cook approximately the same time as the rest of the ingredients, and perhaps cook it on a separate sheet pan so you can remove it if it's done after about 15 minutes.
Another use for this seasoning is for a Greek vinaigrette.
Simply mix 3 tablespoons red wine vinegar with ⅓ cup olive oil, 1 tsp honey or maple syrup, and 2 teaspoons of the Greek seasoning. Whisk or, my favorite method, tightly cover and shake to mix well. Use over salads or roasted veggies.
Sage Breakfast Sausage Seasoning Mix
A super quick way to make breakfast sausages is to mix ground meat and a tablespoon or two of this seasoning together! This way you can have breakfast sausages without the nightshades or weird ingredients.
1/2 cup dried Sage
2 tablespoons Sea Salt
1 tablespoon Coconut Sugar or Maple Sugar (omit for Whole30)
1 tsp Garlic Powder
1 tsp dried Thyme
for Paleo or an AIP Stage 1 Reintro: 1 tsp Black Pepper
Mix together and store in an airtight container in the pantry for up to 1 year.
Some ideas of what to do with this sausage seasoning
Obviously breakfast sausages are a great way to use these. Here I used a pound of ground pork, but you can use any ground meat of choice, with a heaping tablespoon of the seasoning. I also added a finely diced green apple for fun – but that part is totally optional.
Form into patties and bake in the oven at 425 F for 20 minutes or in a pan on the stove for 4-5 min a side until done.
This would also work great in a breakfast hash with some diced sweet potatoes, onions, other veggies of choice and even some ground meat.
Tandoori Indian-Inspired Seasoning Mix
This is my favorite seasoning of all – it imparts the most flavor without any of the nightshades typically found in Indian cooking.
To make approx 1/2 cup of this mix you'll need:
2 tablespoons dried Ginger
1 tablespoon dried Turmeric
1.5 tablespoons Cinnamon
1 teaspoon ground Cloves
1.5 tablespoons dried Fenugreek Leaves
1 tsp Sea Salt
Mix well and store in the pantry for up to 1 year.
A note on the dried Fenugreek Leaves, also known as Kasoori Methi – they are totally optional, but I really find they are the key element to getting the fully rounded flavor of this dish. You can usually find them in Asian or Indian markets, or I get mine from Amazon.
Make sure though if you're on AIP to avoid the ground Fenugreek powder you'll see in grocery stores. That typically is made from Fenugreek seeds. However, if you're not on AIP or have successfully reintroduced seeds, then you could try that instead of the powder.
Some ideas of what to do with this tandoori seasoning
I absolutely love using this with ground turkey to make meatballs. They're SO flavorful and delicious and sooo so easy to make!
Just mix a pound of ground turkey with 1-2 tablespoons of the seasoning, mix, form into meatballs and bake for 20 minutes at 425 F. It's delicious served with a side of roast cauliflower and a dollop of coconut yogurt.
Another really quick and easy way to use this seasoning is to make a tandoori pumpkin soup. I have a more detailed recipe for this soup here, but you can simplify it even more by just mixing a can of pumpkin puree with 2 cups of chicken or beef broth, a can of full-fat coconut milk (or 1.5 cups homemade , 1.5 cups tigernut milk, or your milk of choice), and 2 teaspoons of the seasoning mix.
Mix and heat over a stove until your desired temperature. Taste it because you may want to add a bit more seasoning, but it's best to start off conservatively.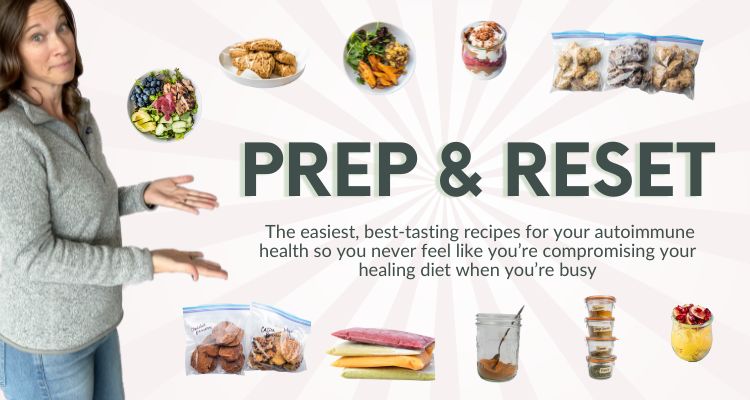 General rules of thumb when using these seasonings
Generally for all of these seasonings, if you want to use them over a mixture of meat or seafood and veggies on a sheet pan meal, use 1-2 tablespoons per sheet pan. It may seem like a lot, but remember, it's all of the herbs and spices mixed together – plus it gives a lot of flavor to the dish.
If you want to use it with ground meats, again, 1-2 tablespoons per pound is a good rule of thumb.
If you want to know how it tastes, you can always mix it and drop a small portion into a hot pan, cook it, taste it, and adjust the seasoning as desired. You should only have to do that once for each seasoning as you'll get to know what your favorite ratio is.
And you can store these in an airtight container in the pantry for approximately a year. You'll get longer storage – and flavor – out of it if you start with newly purchased herbs and spices vs ones that have been in your pantry already for 5 years, but make do with what you have.
Give them a good shake before using to counteract any settling.

You may also like: