This post may contain affiliate links. Please read my disclosure policy.
Paleo Chicken and Veggie Buddha Bowls are an awesome way to get in tons of nutrition, use up leftovers, and make dinner and lunch ahead for the coming week (Whole30 + AIP too)
Whether you call them Buddha bowls, Paleo Bowls, macro bowls, hippie bowls, or just a bowl full o' stuff, these things are just magical. Why? Because you can customize them until the cows come home. Vegans and vegetarians love these bowls because they can add a ton of veggies in, get a lot of flavor, and feel full. I love them because I can get a lot of veggies in, get a lot of flavor, feel full, AND add a bit of protein as well. You know when you don't feel like having an entire steak, but know you want just a little red meat? It's situations like that that these bowls are so wonderful! Literally all you need are a few tiny slices and you are set. You could split up just one steak for 4 people into four bowls, rather than buying 4 steaks for 4 people – so you save a lot of money too!
Pound for pound veggies are much cheaper than meat, and it's typically easier to get your hands on organic veggies than pastured meats. So for those of you without a consistent source of good meat, or who are a bit alarmed at how much a real food diet has shaved off your wallet, bowls like this are perfect.
But really, my absolute favorite part of bowls like this is that you can use whatever you have on hand, whatever is on sale, whatever you get from your local farmer's CSA, whatever you find in the back of your freezer, etc – there really is no recipe for these. Chicken, steak, pork, duck, whatever you have on hand – use it! Tons of radishes growing in your garden? Slice them up and throw them on.
As an example, this is a lunch I had just the other day. We had made Cuban pork burgers the night prior, but I didn't really feel like eating a burger with a side for lunch. Plus we had some leftover grilled sweet potatoes from a dinner a few nights prior to that, and some roasted carrots and bell peppers from another meal. Add to that the fact that we have a plethora of arugula and radishes in our garden right now. So I heated up a pack of frozen pre-riced cauliflower I bought at Costco a few weeks ago, sliced up the pork burger, heated up the sweet potatoes, carrots, and peppers, and then made a pesto with the arugula, some garlic, lemon juice, salt, and olive oil, and threw some fresh sliced radishes on top. A great way to give new life to leftovers and to get a lot more nutrition and flavor than just having a pork burger with a side of leftover sweet potatoes.
I also love these sorts of bowls too because they are great make-ahead batch prep kind of meals to make. If you have some time on the weekend or while waiting for another dinner to cook, you can throw some protein in the oven to roast, chop up a bunch of veggies and then put them in the oven too, and then add any fresh garnishes after you put them all together. Do a whole bunch at once to save time, but then put together an entire week's worth of lunches from it. You can also make a bunch of different veggies and then add some to a few days' worth of meals and then others to the other bowls to mix it up a bit.
My usual process on making these is (and all of these steps are optional):
start with a base of something like cauliflower rice, mashed cauliflower, broccoli rice, carrot rice, mashed sweet or white potato, or if you can tolerate it, white rice
add a few slices of some protein, like sliced roasted chicken, grilled steak, poached fish, or a fried egg
add some roasted veggies like carrots, broccoli, beets, sweet potatoes, parsnips, turnips, etc
add some fresh veggies like kale, radishes, bell peppers, cucumbers, sliced carrots, tomatoes, etc
add some sort of dried seasoning like salt and pepper, maybe some Italian herbs or Herbes de Provence
add a dressing if you want – could be a salad dressing, a pesto, or something as simple as a drizzle of olive oil
add any garnishes like sauerkraut, kimchi, avocado, red pepper flakes, olives, nut butter, tahini, fresh cilantro or parsley, etc (these are GREAT ways to get in those fermented veggies like sauerkraut or kimchi that you know you should be eating but don't really know how to eat)
The video below shows you how you would do this with a chicken bowl and root veggies. It's a bit more detailed and instructional than my usual videos and shows you all the steps:
If you want to make the Paleo Chicken Bowl I show in the video, here's the recipe!
More Helpful AIP & Paleo Resources in the Freebie Library
If you find this recipe helpful, you may really enjoy the resources in my Paleo & AIP Freebie Library! There's a "dump" freezer meal plan, a list of AIP-compliant breakfast toppings, and so much more. Plus, you'll get even more ideas sent to your inbox! Get the password here.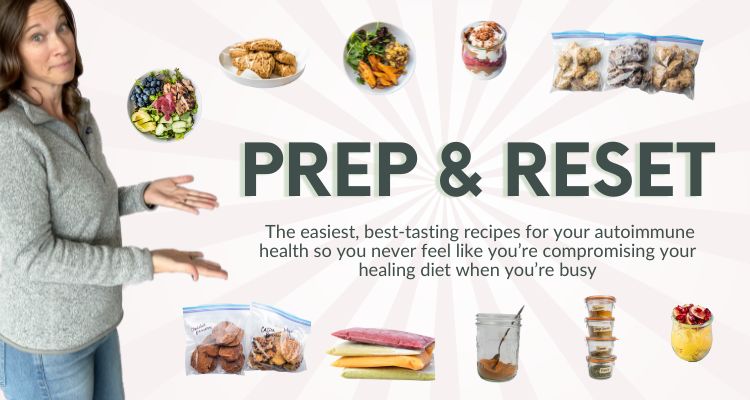 Paleo Chicken and Veggie Bowl Recipe
If you make this bowl, I'd love to hear how it turned out! Either comment below or share a pic on Instagram and tag me @thrivingautoimmune!
Paleo Chicken and Veggie Bowl
Paleo Chicken and Veggie Bowls are an awesome way to get in tons of nutrition, use up leftovers, and make dinner and lunch ahead for the coming week. Whole30 + AIP too
Ingredients
2

lb

Chicken Thighs

(boneless and skinless)

6

medium Carrots

(peeled and diced)

1

Parsnip

(peeled and diced)

1

small head Broccoli

(cut into florets)

3

medium Beets

(peeled and diced)

1

bunch

Kale

(torn into small pieces)

1

small/medium Zucchini

(cut into rounds)

1

medium head Cauliflower

1

bunch

Radishes

(sliced thinly)

Sauerkraut

Cooking Oil

(I used Olive Oil and Avocado Oil)

Pepper

(omit for AIP)
Instructions
Preheat the oven to 425 F. Put the chicken thighs on a baking sheet lined with parchment paper and sprinkle with sea salt and pepper. Roast for 40 min.

Put the carrots, parsnip, beets, and broccoli onto a baking sheet lined with parchment paper. Drizzle with olive oil, salt, and pepper. Roast in the same oven as the chicken for 30 min. Add kale onto pan in the last 5 min of cooking.

Heat some cooking oil in a saute pan over medium heat. Add the zucchini and season with salt and pepper. Cook for about 5 min, stirring occasionally.

To rice the cauliflower, cut it into large chunks. Get out the shredder blade of your food processor and process the cauliflower chunks through the top chute of your processor. Heat a large pan over medium heat, add cooking oil, and then once the oil is hot add the riced cauliflower. Cook for 5 minutes, stirring occasionally.

Assemble the bowls: Add about 1 cup of cauliflower rice into each bowl. Add some broccoli, root veggies, zucchini, sliced chicken thighs, several sliced radishes, and then sprinkle with some sea salt and freshly cracked pepper. Add sauerkraut if desired as well.
Notes
**The total time above is a bit misleading – you'll prep the first ingredients and then put them into the oven while you prep and cook the rest. So figure on about 45 min- 1 hour total.
Did you make this recipe?
Leave a comment below or share a photo on Instagram and tag me @thrivingautoimmune !