This post may contain affiliate links. Please read my disclosure policy.
Dairy-free, egg-free, gluten-free, AIP, and Paleo, this kid-friendly snack or dessert can be made in literally 2 minutes. Uses only 5 real food ingredients.
My kids are different than a lot of kids in that they've been pretty much fed real, grain-free, not-processed food from scratch most of their lives. My oldest was 2 when we went on the GAPS diet to get rid of his weird food sensitivities to cinnamon and walnuts and we've been mainly on a grain-free diet (Paleo) since. My youngest has always been this way. Sure, we eat gluten-free baked goods and corn on occasion, but a good 80% of their diets are grain- and dairy-free.
I am a participant in the Amazon Services LLC Associates Program, an affiliate advertising program designed to provide a means for us to earn fees by linking to Amazon.com and affiliated sites.
I've never found it particularly hard to feed them this way, and for the most part they've been ok with it too. It's gotten a bit harder as my oldest entered elementary school and sees his friends eating certain things that he can't, but that's when I really relax on the grain-freeness and seek out gluten-free options that are similar. Like for example, last week my son had a Valentine's Day party at school where they decorated sugar cookies and had cheese and crackers. I brought in some Simple Mills almond flour crackers and gluten-free sugar cookies for him and let him eat some of the Hershey's kisses and conversation hearts and he was as happy as could be.
Do we see effects from letting him eat processed gluten-free food and sugar? Sometimes. I do notice him getting a bit more hyperactive and he doesn't seem to think as clearly, but to me it's a matter of balance when it comes to kids. I don't want them leading a life devoid of kid things or feeling like outcasts but I also don't want them to be unhealthy.
That's why I often experiment with recipes that are packed with nutrition but can be easily passed off to my kids as a kid-friendly food. Like this blueberry "ice cream". Is it really ice cream? No. It's a mixture of coconut cream and frozen blueberries with an avocado to make it creamy. But they don't know that. They just see this beautifully colored purple, yummy looking cold dessert/snack coming towards them and smile!
It's also not heavy on the sugar. It only uses 2 tbs of maple syrup over 4 servings. Otherwise, it's just the blueberries lending a natural sweetness. So I can feel really good serving this to my kids as either a dessert OR a snack.
It literally is one of those recipes where you dump a bunch of stuff into a blender and blend, so it also doesn't get much easier than this. You can serve it as is, which is what I usually do when it's a snack, or you can add some fun toppings like shredded, unsweetened coconut or Enjoy Life Mini Chocolate Chips (they are dairy- and soy-free). I did also add some India Tree Naturally Colored Sprinkles on the ice cream pictured, but they do contain a bit of corn and soy, so not necessarily a Paleo option but one I let slide for the kids again keeping with the balance thing.
More Helpful AIP & Paleo Resources in the Freebie Library
If you find this recipe helpful, you may really enjoy the resources in my Paleo & AIP Freebie Library! There's a "dump" freezer meal plan, a list of AIP-compliant breakfast toppings, and so much more. Plus, you'll get even more ideas sent to your inbox! Get the password here.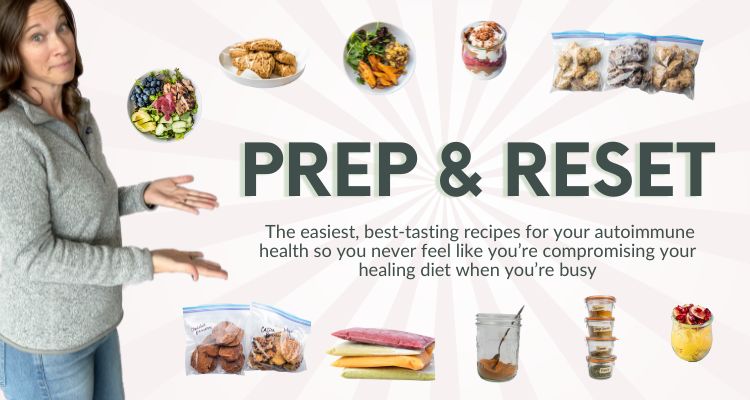 2 Minute Dairy-Free Blueberry Ice Cream
If you make this ice cream, I'd love to hear how it turned out! Either comment below or share a pic on Instagram and tag me @thrivingautoimmune!
2 Minute Dairy-free Blueberry Ice Cream
Dairy-free, egg-free, gluten-free, AIP, and Paleo, this kid-friendly snack or dessert can be made in literally 2 minutes. Uses only 5 real food ingredients.
Ingredients
1

x 5.4 oz can coconut cream

1

cup

frozen blueberries

2

tbs

maple syrup

1

avocado

1

tsp

vanilla extract

(omit for AIP)

Optional toppings

(not AIP: Enjoy life Chocolate Chips, India Tree Naturally Colored Sprinkles)

Optional toppings

(AIP-friendly: Coconut Flakes, Crumbled Sugar-free Banana Chips)
Instructions
Blend all of the ingredients in a blender until smooth, about 30 seconds. Serve immediately.
Did you make this recipe?
Leave a comment below or share a photo on Instagram and tag me @thrivingautoimmune !