This post may contain affiliate links. Please read my disclosure policy.
These Paleo, Whole30, and gluten-free beet cakes are a great side dish recipe or a main dish if you want less meat. And top it with the creamy dairy-free mint cashew cream for a nice pop of flavor.
I've been on a less meat kick lately. Not sure if it has to do with my adrenals suffering from the puppy sleep torture or what, but while I enjoy eating meat, and know my body needs it, I just want less of it. Could be my body's way of saying I'm not eating enough veggies perhaps? I know those of us on Paleo can easily get swept away with eating too much meat sometimes, especially during the winter when hearty things like roasts and meatloaves prevail.
Because of this craving for more veggies, I've been cooking a lot of out some gluten-free vegetarian and vegan cookbooks I have as well as some websites. I am kind of obsessed with and make this Broccoli Flatbread by Green Kitchen Stories all the time (and promptly stick some meat on top of it), but I love it so much. After making their beet version (that I added some mayo, arugula, and roasted chicken thighs on) I wondered how a beet patty would be. Like much more of the beet/cauliflower goodness to use as a side dish or as the main dish itself. So I set upon a food recipe experimentation that came out quite successfully!
This really isn't difficult at all to make. If you can chop up some cauliflower, peel some beets and chop them and make a patty, you are golden. You do need a food processor though. Otherwise I don't know if you'd be able to get the texture you need, esp from a raw beet. The steps are shown below:
cauliflower and beet pieces in the food processor
pulse until a uniform, rice-like texture
put into a bowl and add almond flour, eggs, salt, and pepper
form into patties, put on a baking sheet and bake
For some of you this might make a great dinner or lunch option all by itself. But I know there are others of you (er, husband, I am talking about you) that NEED some meat too. So use this as a hearty side dish instead. Might be a great dish for a Meatless Monday meal though!
The cashew cream sauce is just a really nice dairy-free addition to the patties that compliments the beet flavor really well. Mint and beets are a classic combination, and the mint in this cream sauce is a nice subtle flavor. It isn't like you get an in-your-face dose of mint like you just brushed your teeth. It's just perfect for these patties.
Ok, I am off to go try to take a nap since the puppy seems to be sleeping. Shhhh… don't wake him – and enjoy the recipe for these patties!
I am a participant in the Amazon Services LLC Associates Program, an affiliate advertising program designed to provide a means for us to earn fees by linking to Amazon.com and affiliated sites.
More Helpful AIP & Paleo Resources in the Freebie Library
If you find this recipe helpful, you may really enjoy the resources in my Paleo & AIP Freebie Library! There's a "dump" freezer meal plan, a list of AIP-compliant breakfast toppings, and so much more. Plus, you'll get even more ideas sent to your inbox! Get the password here.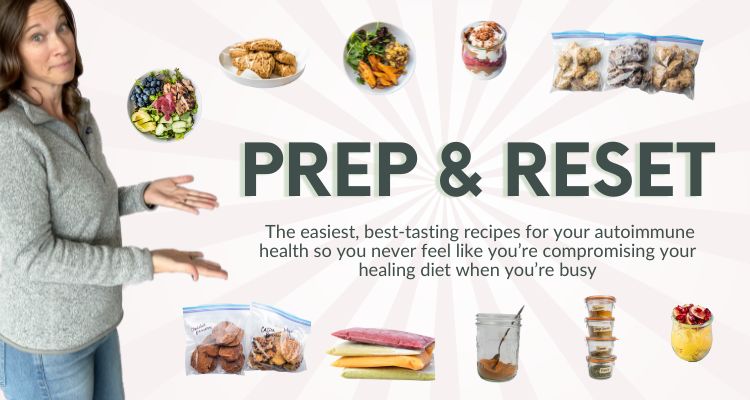 Beet Cakes with Mint Cashew Cream Recipe
If you make this beet cakes, I'd love to hear how they turned out! Either comment below or share a pic on Instagram and tag me @thrivingautoimmune!
Beet Cakes with Mint Cashew Cream
These Paleo, Whole30, and gluten-free beet cakes are a great side dish recipe or a main dish if you want less meat. And top it with the creamy dairy-free mint cashew cream for a nice pop of flavor.
Ingredients
For the patties
1

small head Cauliflower

2

medium Beets

1/2

cup

Almond Flour

3

Eggs

1/2

tsp

Sea Salt

1/2

tsp

Pepper
For the Mint Cashew Cream
2/3

cup

Cashews

(soaked for at least 2 hours)

1/2

cup

Water

3/4

tsp

Sea Salt

1

big handful Fresh Mint

(half of a .66 oz container)
Instructions
Preheat the oven to 375 F. Place parchment paper on 1-2 baking sheets.

Cut the cauliflower into small chunks. Peel the beets and cut into small chunks. Put the cauliflower and beets into a food processor and pulse until everything is uniform size and about the size of a grain of rice. You may have to remove some remaining large chunks and process those by themselves.

Put the beet/cauliflower mixture into a large bowl and then add the almond flour, eggs, salt and pepper. Mix well.

Using your hands, make patties with about a plum-sized amount of the mixture. These will be about the same size as a ground beef hamburger patty. Place on the prepared baking sheet(s) and flatten to about 1/2 inch thick.

Bake in the oven for 25 min. If the patties don't seem set (they stay together when lifted with a spatula) bake for another 5-10 min.
For the cream:
Put the drained cashews, water, salt, and mint into the blender and blend until very smooth. If it's pretty thick, use more water until desired thickness. (It will thicken in the fridge too).
Did you make this recipe?
Leave a comment below or share a photo on Instagram and tag me @thrivingautoimmune !