This post may contain affiliate links. Please read my disclosure policy.
Ok, so I know a few weeks ago I said I've been wanting less meat, yet now I'm sharing a meatloaf? I'm weird, I know. But a few weeks ago it was also 73 degrees in the middle of winter here in Colorado, and the last few days it's actually been winter-like here. So maybe it's related to the temperature too? I finally put on a sweater instead of a tank top and then want to dig into the warming comfort foods that one typically eats in the winter.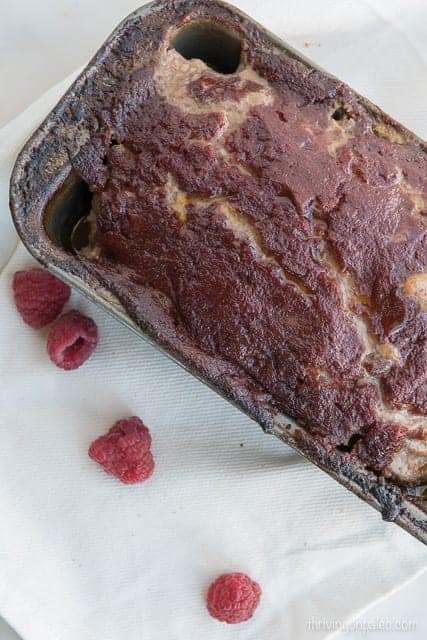 I also realize that a lot of you are hoping that the end of winter is near, but here in Colorado, March is typically our snowiest month, so we are waiting for winter to hit us with full force. But ya never know here. Sometimes it doesn't snow at all, and sometimes we get snow all the way through Memorial Day. We have a saying here, "if you don't like the weather, wait 20 minutes". The crazy, endlessly changing weather never ceases to fascinate me, which in turns fascinates my husband who doesn't get how I can get so fascinated by something like the weather. But he also didn't grow up with his parents watching the Weather Channel 24/7 like I did, so there is that.
Anyway, this meatloaf has a bit of a kick from the chipotle peppers in the sauce, which makes it much more interesting than a normal meatloaf. The sauce is a combo of raspberries and chipotle, and in the meatloaf itself you get the adobo flavor. Such a perfect flavor combo. Do note though, if you have kids and they (or yourself) don't like spicy things, you can reduce the chipotle peppers down to 1. Alternatively, if you really like some heat, add more peppers. I personally like 2 as it brings some heat but not too much, but I do have to scrape the sauce off for my kids because they complain, wave their hands in the air like they are on fire, and proceed to drink tons of water. They do tend to be a bit over dramatic though 🙂 (they also do this bit when we put a teeeeny tiny bit of Sriracha or Cholula on their plates too)
You can also make these into muffin-sized mini-meatloaves. Just up the heat to 375 F and reduce the cooking time down to 30-35 min.
I hope you enjoy!
More Helpful AIP & Paleo Resources in the Freebie Library
If you find this recipe helpful, you may really enjoy the resources in my Paleo & AIP Freebie Library! There's a "dump" freezer meal plan, a list of AIP-compliant breakfast toppings, and so much more. Plus, you'll get even more ideas sent to your inbox! Get the password here.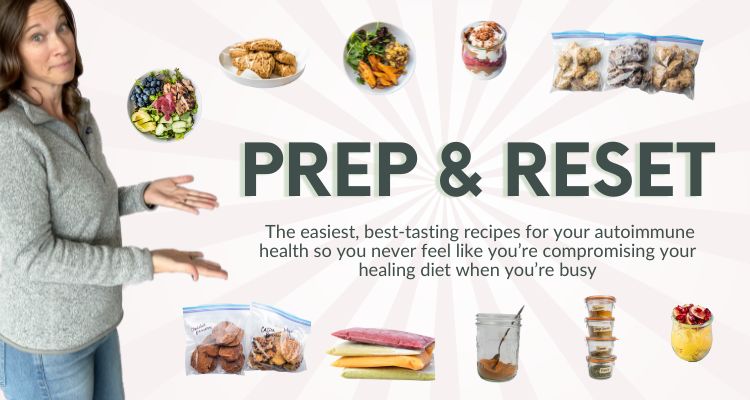 Raspberry Chipotle Meatloaf Recipe
If you make this meatloaf, I'd love to hear how it turned out! Either comment below or share a pic on Instagram and tag me @thrivingautoimmune!
Raspberry Chipotle Meatloaf
This Paleo, Whole30, and gluten-free meatloaf is not your boring old meatloaf. It is a delicious, flavorful dinner recipe that will spice up your meal!
Ingredients
For the Meatloaf
1

tbs

cooking oil

(coconut oil, avocado oil, olive oil, butter, ghee, etc)

1

medium Onion

(diced)

3

cloves

Garlic

(minced)

1

lb

Ground Beef

1

lb

Ground Pork

1

Egg

1

tsp

Sea Salt

1/2

cup

Almond Flour

1

tsp

Dried Thyme

1

tbs

Adobo Sauce

(from can below)
For the Sauce
1

cup

Raspberries

(fresh or frozen)

1/2

medium Onion

(diced)

2

cloves

Garlic

(minced)

1/2

cup

Ketchup

(*make sure sugar-free for Whole30)

2

Chipotle Peppers

(canned in adobo sauce)

1/4

tsp

Sea Salt

3

tbs

Apple Cider Vinegar
Instructions
Preheat oven to 350 F.

In a small saucepan over low heat, heat the raspberries until soft, approximately 10 minutes. Mash with a fork or potato masher and then strain through a fine mesh colander to remove the seeds. Set aside.

Meanwhile, heat a frying pan over medium-high heat, heat/melt the cooking oil, and then add the onions and garlic. Cook, stirring often, until soft, about 5 min.

In a large bowl, mix the rest of the meatloaf ingredients and then add the onions and garlic and mix until incorporated.

Fill a standard loaf pan with the meatloaf mixture. (Alternatively you can shape it into a log shape and place on a baking sheet).

Combine the sauce ingredients, including the raspberry mixture via a food processor or blender.

Spread the sauce over the top of the meatloaf.

Bake for 55 minutes or until the meat registers 165 F on an instant read thermometer.
Did you make this recipe?
Leave a comment below or share a photo on Instagram and tag me @thrivingautoimmune !