This post may contain affiliate links. Please read my disclosure policy.
A few weeks ago I shared the Paleo No-Bake Conversation Heart recipe (and video), which so many of you let me know you loved. A lot of you mentioned how you were excited about it being an egg-free dessert, so guess that means I need to come up with more of those, eh? But my fave part about that recipe? You can pretty much use any silicone mold and make a fun shaped dessert. For example, I am using it this week to make these cute little shamrock mini cakes for St. Patty's Day!
I am a participant in the Amazon Services LLC Associates Program, an affiliate advertising program designed to provide a means for us to earn fees by linking to Amazon.com and affiliated sites.
These are the same cakes – a cross between a dairy-free cheesecake and a panna cotta with a chocolate no-bake pie crust base. This particular one is a mint chocolate flavor. For these I used Wilton's 8-cavity Shamrock Silicone Mold (you can get that here) and the "green" food coloring, which was spinach. You really don't taste the spinach at all – it just tastes slightly minty due to the peppermint extract. So also great way to get some spinach into your spinach-hating kids 🙂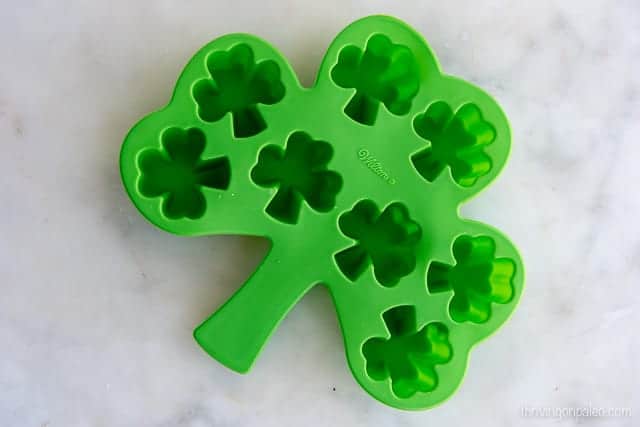 Also, because this recipe only uses one color and no lettering like the Valentine's Day Conversation Hearts, it is super fast to make (it still needs about 4 hours in the fridge to set up though). I also discovered that it really doesn't matter if you soak the cashews ahead of time or not with this one. If you don't, just make sure you blend it really well so that there are no cashew chunks left in the batter.
And like with the conversation hearts, I used Perfect Supplements gelatin because I think it is the best. No funky smell, no clumps, and it's from grass-fed beef so I know it's the healthiest. You can get 10% off their gelatin with code THRIVING10 at this link (they also just came out with Vitamin D3 supplements too – def gonna be checking those out since I have Vitamin D issues).
Some other ideas for this recipe – use this egg mold to make some cute eggs for Easter. Or use this number mold to have a fun and educational snack time with your kids. "First you must add these two together and when you get the right answer, you can eat this one".
Really, the sky is the limit with these, you just want to make sure that if you are making the cakes with the chocolate bottom that you use a flat-bottomed mold. A cool mold like this bunny mold wouldn't be good since there are decorations on the bottom. Those would be wasted on this since you'd never see them.
Use the conversation heart post for natural food coloring and flavoring ideas and have some fun with it! I want to know what you make, so tag me on Instagram at @thrivingautoimmune!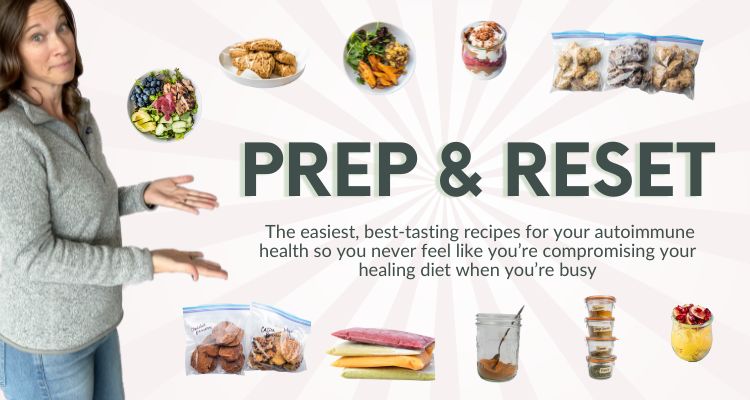 More Helpful AIP & Paleo Resources in the Freebie Library
If you find this recipe helpful, you may really enjoy the resources in my Paleo & AIP Freebie Library! There's a "dump" freezer meal plan, a list of AIP-compliant breakfast toppings, and so much more. Plus, you'll get even more ideas sent to your inbox! Get the password here.
No-Bake Shamrock Mini Cakes Recipe
If you make these mini cakes, I'd love to hear how they turned out! Either comment below or share a pic on Instagram and tag me @thrivingautoimmune!
No-bake Shamrock Mini Cakes
A minty cake that's a cross between a dairy-free cheesecake and a panna cotta with a chocolate no-bake pie crust base.
Ingredients
For the crust:
3/4

cup

Almond Flour

1

tbs

Cocoa Powder

pinch

Sea Salt

1

tbs

Maple Syrup

1/4

cup

Coconut Oil

(melted)
For the cake:
1/4

cup

Cashews

(soaking optional)

1/8

tsp

Sea Salt

1/4

cup

Maple Syrup

1

tbs

Gelatin

1

tsp

Coconut Oil

(can be solid)

1

cup

Coconut Milk

(or other dairy-free milk)

2

large handfuls fresh Spinach

(about 20 baby leaves)

1

tsp

Peppermint Extract
Instructions
Make the crust first by mixing together all of the crust ingredients in the food processor until it comes together. Scoop out a little crust mixture with your hands and press into the bottom of the mold – about 1/4 inch thick. Divide equally amongst the 8 shamrocks. Put in the fridge to start to harden while you work on the cake part. I recommend at this point putting the mold into a baking dish to support the mold, since when you fill it with the liquid after the next steps it will be really hard to move without spilling if not in a solid container.

In a blender, mix together all of the cake ingredients. Blend for about 30 seconds to really mix well.

Pour into a small sauce pan. Heat the mixture gently, stirring often, until hot to the touch, 3-5 min. Let cool for a few minutes, then pour into the shamrock mold.

Refrigerate for at least 4 hours, then gently remove from the molds. Serve or store in an airtight container in the fridge until ready to serve.
Notes
Total time is 4 hours and 20 minutes – 4 hours of which are just it sitting in the fridge…
Did you make this recipe?
Leave a comment below or share a photo on Instagram and tag me @thrivingautoimmune !