This post may contain affiliate links. Please read my disclosure policy.
This granola might just be one of the most versatile recipes I've shared on this site, and ha, it's not even mine! Go figure. But when I got the chance to share it I couldn't pass up the opportunity.
I am a participant in the Amazon Services LLC Associates Program, an affiliate advertising program designed to provide a means for us to earn fees by linking to Amazon.com and affiliated sites.
This granola recipe is from a new cookbook called Real Food, Real Simple by a blogger named Taylor Riggs. She's the blonde beauty behind Simply Taylor and now a Registered Dietitian Nutritionist, which means she knows a lot of stuff about food and how it can affect your health. Taylor, though, has lived with Type 1 diabetes since she was diagnosed at the age of 10. When she got to college she learned about the Paleo diet and was able to stabilize her blood sugars and take less insulin using Paleo foods. She started a blog, (back then was Taylor Made It Paleo) and shared delicious Paleo recipes with the world. That's actually how I knew her – I've followed her since like sometime in 2012 and have enjoyed watching her figure out her way in this world. (Listen to me, I'm 40 and I sound like an old grandma… oh my, how that young lady has grown… geez). Anyway, she switched her blog name when she realized that she could eat certain "non-Paleo" foods like cheese and some gluten-free foods, which I completely applaud and encourage everyone to try. I myself keep trying but not having much success in that area, but I think everyone should see what works for them.
This granola recipe is really really easy to make and can be used as a breakfast recipe (it's delicious with some almond milk), a snack recipe, or as a topping for a smoothie/acai bowl or chia pudding. It's even yummy when you may have overcooked it slightly, as I did for this picture, ha! Oops. (See, us food bloggers aren't perfect)
The rest of her book isn't fussy either though. All mostly Paleo (with a few optional cheeses scattered about), gluten-free, and all stuff that can easily be done on a weeknight with relatively few ingredients. Just an example of some of the other recipes: Sriracha Cauliflower Poppers, Mexican Fiesta Skillet, Sweet Potato Noodles with Kale, Onion, and "Cheese" Sauce, Cranberry Orange Scones, and Fruit Pizza with Coconut Cream Spread. Beautiful pics to go with each recipe as well. If you want just a book full of healthy, simple dish ideas, this is a good choice.
More Helpful AIP & Paleo Resources in the Freebie Library
If you find this recipe helpful, you may really enjoy the resources in my Paleo & AIP Freebie Library! There's a "dump" freezer meal plan, a list of AIP-compliant breakfast toppings, and so much more. Plus, you'll get even more ideas sent to your inbox! Get the password here.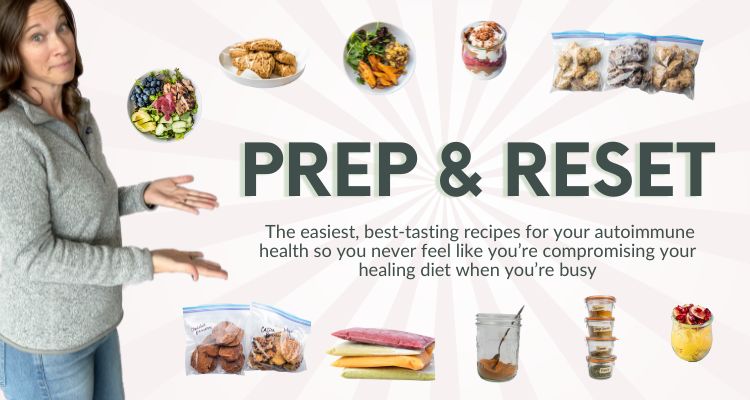 Everyday Granola Recipe
If you make this granola, I'd love to hear how it turned out! Either comment below or share a pic on Instagram and tag me @thrivingautoimmune!
Everyday Granola from Real Food, Real Simple
This granola is such a versatile recipe and it's Paleo, gluten-free, grain-free and oat-free. Perfect as a snack, breakfast or topping.
Ingredients
1

cup

Coconut Flakes

1/2

cup

Pecans

(roughly chopped)

1/2

cup

Almonds

(roughly chopped)

1/2

cup

Pumpkin Seeds

2

tbs

Chia Seeds

1/4

tsp

Sea Salt

2

tbs

Coconut Oil

(melted)

2

tbs

Honey

1

tsp

Vanilla Extract
Instructions
Preheat the oven to 300 F. Combine the coconut flakes, nuts, seeds, and salt in a large bowl.

Add the coconut oil, honey, and vanilla and mix until the nuts and seeds are evenly coated.

Arrange the granola in a thin layer on a large baking sheet lined with parchment paper and bake for 12-15 minutes, or until the coconut flakes turn golden brown, tossing halfway through.
Notes
Taylor says you can sub any nuts/seeds you'd like in this recipe. She's tried multiple combinations and has yet to find one she didn't like.
Michele's note: I can see adding some cinnamon or pumpkin spice into this recipe as well to give it a wonderful different flavor, so see how versatile this can be? Different nuts/seeds or different spices and you could have this so many times and not get sick of it.
Did you make this recipe?
Leave a comment below or share a photo on Instagram and tag me @thrivingautoimmune !