This post may contain affiliate links. Please read my disclosure policy.
Wishing for some Greek flavors while on a healing diet? This Gyro bowl is DELICIOUS and easy to make ahead for a quick lunch or dinner!
A few years ago I introduced the Gyro Wrap, which happens to be Paleo and AIP-friendly, and it has been a favorite of readers ever since. Everyone raves about how authentic the flavors are and how it's so amazing for meal prep.
But I can't say (strangely enough) that I always want a sandwich-like thing for a meal. Sometimes I want it to be more of a fork-and-kife kind of meal. That's where this bowl comes in.
It's like a deconstructed, more formal version of the gyro wrap, yet still has the delicious flavors and is still Paleo and AIP-friendly!
Ingredients needed for this bowl (and substitutions):
I am a participant in the Amazon Services LLC Associates Program, an affiliate advertising program designed to provide a means for us to earn fees by linking to Amazon.com and affiliated sites.
See the recipe card below for measurements, etc, but these are the general ingredients and substitutions for the bowl:
For the gyro meat:
Ground beef and ground lamb – The question I often get with the wraps is if people can use more ground beef instead of the ground lamb and the answer is, absolutely. The lamb gives it a bit more authentic flavor, but it isn't necessary.
This is also a great recipe to experiment with adding a bit of beef liver as the flavors are pretty strong and can mask the liver flavor a lot more than many other ground beef recipes.
Yellow Onion – This helps give flavor to the meat. It can be substituted with a red onion if that's all you have, but yellow onion has the most pungent flavor, which is best for this dish.
Garlic – Another flavor element that is essential.
Primal Palate Gyro Seasoning – This is one of my favorite seasonings from Primal Palate and it's Paleo, Whole30, and AIP friendly – nothing hidden within or deceptive about it (unlike some other seasonings that contain gluten or rice as anti-caking agents or preservatives). Get this seasoning here.
If you can't get your hands on this seasoning though, no worries – you can make your own using the ingredients listed in the recipe. They are spices that are found in most pantries!
For the Sides:
Cauliflower rice – You can just have plain cauliflower rice because the Tzatziki Sauce you'll make will enhance the flavor, but if you want to supercharge the flavor, make the Coconut Cauliflower Rice recipe instead.
These days you can buy cauliflower already riced in so many forms – grocery stores often have it fresh in their veggie areas, frozen in their freezers, and my new personal favorite – the microwave packets! If you haven't tried these out yet, these are shelf-stable individual or 2-serving packets that you can put into the microwave and have a side dish in a minute. (If you can't find them at your local store, you can get them from Amazon as well.
Of course you can always just make your own with a head or florets of cauliflower, a food processor, box grater, or blender!
Cucumber – this is for the classic Greek flavor
Kalamata Olives – again, for the classic Greek flavor. These are tangy compared to regular black olives and go well with the gyro meal. I highly recommend finding pre-sliced/chopped, pitted kalamata olives to save yourself time. If you can't find kalamatas or don't like them, regular black or green olives are just fine.
Lettuce – This is the base of this bowl. Romaine or green leaf lettuce is just fine, but mixed greens, spinach, etc could also work as well. I'd just stay away from anything that has too much flavor that would compete with the meat and other sides, like arugula or kale.
Red Onion – This one is optional, but it does provide more delicious flavor. Definitely use a red onion for this as it's raw and much more palatable than a raw yellow onion.
For the Tzatziki Sauce:
Coconut cream – this is the solid part of a refrigerated can, or a separate can marketed as coconut cream (not cream of coconut). It's much thicker than coconut milk so it makes a good base for the sauce. However, you can also use a yogurt of your choice, depending on your tolerance and needs (coconut, dairy, almond, cashew, etc), or if you cannot have nuts or coconut and are on AIP, homemade tigernut milk yogurt could work (use this recipe but replace the coconut milk with homemade tigernut milk).
Onion Powder, Garlic Powder, Salt, Dried Dill – These are all flavoring components.
Cucumber – another flavor component – it's not AS necessary for this though with the bowl as you already have cucumber in the bowl. So you could skip this if you desire.
How to make this bowl:
Despite the long list of instructions in the recipe card below, this is not difficult to make. These things tend to be a bit misleading as you're making a WHOLE meal at once, so several recipes, but I've laid it out in the most time-efficient manner. Plus, see the next section on how to meal prep this to save even more time.
First you start off making the gyro meat as it takes about an hour in the oven to cook. It's just simply mixing all of the ingredients together in a food processor. However, if you don't have a food processor you can either use a blender, an immersion blender, or just chop up the onions and garlic into really fine pieces and mix by hand.
Then while the meat is cooking, you'll prepare the rest of the ingredients – slice and chop the cucumbers, lettuce, olives, onion, and make the Tzatziki sauce by mixing everything together.
And then once the meat is done cooking and has cooled for about 20 minutes, you can slice it and brown the slices in a pan on the stove.
Meanwhile you can heat the cauliflower rice.
Then you just assemble everything together!
Meal Prep This Bowl:
This is one of the best meal prep recipes as you can either make everything ahead and store it in the fridge, or even make the meat months ahead of time and store it in the freezer!
The meat freezes quite beautifully – all you need to do is freeze the cooked (but not browned) slices on a baking sheet or in a dish in the freezer until frozen.
Then place a piece of parchment or wax paper between each slice, put into a freezer-safe container or bag and store in the freezer. Then when you need a slice or two, just take out and reheat/brown in a pan. No real need to thaw them or anything as they'll thaw quickly when you pan-fry them. They'll stay good in the freezer for about 6 months.
And then as for the rest of the ingredients, you can chop, slice, and dice everything, plus make the sauce up to 5 days ahead of time. Just don't put the sauce on the dish until serving so everything doesn't get soggy.
Rather have this as a sandwich? (AIP friendly too!)
This is the wrap version of this recipe. Great to take with you places or just when you want a sandwich!
More Bowls You Might Also Like:
Green Goddess Bowl (Paleo, Whole30, AIP)
Harvest Bowl (Paleo, Whole30, AIP)
Steak Bowl (Paleo, Whole30, AIP)
Nourishing Breakfast Bowl (Paleo, Whole30, AIP)
Winter Bowl (Paleo, Whole30, AIP)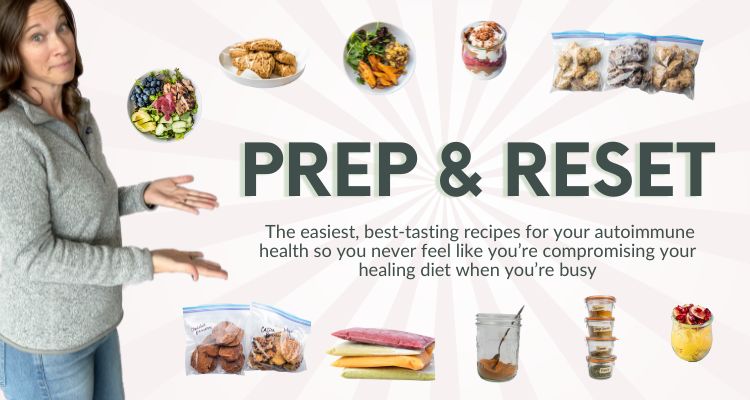 More Helpful AIP & Paleo Resources in the Freebie Library
If you find this recipe helpful, you may really enjoy the resources in my Paleo & AIP Freebie Library! There's a "dump" freezer meal plan, a list of AIP-compliant breakfast toppings, and so much more. Plus, you'll get even more ideas sent to your inbox! Get the password here.
Gyro Bowl Recipe
If you make this bowl I'd love to hear how it turned out! Either comment below or share a pic on Instagram and tag me @thrivingautoimmune!
Gyro Bowl (Paleo, Whole30, AIP)
Wishing for some Greek flavors while on a healing diet? This Gyro bowl is DELICIOUS and easy to make ahead for a quick lunch or dinner!
Ingredients
For the Gyro Meat:
1

medium

Yellow Onion

(quartered)

3

cloves

Garlic

(peeled)

1

lb

Ground Beef

1

lb

Ground Lamb

2.5

tbs

Primal Palate Super Gyro Seasoning

(OR 1 tbs dried Thyme + 1 tbs dried Oregano + 1 tsp dired Rosemary + 1.5 tsp Sea Salt)
For the Sides:
1

head

Cauliflower

(riced (or 4 cups pre-riced))

2

Cucumbers

(diced)

2

cups

Kalamata Olives

(pitted and chopped)

2

cups

Lettuce

(shredded)

1

Red Onion

(sliced)
For the Tzatziki Sauce:
1

cup

Coconut Cream

(can also use any yogurt of your choice as well )

1/2

Cucumber

(finely diced)

1

tbs

Lemon Juice

1/2

tsp

Onion Powder

1/2

tsp

Garlic Powder

1

tsp

dried Dill

(or 1 tbs fresh)

pinch

Sea Salt
Instructions
For the Gyro Meat:
Preheat the oven to 325 F. Line a loaf pan with parchment paper.

Place the onion and garlic in a food processor and pulse until chopped into small pieces.Add the rest of the ingredients until the mixture is smooth and pasty looking. Scrape the mixture out of the food processor into the lined loaf pan. Press it down as much as you can.

Bake for 60 minutes, then remove from the oven and let cool.

Pour off the excess fat (preferably into the trash can so it doesn't clog up your pipes) and then if possible, let chill in the fridge or on your counter for at least 20 minutes (this isn't necessary but does make slicing a lot easier).
While the Gyro Meat is cooking:
Prepare the Tzatziki sauce by mixing all of the ingredients together.

Prepare and cook the flatbreads if making them.

Dice the cucumbers, slice the red onions, and chop the olives if necessary.

If the cauliflower hasn't been riced yet, do so either via a food processor, box grater, or blender.
Once the Gyro Meat is done cooling:
Slice the loaf into thin, 1/4 inch wide slices. If you want to freeze the slices, do so at this point. (See notes for instructions)

Heat a pan over medium heat and then add your preferred cooking oil (coconut oil works well). Add the slices and cook for several minutes a side, until browned.

While they are browning, add the cauliflower rice to a separate large pan over medium heat and cook until warmed through, about 5 minutes.
Notes
Make ahead: If you make the meat in the oven a day or two ahead of time (or make and freeze the slices) it makes this bowl super quick to make at time of serving. I typically double the gyro meat recipe and make 2 loaves – one for serving that week and one I slice and keep in the freezer for quick meals later. 
To freeze the gyro meat: Lay each slice flat on a baking sheet or glass dish for several hours. Remove from the freezer, place small pieces of parchment in between each slice and place into a plastic bag for storing in the freezer.
Substitutions: If you don't like or can't find ground lamb, feel free to substitute it with an additional pound of ground beef or even 1/2-1 lb of ground Beef Liver!
You can use coconut yogurt (or your yogurt of choice) in place of the coconut cream. If you can't do coconut, homemade tigernut yogurt could be used.
Note on Nutrition Facts!!!: This does NOT include the AIP Flatbreads. The carbs etc are just for the meat, cauliflower rice, olives, lettuce, onions, and sauce.
Nutrition
Calories:
996
kcal
Carbohydrates:
26
g
Protein:
46
g
Fat:
81
g
Saturated Fat:
40
g
Polyunsaturated Fat:
4
g
Monounsaturated Fat:
29
g
Trans Fat:
1
g
Cholesterol:
163
mg
Sodium:
1250
mg
Potassium:
1625
mg
Fiber:
9
g
Sugar:
9
g
Vitamin A:
597
IU
Vitamin C:
84
mg
Calcium:
167
mg
Iron:
7
mg
Did you make this recipe?
Leave a comment below or share a photo on Instagram and tag me @thrivingautoimmune !