This post may contain affiliate links. Please read my disclosure policy.
It's stupid hot out and you want something light and airy, yet healthy for dinner. This Paleo and gluten-free zucchini pasta is perfect for a summer dinner. Zoodles for the win!
Sweet potato noodles are my usual go-to Paleo and gluten-free pasta replacement (see here for my video on how to make them) because they have some substance behind them. But sometimes when it's crazy sultry hot out the idea of a heavy sweet potato noodle just seems to be too much. I want light and airy, not comfort. So that's when I turn to zucchini noodles.
Along the same lines, the idea of a heavy sauce also seems to send a shiver down my digestive track. I just envision a huge nap needed if I do that! So a light sauce also seems to be appropriate for these lazy days of summer. Hence why I came up with this "sauce" of marinated tomatoes.
I am a participant in the Amazon Services LLC Associates Program, an affiliate advertising program designed to provide a means for us to earn fees by linking to Amazon.com and affiliated sites.
Marinated tomatoes are simply tomatoes that have sat in an oil-based mixture for about 30 minutes. So don't go get scared to make this, it's super easy. But the marinating helps give the tomatoes a fuller flavor and this whole dish just cries summer to me.
If you are using a spiralizer (this is the one we use and love) for making your zucchini noodles (also known as zoodles) I do recommend using the smaller kind of zucchini, not the huge baseball bats that happen when you leave the zucchini in your garden overnight (ok, I know it takes a bit longer than that, but I swear it seems they go from not ready to baseball bat overnight). You CAN still do the baseball bats, but just be aware they are harder to move through the spiralizer and they typically have seeds in them so they are a bit tougher in general. And if you aren't familiar with how to make zucchini noodles with a spiralizer, watch my sweet potato noodle video. Pretty much the same process but up to you if you are busy lazy like me and don't want to peel the zucchini.
I love eating this dish out on our back patio with a glass of ice cold Chardonnay (so for me that means I make this on the weekend cause I'm a total lightweight these days and one glass of Chardonnay knocks me on my ass!)
More Helpful AIP & Paleo Resources in the Freebie Library
If you find this recipe helpful, you may really enjoy the resources in my Paleo & AIP Freebie Library! There's a "dump" freezer meal plan, a list of AIP-compliant breakfast toppings, and so much more. Plus, you'll get even more ideas sent to your inbox! Get the password here.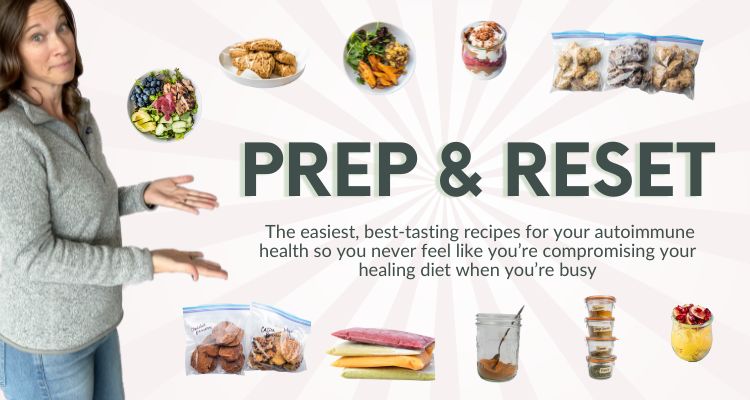 Zucchini Pasta with Marinated Tomatoes Recipe
If you make this zucchini pasta, I'd love to hear how it turned out! Either comment below or share a pic on Instagram and tag me @thrivingautoimmune!
Zucchini Pasta with Marinated Tomatoes
It's stupid hot out and you want something light and airy, yet healthy for dinner. This Paleo and gluten-free zucchini pasta is perfect for a summer dinner. Zoodles for the win!
Ingredients
6

cloves

Garlic

(sliced thinly)

1/2

cup

Olive Oil

2

lb

Tomatoes

(sliced into small wedges)

1/4

cup

Capers

1/2

cup

Fresh Basil

(chopped or torn)

Zest of 1 Lemon

1/4

tsp

Crushed Red Pepper Flakes

4

medium Zucchini

1

lb

Sweet Italian Sausages

(not bulk – the big hot dog-like links)

Sea Salt to taste

Pepper to taste
Instructions
Put the garlic and olive oil in a small sauce pan and cook over low heat for 10 minutes. Let cool.

Combine tomatoes, capers, basil, red pepper flakes, and lemon zest in a bowl. Pour the garlic mixture over the tomato mixture. Cover and leave at room temperature for 20 minutes.

Meanwhile, slice the Italian Sausage links into 1/4 inch slices.

Heat a large pan over medium heat and cook the Italian Sausage slices until done.

While the sausages are cooking, using a spiral slicer or julienne peeler, create zucchini noodles. You can alternatively use a vegetable peeler to make thin slices.

Add the zucchini noodles to the pan with the sausages, stirring often, to heat them. (If at this point the zucchini noodles release any excess water, just pour it out of the pan.)

Remove the pan from the heat and add the tomato mixture. Stir to combine and season with salt and pepper. Serve.
Notes
You can use chicken breasts or thighs instead of the Italian Sausage links if you prefer. Just cut them into bite sized chunks, generously sprinkle with salt and pepper, and cook in the pan until no longer pink.
Did you make this recipe?
Leave a comment below or share a photo on Instagram and tag me @thrivingautoimmune !