This post may contain affiliate links. Please read my disclosure policy.
A decadent treat that is AIP-compliant and super easy to make. Enjoy for the holidays or any time when you just need that something sweet.
Do you love the feeling of sinking your teeth into a piece of chocolate?
Yeah, me too.
That's why when you can't HAVE chocolate, it sucks. It's one of the biggest reasons people avoid doing a healing diet like the AIP diet in the first place! (Well, that and no coffee – but take a look at these AIP coffee alternatives if that's you!)
Carob is a superfood!
Luckily carob powder is a pretty good alternative for cocoa powder.
It sometimes is a bit of an acquired taste – like for example, I didn't like it at first. It's not EXACTLY like cacao/cocoa powder, but when you erase the notions that it will taste just like cocoa, it's pretty good!
I think that's key though – I was a bit, let's say, resentful, that I couldn't have chocolate when I first did AIP. However, when you change your attitude towards "I GET to have this decent alternative" it makes things a lot better and you appreciate that you still can eat these things while healing.
Carob is really good for you though – it's got protein, fiber, lots of vitamins and minerals, AND has a great effect on our immune systems.
Plus it doesn't contain stimulating ingredients such as caffeine and theobromine, so for those of you sensitive to these or if you simply want a treat before bed that won't disrupt your sleep, you can eat carob without worry!
There are quite a few good options for that chocolatey feeling using carob powder too – like:
AIP "Chocolate" Covered Apples
the "Chocolate" Sauce on these AIP Pancakes
and now, these Pomegranate Carob Bites (recipe below)!
How to make this easy recipe
Like most of my recipes these days, these are easy to make. I don't know if it's these times or what, but I have no desire for fussy, time consuming recipes!
To make these you simply need to mix together the ingredients, spoon them into some paper muffin liners inside of a muffin tin (see pic below for example) and refrigerate or freeze.
You can also use a flexible silicone mold as well – just use something that makes it easy to remove the carob bites once solid.
It takes about an hour of refrigeration to get these solid enough to eat, and you can also freeze them for long term storage. If you freeze them you'll want to let them sit for a few minutes on the counter at room temperature before eating, unless you like to eat super hard frozen things 🙂
What you'll need
There are only a few ingredients for this recipe – coconut oil, carob powder, sea salt, maple syrup, vanilla powder, and fresh pomegranate arils.
Want to buy any of these items? Check out the brands I recommend in my Amazon Store
You can always replace the pomegranate arils too with raisins, fruit juice-sweetened cranberries or cherries (look out and avoid those processed with sunflower oil), or even chopped up bits of fresh raspberries, blueberries, strawberries, or cherries.
It's important also if you don't want a coconut taste to use refined coconut oil (expeller pressed) as that has the coconut flavor removed. Otherwise these will have a coconut flavor – which isn't a bad thing if you like it!
Need to be coconut free? Unfortunately it's kind of hard to make this recipe coconut-free as the coconut oil is what makes the bites solid after refrigeration.

However, if you need to avoid coconut you could try making them with some lard (leaf lard might be best) or tallow as both of those fats melt and then solidify when cold as well. They may taste a bit different than with the coconut oil, but still should be good.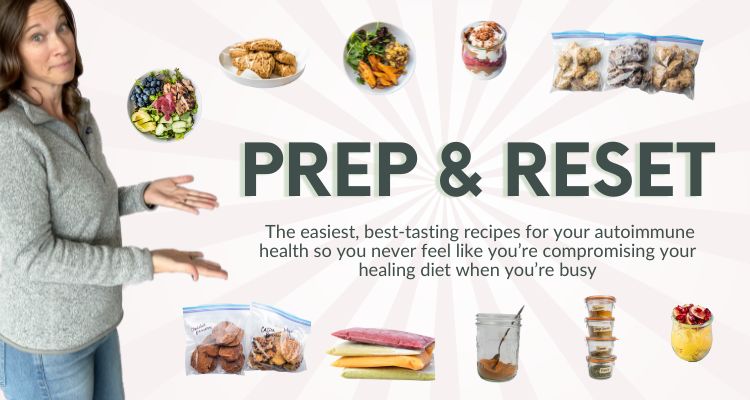 More Helpful AIP & Paleo Resources in the Freebie Library
If you find this recipe helpful, you may really enjoy the resources in my Paleo & AIP Freebie Library! There's a "dump" freezer meal plan, a list of AIP-compliant breakfast toppings, and so much more. Plus, you'll get even more ideas sent to your inbox! Get the password here.
Pomegranate Carob Bites Recipe
If you make this dessert, I'd love to hear how it turned out! Either comment below or share a pic on Instagram and tag me @thrivingautoimmune!
Pomegranate Carob Bites (Paleo, AIP)
A decadent treat that is AIP-compliant and super easy to make. Enjoy for the holidays or any time when you just need that something sweet. Paleo, AIP, Vegan
Ingredients
1/2

cup

Coconut Oil

(melted)

1/2

cup

Carob Powder

3

tbsp

Maple Syrup

(room temperature best)

pinch

Sea Salt

1

tsp

Vanilla Bean Powder

(optional)

1/2

cup

fresh Pomegranate Arils
Instructions
Place 9 paper liners in a muffin baking tray. You can alternatively use a silicone mold if you'd rather (no need for paper liners then)

Mix all of the ingredients together except the pomegranate arils in a small bowl or measuring cup until smooth. Stir in the pomegranate arils.

Spoon the mixture evenly between the paper liners.

Refrigerate for at least an hour until hardened. Keep refrigerated. You can also freeze them at this point (let sit at room temperature for a few minutes before eating if frozen). Enjoy!
Notes
If you use cold maple syrup the coconut oil might seize up a bit. This is ok, it's just not as aesthetically pleasing as when the mixture is smoother.
You can also use honey instead of maple syrup.
Adapted from AllRecipes
Did you make this recipe?
Leave a comment below or share a photo on Instagram and tag me @thrivingautoimmune !