This post may contain affiliate links. Please read my disclosure policy.
Kelly Bejelly, the author of the new book, Paleo Eats is clearly a mom since so many of the recipes in this delightful book are kid-friendly. I really look for that because, as a mom, I have two little, very opinionated critics that sit at my table every day. When I first received the book I flipped through it as I usually do with my new books (getting a new cookbook is seriously like Christmas to me). I immediately grabbed the nearest magazine nearby (sorry US Weekly) to rip apart as bookmarks, demarcating certain recipes that caught my eye. By the time I was done with this book it looked more celebrity tabloid than cookbook because there were so many pages bookmarked! So many really great looking family-friendly dishes that I really didn't know where to start.
I've followed Kelly for several years over at her blog, A Girl Worth Saving, and have constantly found myself making her recipes, so I had a feeling the ones in this book would measure up to what I had come to love about her. Sure enough, I was not proven wrong, and while I have only been able to make a handful of the recipes I bookmarked, each and every one of them have been fantastic. Here's what I've made to date (and at the bottom of this post I have included her recipe for the cinnamon cereal).
Grasshopper Pudding
This was probably our favorite recipe so far. It is one of those no-cook, creamy avocado-based puddings that don't taste anything at all like avocado and manage to pack in a super healthy dose of fat. I have no problem whatsoever as a mom giving this to my kids as either a dessert or a snack. And my kids have no problem whatsoever eating it! I think this one took 10 minutes to make from start to finish too, so it's perfect for those days when you have a hungry whiny kid asking for food, or if you have last-minute guests coming over and need a quick dessert.
Creamy Chicken and Broccolini Bake
I was drawn to this one as it reminded me of the comforting casseroles my mother used to make and have missed since we can't tolerate dairy. I did sub in broccoli for the broccolini since I had several heads in the freezer, but they worked well. It tasted wonderful, was easy to prepare, and my kids asked for thirds! For THIRDS!! How's that for kid-approved?
Mashed "Potatoes"
Mashed cauliflower has in recent years become one of my top comfort foods. I love how I can eat as much as I want and not feel guilty, and it has that certain "sink in your teeth" feeling that you can only get from certain types of foods. So naturally I was drawn to this recipe when I saw it. Kelly adds some different ingredients than what is in your typical Internet mashed cauliflower recipe and I have to say it might be my new way of making it.
Strawberry Milk
This was a request from my oldest when he saw the pictures in the book. He has seen his friends drink strawberry milk and we've always had to direct his attention elsewhere because he cannot drink dairy. So when we saw this recipe we both were excited to make it. Now while it doesn't quite taste like Nesquick artificial strawberry milk, it is quite lip-smackingly good. Or as my son said "Can we have more tomorrow?"
Now for the Coconut Cinnamon Cereal recipe:
I'm including this one since I really would've loved to make it but can't since we are back off of eggs. (My youngest has eczema that completely goes away when off eggs but it came back after trialling them again, and I haven't been feeling as good as I had since we introduced them, so out they go again for a few more months). This recipe sure looks yummy though.
More Helpful AIP & Paleo Resources in the Freebie Library
If you find this recipe helpful, you may really enjoy the resources in my Paleo & AIP Freebie Library! There's a "dump" freezer meal plan, a list of AIP-compliant breakfast toppings, and so much more. Plus, you'll get even more ideas sent to your inbox! Get the password here.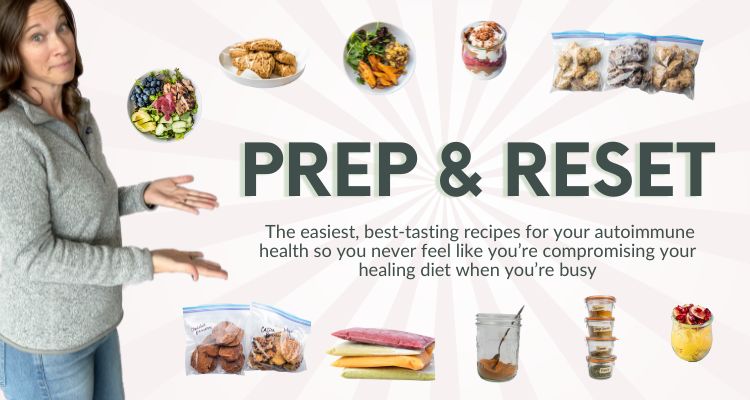 Coconut Cinnamon Cereal Recipe
If you make this cereal, I'd love to hear how it turned out! Either comment below or share a pic on Instagram and tag me @thrivingautoimmune!
Coconut Cinnamon Cereal from Paleo Eats
Kid-friendly Paleo cereal that anyone can enjoy!
Ingredients
1

cup

unsweetened shredded coconut

½

cup

raw sunflower seeds

1

tablespoon

ground cinnamon

¼

teaspoon

sea salt

¼

cup

maple syrup

1

large egg

½

teaspoon

melted coconut oil
Instructions
Preheat the oven to 350 degrees. Line a baking sheet with parchment paper.

Place the coconut shreds and sunflower seeds in a food processor and grind for 30 seconds.

Add the cinnamon, salt, maple syrup, egg, and coconut oil and pulse until combined, about 2

minutes.

Scoop the mixture onto the prepared baking sheet. Cover with a second piece of parchment paper

and with a rolling pin, roll to ¼-inch thick. Remove and discard the top piece of parchment paper.

With a wet knife, score the dough into 1-inch squares.

Place in the oven and bake for 10 to 15 minutes, until firm to the touch. Remove from the oven

and let sit on the pan for 15 minutes to allow it to crisp up.

Store in an airtight jar in the refrigerator for up to 1 week.
Nutrition
Did you make this recipe?
Leave a comment below or share a photo on Instagram and tag me @thrivingautoimmune !