This post may contain affiliate links. Please read my disclosure policy.
In my last post I mentioned about how I used hypnotherapy to get rid of my bread cravings. However, that doesn't mean I still don't enjoy baked goods and I've been known to spend a cold winter's weekend morning whipping up some muffins or waffles for my family.
I have been a lifelong baker, starting back in my days as a wee kid helping my mom mix in the flour for the chocolate chip cookies we'd bake together each Christmas. As I grew up, my mom's admiration of all things Martha Stewart got transferred to me and I have to admit, when we had first gone on the GAPS diet I didn't think we'd ever be able to stay on a diet like that because I missed baking too much. That actually was one of the huge selling points of Paleo to me since so many great bloggers were coming up with these amazing baking recipes that were reminiscent of the Martha Stewart-esque creations I had come to know and love.
I am a participant in the Amazon Services LLC Associates Program, an affiliate advertising program designed to provide a means for us to earn fees by linking to Amazon.com and affiliated sites.
I received Brittany Angell's book Every Last Crumb right before our family took off for a trip for Thanksgiving but as soon as I got back I got to baking up a storm from it. As with most cookbooks I get (I have a cookbook addiction and own most of the Paleo ones), I immediately found several recipes that I gravitated towards so I focused on those first. The number one recipe in the book that called my name was the Strawberry Waffles. How fun! Of course that was the recipe I asked permission to include below. But to date I have made several more of the recipes.
Each of the recipes I have made have been delicious and big hits with my family. Brittany definitely seems to have a talent for figuring out how to make some favorite recipes of my pre-Paleo life. My only note to you is if you are actively trying to avoid xanthan gum or guar gum, this book might not be for you as they are used quite a bit. However, that being said, Brittany indicates so many recipe substitutions throughout the book that are great for people on restrictive diets, such as an egg-free one. And also keep in mind that this book is not meant to be used as your everyday cookbook but rather a book to turn to when you need a treat or really need a recreation of a comfortable favorite (hello Chicken-Nugget Stuffed Grilled Cheese!). I am looking forward to making some of the other recipes within the book such as the English Muffins, Taco Bowls, Fish-Shaped Crackers, Baguettes, and Waffle Cones (I might did order a waffle cone maker from Amazon once I saw that recipe…)
Here are a few of the recipes I have made (and then jump down to the bottom to see the recipe for the Strawberry Waffles and for the giveaway).
Pumpkin Mug Cake:
This one took less than 10 minutes from start to finish and had the texture of a muffin (We just ate it with a spoon at first since the chocolate was kind of gooey)
The classic soft pretzels:
This one I HAD to make since on our way back from Thanksgiving we were stuck behind one of those Auntie Anne's Pretzel Stands while waiting for our plane. The delicious smell permeated everywhere and kind of was driving me a bit crazy. But how excited I was to come back to make these! They aren't difficult to make, despite how they look, and they incredibly close to the original gluten-filled versions I remember. Slightly hard crusty shell, chewy insides, and just, well… wow. (and bonus, the smell when these bake make your house smell like an Auntie Anne's!)
And the Strawberry Waffles!
These were insanely good. I've been describing them a cross between strawberry shortcake and regular waffles and I loved every bite. I didn't add a ton of red food coloring so you can see they are more light pink than anything, but in the book Brittany added more and her's are a vibrant color. Fun either way I think. The kids definitely got a kick out of seeing pink waffles, and topped with the coconut cream and strawberries was one dang special breakfast.
More Helpful AIP & Paleo Resources in the Freebie Library
If you find this recipe helpful, you may really enjoy the resources in my Paleo & AIP Freebie Library! There's a "dump" freezer meal plan, a list of AIP-compliant breakfast toppings, and so much more. Plus, you'll get even more ideas sent to your inbox! Get the password here.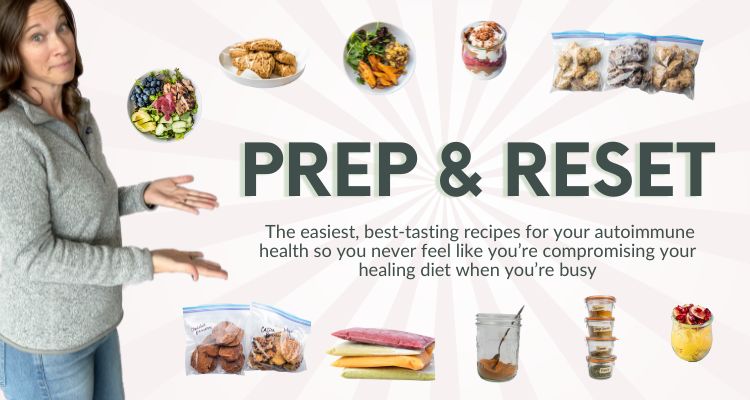 Paleo Strawberry Waffle Recipe
If you make these strawberry waffles, I'd love to hear how they turned out! Either comment below or share a pic on Instagram and tag me @thrivingautoimmune!
Paleo Strawberry Waffles
These Paleo strawberry waffles from Every Last Crumb are an amazing breakfast treat! 
Ingredients
1

(1.2 oz) package

freeze-dried Strawberries

216

grams

Blanched Almond Flour

((about 1.5 cups))

88

grams

Potato Starch or Sweet Potato Starch

((about 1/2 cup))

66

grams

Tapioca Starch

((about 1/2 cup))

2

tsp

2 tsp double-acting, aluminum-free Baking Powder

3/4

tsp

3/4 tsp Kosher Salt

1

large

egg

120

grams

120 grams Milk (dairy or nondairy)

((about 1/2 cup plus 2 tsp))

126

grams

raw Honey or Granulated Maple Syrup

((about 1/4 cup plus 2 tbs) (see notes))

70

grams

mild-flavor oil

((about 1/4 cup plus 1.5 tbs), plus more for the waffle iron)

1

tsp

Lemon Juice

Natural Red Food Coloring

((optional – the amount is up to you!))
Toppings
2

cups

sliced fresh Strawberries

Coconut Whipped Topping (a great recipe is in the book)
Instructions
Preheat a waffle iron. If you have the option, preheat to the medium setting.

Using a coffee grinder or spice grinder, grind the freeze-dried strawberries into a powder.

Place the powdered strawberries in a mixing bowl with the almond flour, starches, baking powder, and salt and whisk until well blended. Add the rest of the ingredients for the waffles and stir to combine. (Remember to add 3 tbs of water if you're using granulated maple sugar).

Lightly brush the heated waffle iron with oil. Following the manufacturer's guidelines for suggested quantity, ladle the batter into the oiled waffle iron and spread it evenly across the surface, leaving a 1/2-inch border. Cook, following the manufacturer's directions. When done, set the waffle aside on a baking sheet in a low oven to keep warm while you cook the remaining waffles.

Serve topped with sliced strawberries, their juice, and Coconut Whipped Topping.

Store leftover waffles in a sealed bag or container for up to 2 days, or freeze for later. They can be popped directly into the toaster oven from the freezer.
Notes
If you choose to use granulated maple sugar, you will need to add 3 tbs of water to the batter.
Did you make this recipe?
Leave a comment below or share a photo on Instagram and tag me @thrivingautoimmune !