This post may contain affiliate links. Please read my disclosure policy.
Need a nonalcoholic beverage that's Paleo, AIP, or Whole30 compliant for the summer? These mocktails are so fun to drink and easy to make!
Is it weird that I'm in my 40's and yet I still feel peer pressure to drink when I go to parties and cookouts?
Do you feel that too?
It's crazy how our society seems to be based so much around food and drink, and if you don't drink it's like you're doing something wrong.
Nonetheless, sometimes I partake – when I'm not doing the AIP Diet or Whole30 – and I usually end up regretting it.
And I'm not even getting drunk like I used to in my youth!
Just one or two beverages seem to send me into a week-long hangover of increased gas and bloating, brain fog, and digestive issues.
My functional medicine practitioner says it's leftover from my SIBO days – there are still some bacteria in there apparently that LOVE the ole' alcohol sugars (also why I cannot eat sugar alcohols like erythritol, xylitol, etc without the same effects).
I've found though that drinking mocktails satisfies both me and my desire for a fun beverage – and the ex-frat boys who have a need to get everyone wasted.
I often don't mention that there's no alcohol in my drink, and most people look longingly at my beverage thinking it's some amazing fruity liquor drink.
Seriously, the jealous stares are quite hilarious – and I'm also clear-headed enough to see them!
The Mocktails
Here are 5 of the mocktail drinks I turn to often – they're Paleo & AIP and some of them are Whole30 as well (I indicate what diets they're appropriate for in each recipe):
If you're more of a visual person, you can watch this full-length YouTube video to see how to make the summer mocktails.
More Helpful AIP & Paleo Resources in the Freebie Library
If you find this recipe helpful, you may really enjoy the resources in my Paleo & AIP Freebie Library! There's a "dump" freezer meal plan, a list of AIP-compliant breakfast toppings, and so much more. Plus, you'll get even more ideas sent to your inbox! Get the password here.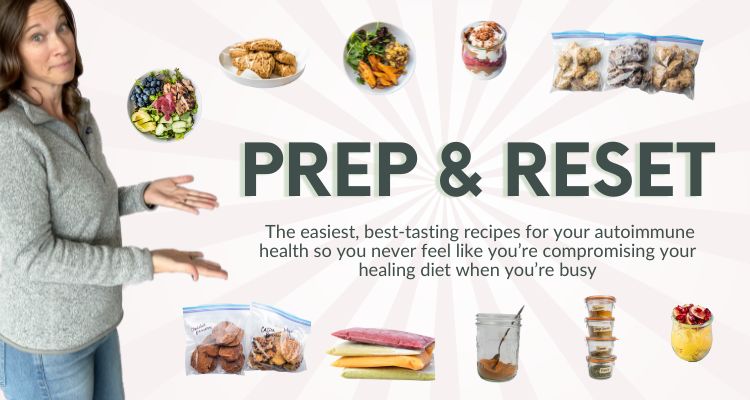 The Mocktail Recipes
If you make these mocktails, I'd love to hear how they turned out! Either comment below or share a pic on Instagram and tag me @thrivingautoimmune!
5 Mocktail Recipes for your Summer (Paleo, Whole30, AIP)
These fun mocktails for summer are the perfect solution if you want to enjoy a party without the alcohol. These non-alcoholic drinks are Paleo and AIP-compliant and 3 of them are Whole30-compliant as well.
Note: Each of these serves 1-2 people.
Ingredients
Hibiscus Honey (Paleo & AIP):
Coconut Lime Fizz (Paleo, Whole30, AIP):
1

tbsp

Lime Juice

1/2

cup

Coconut Milk

1/2

cup

Sparkling Water

optional: 1 tbsp Honey or Maple Syrup

(taste without first, sometimes coconut milk is pretty sweet on its own)
Pineapple Strawberry (Paleo, Whole30, AIP):
1

x 13.5 oz can Pineapple Chunks

(or 1.5 cups Pineapple with 1/2 cup Water)

1

cup

Strawberries

1

cup

Sparkling Water or plain Kombucha

1/4

cup

fresh Mint
Watermelon Cooler (Paleo, Whole30, AIP):
2

cups

Watermelon

(cubed, seeds removed)

1

cup

Water

1

tsp

fresh Lime Juice
Cucumber Mojito (Paleo and AIP):
1

Lime

1

tsp

Coconut Sugar

(or Honey)

1/2

Cucumber

(peeled and chopped)

1

cup

Sparkling Water

10

fresh Mint Leaves
Instructions
For the Hibiscus Honey:
Brew the hibiscus tea and then mix the ingredients together into a cup and serve with some ice.
For the Coconut Lime Fizz:
Mix the ingredients together in a glass and serve over ice. Taste and add sweetener if desired.
For the Pineapple Strawberry:
Blend the pineapple chunks, pineapple juice from the can (or water), strawberries, and mint until smooth. Add the sparkling water and blend for a few seconds more or stir to incorporate. Serve in a glass with the mint leaves.
For the Watermelon Cooler:
Blend everything in a blender until smooth. Serve over ice.
Cucumber Mojito:
Put the cucumber chunks into a blender. Cut the lime in half and squeeze the juice of 1 half into the blender.  Add the coconut sugar (or honey) and sparkling water. Blend until smooth. Slice the remaining half of a lime into slices and add to the glass with the mint leaves and then muddle them gently with a muddler or spoon. Add some ice and then the cucumber mixture to the glass.
Did you make this recipe?
Leave a comment below or share a photo on Instagram and tag me @thrivingautoimmune !