This post may contain affiliate links. Please read my disclosure policy.
Paleo strawberry muffins made with roasted strawberries and coconut flour – a nut-free, gluten-free snack recipe that is perfect for those summer fruits!
Ok, ok, I know I post a lot of muffin recipes. They just make such great on-the-go snacks! And since I have two young kids that need snacks at daycare and school, and both my husband and I work outside our home, on-the-go snacks are key. I just love muffins since you can customize the flavors in endless ways and they freeze so nicely so I can make a huge double or triple batch, freeze a lot of them, and then just take them out when we need them.
All of the previous muffin recipes I have posted here, while still gluten-free and Paleo, have contained nuts. So I know there are some of you that can't send nut-filled baked goods to school or you or your kids have a nut allergy. So this one is just coconut flour. Coconut flour gives the muffins a slightly spongier texture than a nut flour does, but they are still delicious.
(The other muffins I have recipes for are: Cinnamon Roll Muffins and Orange Raspberry Muffins )
The Beauty of Roasting Strawberries
These particular muffins contain roasted strawberries. If you have never roasted strawberries, now is the time to try it! Even if you don't want to make these muffins, try roasting some strawberries and using them as a topping on ice cream or in some coconut milk yogurt. So good! I use a bit of red wine vinegar and salt to really bring out a much deeper, robust flavor of the strawberries, but you could just roast them with a touch of honey or maple syrup as well.
Warning: if you try to text someone or Instagram about something being "nut-free" ALWAYS make sure your autocorrect hasn't changed it to "but-free". Happens to me every freakin time. 🙂 Not quite sure how "but-free" makes more sense than "nut-free", but the autocorrects gods have deemed it so.
Watch Me Make These in the VLOG
Update June 2017 – I show you how I made these paleo muffins in one of my vlogs after we visited a pick-your-own strawberry patch:
More Helpful AIP & Paleo Resources in the Freebie Library
If you find this recipe helpful, you may really enjoy the resources in my Paleo & AIP Freebie Library! There's a "dump" freezer meal plan, a list of AIP-compliant breakfast toppings, and so much more. Plus, you'll get even more ideas sent to your inbox! Get the password here.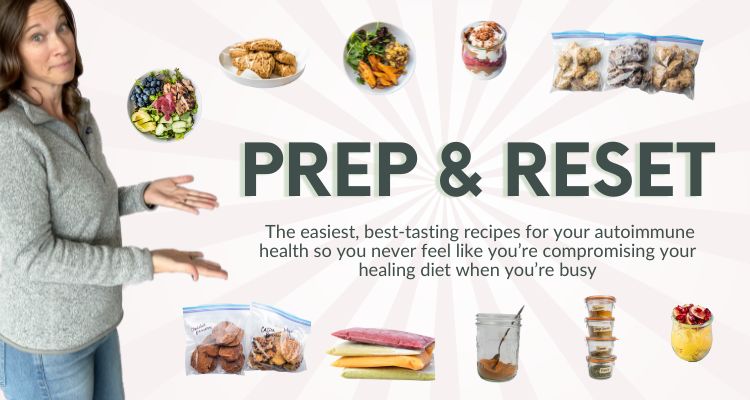 The Paleo Strawberry Muffins Recipe
If you make this muffins, I'd love to hear how they turned out! Either comment below or share a pic on Instagram and tag me @thrivingautoimmune!
Roasted Strawberry Muffins (nut-free)
Paleo muffins made with roasted strawberries and coconut flour – a nut-free, gluten-free snack recipe that is perfect for those summer fruits!
Ingredients
For the Roasted Strawberries
1

lb

Strawberries

(hulled and halved)

1

tbs

Red Wine Vinegar

1

tbs

Honey

1/2

tsp

Salt

1.5

tsp

Coconut Oil

(melted)
For the Muffins
1/2

cup

Coconut Flour

(sifted)

1/4

tsp

Baking Soda

1/4

tsp

Salt

4

Eggs

1/4

cup

Honey

1.5

tsp

Vanilla Extract

1/3

cup

Coconut Oil

(melted)
Instructions
For the roasted strawberries
Preheat the oven to 350 F. Line a sheet pan with parchment paper.

Combine strawberries, red wine vinegar, honey, salt, and oil in a medium bowl. Toss until the strawberries are coated evenly.

Spread strawberries evenly onto the sheet pan. Bake for 40 min.

Let the strawberries cool a bit, then remove them from the pan and place in a small bowl. Reserve the juices from the pan in another small bowl.
For the muffins.
Preheat the oven to 350 F (if it isn't already on from roasting the strawberries).

Line 9 cups of a 12-cup muffin tin with cupcake/muffin liners.

Combine the coconut flour, baking soda, and salt in a large bowl.

Combine the eggs, honey, vanilla extract, oil in a small bowl.

Pour the wet ingredients into the dry ingredients and mix well.

Gently fold the strawberries (including any juices from the pan) into the batter.

Fill the muffin tin liners 3/4 of the way full with batter.

Bake for 22 min or until a toothpick inserted in the center of the muffin comes out clean.
Notes
This recipe doubles very easily. I like to make 18 muffins and freeze a bunch for later.
Did you make this recipe?
Leave a comment below or share a photo on Instagram and tag me @thrivingautoimmune !
You May Also Like:
MORE POSTS YOU MIGHT LIKE:
Make Paleo easier, faster, less expensive, and way more fun with all the resources in my Freebie Library! Click on the picture to find out how to access it.